Stylish and sustainable: SA.AL&CO delivers men's skincare with elegance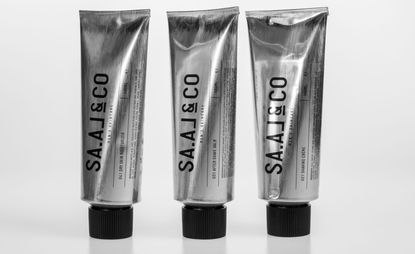 (Image credit: SA.AL&CO)
All too often beauty and grooming products – particularly for men – fall into a gimmicky abyss of overpowering scents and stereotypical formulas. Enter SA.AL&CO, a new skincare company from Vienna catering for the style conscious and environmentally savvy man.

Produced in the Austrian Alps using only natural ingredients, they like to keep things simple. They make five basic, fuss-free products and leave the rest aside; hair and body wash, shaving cream, aftershave balm, dry skin moisturiser, and deodorant form the tenants of their modest output.

The use of essential oils means products all have a similar scent, a fresh and subtle fragrance, more byproduct of organic ingredients rather than a deliberate attempt to flourish.

Sustainability is at the heart of the company, not just with the ingredients they used (all conveniently procured from their local region – an alpine setting has never been so beneficial) but also in their packaging. The brushed aluminum containers are as stylish as they are recyclable.

The uniform packaging design can be transformed into a personalised experience too. The labels are hand-inscribed, indicating both the batch and bottle number as well as the user's name; a dedication, if it's a gift; or any desired phrase for that matter. The choice is yours, but we'll leave the goods up to SA.AL&CO.
INFORMATION
For prices and more information visit the SA.AL&CO website (opens in new tab)
Photography: Courtesy of SA.AL&CO