Scented stories: a collection of candles from Lola James Harper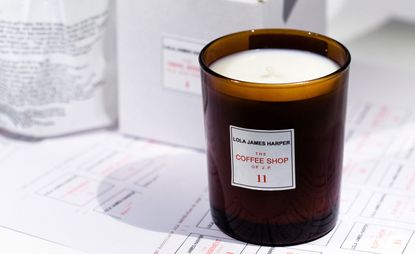 (Image credit: TBC)
From Frenchman Rami Mekdachi comes a quirky collection of candles, each with its own story to tell. Conceptualised by modern brand Lola Harper James, the selection of scented candles are inspired by 18 unique locations that hold a special place in Mekdachi's heart.

Mekdachi, the company's founder, was no stranger to the beauty industry before beginning this venture in 2013, having previously worked for established brands such as L'Oreal and Lacoste. This experience, however, seems only to have emphasised his desire to create a more high-concept brand that, as stated by the company, would translate 'his most cherished moments, places and friendships into fragrance, design, music and film'.

Having sampled two candles from the extensive collection, we can officially confirm that the scents are pleasant, demonstrating vividly individual personalities. Number 16, 'The Woody Office of Daddy', is a more masculine fragrance with scents of sandalwood and mahogany; while number two, 'The Music Studio on Trufo Street', proves to be softer, with hints of rose.

In contrast to the collection's elaborate array of scents is the minimal nature of the packaging, which consists of modest white boxes and bags that are sparingly labelled, resulting in an almost homemade feel. The candles themselves continue this minimalism, being housed in simple red pots.

With this ambitiously extensive collection, Mekdachi is sure to set the market alight.
INFORMATION
For more information, visit the Lola James Harper website (opens in new tab)