Thinking inside the box: Prepd reinvents the lunchbox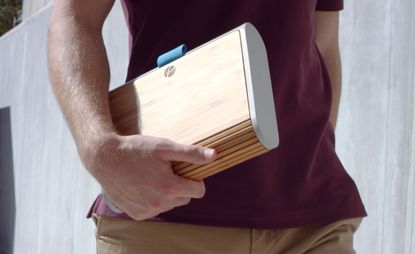 (Image credit: press)
Packing attention to detail, intelligent design and delicious food into lunchtime is San Francisco-based team Prepd, founded by Chris Place and Will Matters. Their creation, 'Prepd Pack', is a modern take on the classic lunchbox, launched in January 2016 via a Kickstarter campaign that raised over $1 million.

The traditional brown bag crumples in comparison to the durability and maturity of 'Prepd Pack'. Magnetic cutlery rests securely within the centre of the 'Prepd Case', while an in-built silicone placemat allows diners a proper mealtime setup. Pack lunches in advance within the leak-proof, clear containers and stack them up in the freezer for the week ahead or pop them in the microwave to reheat and enjoy. The containers can also be worked into different configurations to suit your individual needs. Transporting lunch to the workplace – sans spills, rips or blips – has never been simpler.

Upgrading your lunchbox to the 'Prepd Pack' also means incorporating the speed and ease of technology into how meals are chosen and regulated. Using the 'Prepd App', you can browse 'make at home' recipes and meal plans developed by professional nutritionists and chefs. The app integrates effortlessly into your daily routine, devising customised shopping lists that help you keep track of your grocery spending, while advising on what and how much to buy. 'Prepd Pack' makes meeting health goals and diet types easier and once you join the Prepd community, you have the option to create your own profile page where you can save and develop recipes, as well as share tips and food tricks with other users.

Further, the 'Prepd App' automatically collects data to quantify how many calories have been consumed. This info is visualised in the app to give meaningful feedback about the diner's diet.

Encouraging people to pack their own lunches, Prep also hopes to decrease the amount of food and packaging waste in the world. The lunchbox materials are all created from high quality recycled and sustainable materials, meaning 'Prepd Pack' both looks great, and is good for the environment too.

Sporting sophisticated design and healthy, personalised meals, it looks like the childhood lunchbox is all grown up.
INFORMATION
For more information, visit Prepd's website (opens in new tab)