Salone del Mobile preview: The Foodies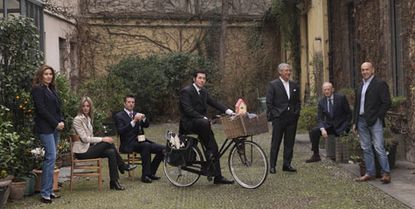 (Image credit: press)
From left,
Tano Passami, owner of Tano Passami L'Olio, where you can choose from over 250 oils
Paolo Milani, restaurant manager of the Four Seasons
Why do you live in Milan?
I believe that it's the best city in Italy for opportunities in my profession.
What do you like about it?
Milan is the economic motor of the country and I'm happy to be part of that
Where do you go when you leave?
I almost always head to Valle d'Aosta which is a place I find very relaxing. If I have more time, I like to visit places that are further away like Asia and the Caribbean
Do you stay for the Salone?
Always, it's the biggest work period for us, aside from the fashion shows.
Three pieces of advice for visitors to the Salone?
Have patience with finding a taxi! Avoid tourist restaurants. Find time to visit places outside of Milan like Lake Como and Bergamo and if you enjoy wine, then visit the Franciacorta zone.
What are your favorite places?
My favorite places in Milan are in the navigli, especially the Naviglio Grande, a small fish restaurant in the centre of the city, and the soccer stadium, San Siro.
Cesare Cucchi presides over the wonderland that is Pasticceria Cucchi, a decades-old, untouched paradise of coffee, snacks and treats.
Paolo Stoppani, Peck's meat expert, has made sure that only the very best is on offer.
Why do you live in Milan?
It's an extraorindary place to do we I do. It awards capable people and is generous with those who try hard, and are attentive to quality and detail, which is what I try to cultivate in my job.
Where do you go when you leave?
When I have time I try to enjoy the beauty of italy, especially the sea spots.
Do you stay for the Salone?
I am always in the city for the Salone del Mobile is very good for business.
Three pieces of advice?
You should visit cultural things like Accademia of Brera, the Pinacoteca Ambroisana, the Museo del Duomo and the last supper. But also try its food offerings, picking up a souvenir from Peck, as well as its sports offering, like an inter or Milan soccer match.
What are your favorite places?
The Duomo for its spiritual aspect, the Castello for its history, and Brera and the Navigli where are filled with cultural traditions.
Roberta Ruggeri is the hostess with the mostest at Milan's centrally located Bice restaurant. Cosy, quaint and filled with Milan's distinguished patrons, it offers some of the best pasta in the city.
Why do you live here?
Because of my family and my job.
What do you like about Milan?
There are few cities which work as well as Milan and it has many beautiful places.
Where do you go when you leave?
We often go to the mountains to ski. But I'd love to go to Africa.
Do you stay for the Salone?
The Salone is the most important fair of the year and so I always stay for work.
Advice for the salone?
Visitors should absolutely spend time in Via Savona and Via Tortona – there are some truly amazing spaces to see.
Favorite places in the city?
I love the Trinnale because there are always very interesting exhibits. The Roialto is a bar which has a terrific aperitivo and in Via Mercato there is Princi, a wonderful breadshop where you can sit, have breakfast, eat something simple or buy exquisite breads.
Tiziana Bulleri, is at the front door of Da Giacomo, one of the city's most celebrated fish restaurants. Daughter of the founder, she's as in tune with the fine food as she is with the restaurant's celebrated clientele.
Why Milan?
My most beautiful memories are from this city. It's the best place for my job, this is a city of a million opportunities.
What do you like?
Milan's energy is very attractive as well as the opportunities it gives to those who live and work here.
Where do you go when you leave?
When I decide to leave, I tend to go off to warm climates because the sun and the sea give me a sense of serenty.
Do you stay for the salone?
Yes because I'm in the restaurant business and this is an extrememly busy time.
Three pieces of advice?
Take time to visit the city! The Castello Sforzesco, Brera and the fashion quadrilateral.
Favourite place in the city?
Going for a massage at Hammam della Rosa.
Antonio Ponte has the pleasure of both being a fashion designer as well as making some of Milan's most beautiful and delicious chocolates at his boutique store, Lula Cioccolato.
Why do you live in Milan?
It's the centre of my affections.
What do you like most?
My friends
Where do you go when you leave?
If I want to relax I go to a friend's house in St. Tropez
Do you stay for the Salone?
Although it's the most exciting event of the year, I often plan a trip away at that time of year.
Your favorite places in the city?
Giacomo bistrot, the Fondazione Boschi in Via Jan and Lula Cioccolato.
Rosa Bertoli was born in Udine, Italy, and now lives in London. Since 2014, she has been the Design Editor of Wallpaper*, where she oversees design content for the print and online editions, as well as special editorial projects. Through her role at Wallpaper*, she has written extensively about all areas of design. Rosa has been speaker and moderator for various design talks and conferences including London Craft Week, Maison & Objet, The Italian Cultural Institute (London), Clippings, Zaha Hadid Design, Kartell and Frieze Art Fair. Rosa has been on judging panels for the Chart Architecture Award, the Dutch Design Awards and the DesignGuild Marks. She has written for numerous English and Italian language publications, and worked as a content and communication consultant for fashion and design brands.