Range Rover Evoque returns as a progressive competitor in the sports-utilities market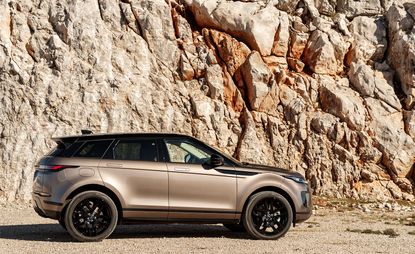 (Image credit: Range Rover)
The Range Rover Evoque cabin is a calm and serene space. There is a noticeable absence of habitual signs of luxury materials, leather and wood. Instead our seats are swathed in a tailored wool blend, with the dashboard covered in a plant based textiles. There are technical material elements here created using recycled plastics, and the steering wheel is encased in Alcantara. It tells of an exciting materials story, premiered in the Velar sibling, and continuing in this latest product by Jaguar Land Rover.

The marque is positioning the new Evoque as a progressive car. Amy Frascella and her colour and materials team in the Gaydon design studio are busy exploring sustainable alternatives – non-chemical dyes and paints, responsible and vegan fabrics. This involves working alongside companies from outside of the traditional automotive world such as the Danish firm Kvadrat. They are looking at the providence of materials to find relevance within markets that are more urbanised.
Frascella has introduced modular colour schemes inside to complement the exterior such as the subtle tonal differences here with the various shades of grey. The refined palate is complemented by the new digital set up which replaces the overtly technical driver-infotainment system of the outgoing model. This latest twin touchscreen Touch Pro Duo system is termed 'black tech' – technology that is hidden until summoned for generally a calmer cabin.

This Evoque is also a highly technical product. It is the first Land Rover with 'Smart Settings', using artificial intelligence algorithms to learn the driver's preference for an on-board butler-of-sorts. 'Ground View' technology makes the bonnet invisible by projecting camera imagery onto the upper touchscreen to show the driver a 180-degree view under the front of the vehicle. This is useful when negotiating difficult parking spaces, navigating kerbs or tackling rough terrain as we were to experience. Then ClearSight digital rear-view mirror sees a camera, positioned on the roof, project a flawless all-surround 360-degree view, which proves exceptionally useful when navigating these challenging mountainous routes.
The car we are driving is powered by a 2.0 litre four-cylinder Ingenium petrol, with a nine-speed automatic transmission offering 249ps and 365 Nm, and acceleration to 60 mph in around seven seconds. The new Evoque architecture has been developed for electrification with this 48-volt MHEV (as in mild-hybrid electric vehicle) available on all new models, before a plug-in hybrid model appears in a year or so. It is a first for JLR and works by harvesting energy normally lost during deceleration using an engine-mounted belt-integrated starter generator, and storing it in the under-floor battery. At speeds below 11mph, the engine will shut off while the driver applies the brakes. When pulling away, the stored energy is redeployed to assist the engine under acceleration and reduce fuel consumption thus offering some 35.8mpg on a combined economy. It also offers a more refined, quiet and efficient drive in traffic.

Land Rovers perform impeccably off-road. It never ceases to impress how capable these off-terrain vehicles are even when they are so refined and tailored like this Evoque. It almost feels a shame drivers are unlikely to ever experience its off-roading talents given compact sports-utilities as this will inevitably live on city roads performing daily shops and school runs. Nevertheless, the Evoque does get its large 20-inch gloss black wheels incredibly muddy as we cruise through rivers and climb rocky-mountains. This is all thanks to a host of technology on-board the car to include all-wheel drive, active driveline with driveline disconnect and adaptive dynamics to deliver the optimum balance of comfort and agility. Terrain Response 2, a technology adopted from the Range Rover, automatically detects the surface being driven on and adjusts the set-up accordingly, so the Evoque can now wade through waters 60cm deep.

The Evoque is equally happy on smoother tarmac too, on motorways and in the small towns and villages we drive through for its relative compact size – 4m in height and 2m wide to include rather bulky side mirrors. It has a quiet presence; the considered exterior design a noticeable refinement from the previous model. Gone are the showy, bold directional folds and creases of the former Evoque. Design director Gerry McGovern and his team lead by Massimo Frascella have really refined these surfaces for some elegant sculpting and subtle surface treatment.
The proportions remain almost the same; the high-raised waistline theme of the original car stays in place, as does the sloping roof that gave the Evoque its drama, while the rear windows are now a little larger to help with passenger visibility. The tail design, another Evoque characteristic, is modified a touch here to sit a little higher. This car has reduced front overhangs and more pronounced shoulders, and the powerful wheel-arches frame the larger wheels. Flush doors, as seen on the Velar, are introduced here, as are slender Matrix LED lights for clear front and rear lamp graphic.

The Evoque is built on the new mixed-material architecture for more interior space. A longer wheelbase allows for 20mm extra rear knee-room and an increase in small item stowage. The 591-litre luggage space is now 10 per cent larger as well as much wider to fit a folded pram or set of golf clubs. We manged to easily fit in two suitcases and some extra bags with complete ease.
The Evoque is a pivotal product for Land Rover. When the first iteration of this car was introduced to the public in 2007, the marque was in a very different place. Post Ford ownership, it was desperately navigating a new identity under the new, more liberal Tata Motors umbrella. The Evoque was hugely radical then not least for its bold, uncompromising design, as it helped forge a new and phenomenally successful car genre – the compact SUV. That first Evoque was a critical and commercial success too, raising JLR's profile globally and boosting brand confidence.

Replacing such a successful product, therefore, was never going to an easy task. The marque has progressed beyond recognition since 2007, as has the world of mobility and our expectations. With its progressive design, sustainable interior and mild-hybrid technology, the new Evoque does feel like the perfect evolution of this popular compact Range Rover.
INFORMATION
Range Rover Evoque, from £31,600, available from spring 2019. For more information, visit the Jaguar Land Rover website (opens in new tab)