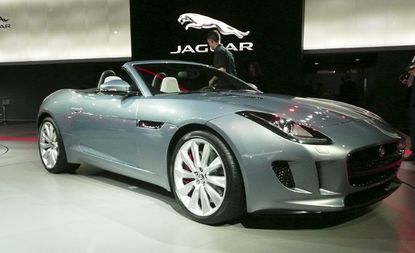 (Image credit: TBC)
International car shows of recent years have carried a certain premise - themes have been as diverse as electric mobility and battle of the supercars. Paris Motor Show 2012 (opens in new tab), however, was a mixed exhibit of all things auto-related, with no one trend rising to the top.
See our highlights from the Paris Motor Show 2012

On the whole, manufacturers concentrated on what they do best. As simple as this sounds, such an approach has been a missing from recent international shows. When companies shift focus to products outside their field of expertise it doesn't always go well. Our concept of mobility is shifting and unsurprisingly many car-makers are confused as how to respond to the new role of the automobile.
Yet there were still some inspired new products on show, most notably the Jaguar (opens in new tab) F-Type. The production car is a contemporary take on the much-loved E-Type and a meticulously executed product that successfully avoids any retro references to its predecessor while still referencing it in spirit.

Jaguar director of advanced design, Julian Thomson (opens in new tab), told us at the show: 'You hear things about surface entertainment; they twist metal into weird shapes to shock the audience into submission. We've never been about that. We're about purity and beauty in design and with a sports car it is the best way to demonstrate it. This is the pinnacle of our design philosophy.'

Jaguar Land Rover (opens in new tab) is now the fastest growing carmaker in Europe. With the full support of its owner Tata Motors (opens in new tab), Jaguar, it appears, is on the road to reclaiming its position as one of the most desirable car brands in Europe.

Over at sister company Land Rover (opens in new tab), the new Range Rover made a similar attempt to introduce something unique and modern into a product with such a strong identity. And the product on display is a clever evolution of three successful generations.

Across the hall, McLaren Automotive (opens in new tab) unveiled the much-anticipated P1 that replaces the F1 as the marque's ultimate road car. This is first time the company is exhibiting at a major European fair and boss Ron Dennis (opens in new tab) was personally inspecting the pavilion the night before the show to ensure complete perfection.

The pristine white exhibition stand was indeed the perfect setting to showcase the bold design - there is a great deal of visual drama - and bright orange pallet of the limited-edition car. 'Basically it is a racing car with number plates on it,' designer Frank Stephenson (opens in new tab) quipped. Visibly excited, he continued: 'This is the godfather of the brand and it was a fabulous experience, as these kind of projects seldom come up.'

The design team at the Norman Foster (opens in new tab)-designed facility outside London are now working on P13, an entry-level sports car to rival the Porsche (opens in new tab) 911. 'We're building only around 1500 cars so it is much more exclusive than the 911,' said Stephenson.

Porsche debuted the Panamera Sport Turismo. Officially only a concept, it previews a shooting brake edition of the second-generation performance saloon by the German marque. Rivals BMW (opens in new tab) and Mercedes (opens in new tab) are offering similar products which seem to fit a certain consumer who desires a sporty looking performance car with more interior space.

Elsewhere, the Continental GT3 hails Bentley (opens in new tab)'s return to motorsports following an eight-year absence. Head of exterior design David Hilton told Wallpaper*: 'What you learn from racing can filter down to your road products. Stylistically we're obviously not going to have road cars that are 10mm off the ground, but we are looking at doing a limited number of these to sell to customers for personal racing.'

The leading German marques Mercedes-Benz, BMW, Audi (opens in new tab) and Volkswagen (opens in new tab) delivered solid propositions that fit positively within their respective product portfolios.

At Mercedes, head of group design Gorden Wagener unveiled the fourth in the marque's series of design sculptures, each created to inspire the design team and hint at future visual directions. 'Aesthetic S' evokes the spirit of the up-coming executive S-Class. 'The sculpture is a more artistic approach that embodies our design philosophy rather than showing the new S-Class,' said Wagener.

The designer has been busy ensuring the marque's portfolio fits in to his design philosophy, which he says will be complete by 2015. 'We want to have one single overall design language that takes from tradition but also introduces new values,' he explained.

Audi showed the Crosslane Coupé, a two-door SUV concept with 2+2 seating and a range-extender electric drivetrain - a study for a possible Q2. With this clever crossover, Audi is responding to Europe's ageing population who need cars that are small enough for populated areas, but offer a more practical interior layout and better visibility.

BMW's strategy folks must have been on a similar thought path with Concept Active Tourer. It previews the company's new front-drive architecture and is nearly production ready. The car will help BMW compete within a very lucrative market that requires cars of this size and versatility.

Said Adrian Van Hooydonk (opens in new tab), BMW Group design director: 'After some reflection we decided it isn't really about new drive technology as our engineers will offer the driving dynamics. For us as a design team it simply had to look like a BMW, which means it has to look like it's moving even when it's standing still.'

'It is a different story for the i brand,' the designer added, referencing BMW's forthcoming electric sub-brand. 'The electric and hybrid drive, and carbon-fibre structure are so new that the design has to be revolutionary. '

Continued Hooydonk: 'The whole world is talking about new mobility - the mobility of tomorrow, but actually thinking tomorrow will never come. Speaking from our brand, it will become very clear when tomorrow happens when the i3 and i8 come on the market. You rarely get the chance to invent a brand. Here we designed the logo, the whole form language; the proportions are all new, as are the materials - it doesn't get much more exciting than this.'