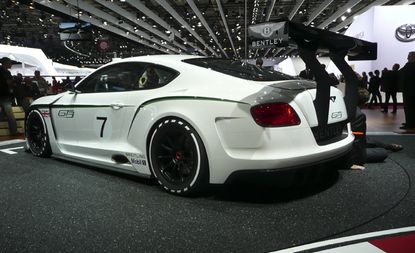 (Image credit: press)
Bentley Continental GT3
The Continental GT3 hails Bentley's return to motorsports following an eight-year absence. Customers have been pushing for the firm to do a racing car. 'This kind of project has always been in the background and we were waiting for the opportunity,' says head of exterior design David Hilton. His main challenge was working within the FIA rules: 'The spoiler had to be a certain size, and it cannot be any higher than the roof. The centre line has to be exactly the same as the production car.' He also dropped the car's weight by 35% through design tweaks here and there and replacing the Continental's interior with a simple mould made of carbon-fibre. Hilton admits that much of what he's learnt from the project will naturally filter down to the road cars. 'Stylistically we're obviously not going to have road cars that are 10mm off the ground. But we are looking at doing a limited number of these to sell to customers for personal racing.'
Jaguar F-Type
The F-Type is a production car and a contemporary take on arguably Jaguar's most notable car, the E-Type. The convertible sports car is a meticulously executed product that successfully avoids being a pastiche. 'You hear things about surface entertainment; they twist metal into weird shapes to shock the audience into submission,' mocks director of advanced design, Julian Thomson. 'But we're about purity and beauty in design and with a sports car it is the best way to demonstrate it. Sports cars should have a greater sense of poise, so this is the pinnacle of our design philosophy.' Inside is much more singular than Jaguar's executive saloons, meaning the cockpit runs around the driver instead of being horizontal. The F-Type's interface is full of tactility so the driver can feel the mechanics with the gear changes and pedals. 'You want to feel you're in control of the car. This is a real car.'
On sale: Mid 2013
Price: F-Type from £58,500, F-Type S from £67,500 and F-Type V8 at £79,950
Audi Crosslane Coupé
The Crosslane Coupé is a design study for the upcoming Audi Q2. This clever crossover is a two-door car with 2+2 seating that combines a lightweight aluminium outer layer, a carbon frame chassis and plug-in hybrid powertrain. Crosslane Coupé is responding to Europe's ageing population who need cars that are small enough for populated areas, but offer a more practical interior layout and better visibility.
BMW Concept Active Tourer
Concept Active Tourer previews BMW's new front-drive architecture and closely resembles the upcoming car. It will help the company compete within a very lucrative market that includes young families as well as older folks who lead a more active life and therefore require cars of this size and versatility. 'From a design point-of-view we needed to show that it is a BMW and therefore dynamic and solid, with a refined interior that offers modern luxury,' says Adrian Van Hooydonk, BMW Group design director. It is thoughtfully executed with some clever design features. The air breather, for instance, which sucks hot air out of the wheel-arches, has been made into a graphic element and utilised to break up the car's volume. 'What we'd like to offer is the driving pleasure that BMW is known for,' says Van Hooydonk. 'Mini shows that front-wheel-drive can be fun.'
Land Rover Range Rover
The new Range Rover is a clever evolution of three successful generations. The outgoing model is a decade old and this is a much more sleeker and sharper design. The aluminium outer layer - a novel construction in this segment - has helped shed 20% body weight. It is also the first Land Rover product to be available with a diesel hybrid.
On sale: Early 2013
McLaren Automotive P1
The P1 is the successor to the F1 and McLaren Automotive's pinnacle car. It will sit above the 12C and 12C Spider - the firm's two other road cars - in terms of both price and performance. The limited-edition hypercar is full of visual drama but it gets away with not being brash for its relative small size. 'This is the godfather of the brand,' says design director Frank Stephenson, 'and it was a fabulous experience as these kind of projects seldom come up.' Stephenson admits that his biggest challenge was to keep the performance dynamics of the car. 'We took the performance part and almost lay a cloth over it and let it sink. This is a shrink-wrapped design language where you suck the air out of it and it starts to glue to the bulging structure underneath. I had to make it look good without messing up any of the engineering performance features. Whatever it looks like is the result of making it work - so basically it is a racing car with number plates on it.'
On sale: 2013, with less than 500 to be made
Price: From £700,000
Peugeot Onyx concept The Onyx conceptual study is sculpted using materials that are processed as little as possible. Created in conjunction with Peugeot Sport, the super sport study has a V8 engine and intuitive instruments and controls.
Mercedes-Benz Aesthetic S
Mercedes-Benz previewed the fourth in its 'sculptures' that hint at the marque's design direction for upcoming cars, in the case of Aesthetic S evoking the spirit of the new executive S-Class. This is a projection display in three acts whereby the observer sees a three-dimensional world created by a team in the advanced design department in Stuttgart. 'The sculpture is a more artistic approach that embodies our design philosophy rather than showing the new S-Class,' explains Gorden Wagener director of Mercedes-Benz design. 'Inspiration comes when you ask someone to do you some artwork.'
Mercedes-Benz SLS AMG Electric
The SLS AMG Electric Drive is the world's fastest electric series production vehicle. It has four electric motors, producing a total output of 552 kW and maximum torque of 1,000 Nm, and it accelerates from zero to 62 mph in a mere 3.9 seconds to a maximum speed of 197mph. Little stylistic modifications on the grille, logo and colour differentiate this from the standard SLS AMG. 'It is our new colour for electric drive,' says Gorden Wagener director of Mercedes-Benz design of the bright blue exterior shade. 'We think it looks very electric.' He says Mercedes will not differentiate the design of its electric cars: 'We're not a fan of the electric car looking completely different.'
On Sale: Summer 2013
Price: €416,500
Mini Paceman
The Paceman is the seventh member of the BMW Mini family, a coupé derivative of the Countryman, and a competitor to the very successful Land Rover Evoque. 'What characterises this car is a set of very powerful lines with a slightly sloping roof line which makes the car look very unique,' says head of design Anders Warming. 'We want to make sure you see our heritage on every car.'
On sale: March 2013
Price: £18,970
Rolls-Royce Art Deco
Rolls-Royce has created a trio of cars inspired by Art Deco. The Phantom saloon, drop head coupé and Ghost models pay homage to the Exposition Internationale des Arts Décoratifs et Industriels Modernes of 1925 when the name was first coined by shortening Arts Décoratifs. The cars work to recreate the theatre and drama of that period. They are finished in period colours, and feature details such as mother-of-pearl and silver inlays, and ornamental glassware.
Jonathan Bell has written for Wallpaper* magazine since 1999, covering everything from architecture and transport design to books, tech and graphic design. He is now the magazine's Transport and Technology Editor. Jonathan has written and edited 15 books, including Concept Car Design, 21st Century House, and The New Modern House. He is also the host of Wallpaper's first podcast.