Mimo brings San Sebastián food culture to its new London cooking school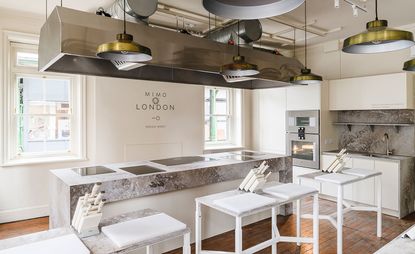 (Image credit: Miguel Jimenez)
Husband and wife team Jon and Nicole Warren have brought their cookery school Mimo to London's Borough Market. Having lived in San Sebastián for ten years, they are now sharing their knowledge and experience with hands-on cookery school classes, market tours, forward-thinking food experiences and chef's tables.

Mimo came about from the food culture of San Sebastián, with its flourishing culinary culture. Enchanted with the local tradition of pintxo bars, Jon and Nicole opened their first cookery school and gourmet shop in the Spanish Basque resort town. With its success, there was room for expansion. They opened another school in Seville in 2016, Mallorca in 2017, the Algarve in 2018 and now London. Basque-native Joseba Lasa join's Mimo London team as head chef, bringing with him knowledge of the traditions and culture from his home country and expertise from previously being head chef at the Urban Caprice. Joseba and his team will hold daily cooking classes, wine tasting and a contemporary dinning experience.
Marring Iberian cooking and British home-grown produce, the cooking experiences will include a variety of activities from lunch hour sessions for the whole family: settling down for a tasty meal of the day's gathering, to a detailed study of the Basque pintxo culture. If you want an even more experimental culinary experience, Mimo organise trips to take guests from their Borough Market establishment straight to San Sebastián on a private jet, bringing together a class of 'seasonal cooking with haute cuisine techniques' and a cook's tour of the market.

The kitchen features Caesarstone's distinct 'Excava' surfaces that echo the earthy tones of San Sebastián, complimenting the food. The first floor has cutting edge Gaggenau appliances and black glass hobs that reflect the dark cabinets while the 'Rugged Concrete' cooking island by Caesarstone, rustic wooden flooring, simple communal table and sleek bar stools around the island, all add to the homely yet sophisticated feel of the first-floor London venue.
Caesarstone created surfaces that perform as the main piece of both floors – bringing students and diners together while they cook, eat and socialise. There is a raw authenticity to the interior of Mimo London that is both comfortable and humble at the same time, reflecting the provenance of the food that is prepared and consumed there.
INFORMATION