McLaren's twin convertible launch boasts supercar drama
The 720S and 600 LT Spiders set high expectations for McLaren's upcoming 18 car strategy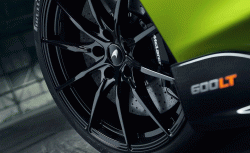 (Image credit: McLaren Automotive)
A purist sports car manufacturer, born out of an acclaimed Formula 1 team, McLaren represents the apogee of techno-fetishism. It might compete against brands with meatier histories, but the British company consistently punches above its weight, parlaying weighty investment into shiny infrastructure and class-leading technology – particularly in the realm of carbon fibre. All McLarens rely on carbon fibre, the miraculously light and strong material that the McLaren Formula 1 team pioneered back in the 1970s. These days, CF forms the core of McLaren Automotive's low volume, high spec, ultra-high-performance mid-engine cars.

A McLaren is a luxury, without question, and yet the company's very singular focus on performance gives it an edge over the competition. For a start, it has none of the cultural baggage that a Ferrari or Lamborghini driver has to lug around. The newest cars to come out of the company's sleek Foster-designed factory in Woking are both convertibles. Hoping for a spot of winter sun, McLaren held the twin launch in Arizona, with open desert roads and a private race track as a suitable backdrop. A mid-engined convertible is a complex piece of engineering, with packaging and structure that has to be planned from the outset. But more models equates to more sales – the luxury market is thinly-sliced to stimulate demand. The strategy works; 2018 saw McLaren's sales rise to just over 4,800 and the company hopes to hit 6,000 cars a year by 2025, when the final car in its ambitious Track 25 programme is delivered.
This strategy sets out 18 new cars, some of which are still swathed in total secrecy, divided across McLaren's three core model groups, the Sports Series, Super Series and Ultimate Series. We're told to expect class-leading hybrid powertrains, but the company is equally adamant that they're not building an SUV. Given that Lamborghini is already there, with Aston Martin following next year (and Ferrari is strongly rumoured to be moving in that direction), this could be one position that genuinely sets McLaren apart. Candy-coloured supercars from Woking and nothing else.

For now, hybrids are reserved for the Ultimate Series cars like the forthcoming £1.75m Speedtail. 'Regular' sports car buyers like open cars; in 2019, half of all McLarens sold will be Spiders. On paper, the Spider variants of the 720S and 600 LT don't offer many surprises beyond their swiftly folding roof. Spiders are for a certain type of customer, for they take the drama, noise and display of a supercar to another new level. For manufacturers, the challenge is to incorporate a weighty roof mechanism into a necessarily stiff, strong superstructure without compromising the primary asset – performance. In the past, the vast majority of topless supercars had canvas roofs – some were even clip-on affairs that threatened, like toupees, to detach at speed. Today's buyer is more discerning, not to mention self-conscious, and the folding hardtop has become de rigeur in the sector. That means engineering an open topped car from the outset, ensuring that the necessary strength and structure is present regardless of whether there's a roof there or not.
First up, the 720S Spider. The flagship of McLaren's Super Series of production cars (as opposed to the strictly limited 'Ultimate Series' and one-offs), the 720S is a V8 powered two seater, a purposeful wedge with ducts, lights and vents gouged out of its fluid, organic almost insectoid lines. It's pretty beautiful, in a pretty brutalist kind of way, and the incorporation of an ultra-swift roof system only enhances the drama. The doors still hinge up and forward and the rear view is still filled by a blade-like glass flying buttress – visibility all round is excellent, and the low, forward-placed driving position and perfectly weighted steering brings an unbeatable connection with the road.
RELATED STORY
To get to this point each car required a masterclass in automotive engineering. McLaren's meticulous manner is all too evident, illustrated by the almost comic obsession with figures, especially grams, seconds and kilometres per hour. The headline numbers are impressive and the company has mastered the art of putting them across in a slightly self-deprecating way – very British – but it still underlines the main reason that cars like this are sold; bragging rights. Some of those treasured statistics: the Spider is just 49kg heavier than its closed roof sibling; eight motors open or shut the top in just 11 seconds at speeds of up to 30 miles an hour; roof up, the 720S will hit 62mph in about 2.9 seconds and head on to a 212 mph top speed. Should you desire, an electro-chromic glass roof panel is available, for an extra £7,500, just a fraction of a lavish options list that is mostly concerned with slathering yet more carbon fibre over the interior and exterior. In our possibly controversial opinion, CF is the Formica of the age, technically innovative, undoubtedly useful, but definitely not required on every available surface.
These are quibbles. The 720S is one of the finest performance cars available, whether open or closed. McLaren have found a sweet spot between the effortless delivery of power and a sublimely comfortable ride. Twisting roads are not Arizona's forte, but the long sweeps of desert highway that head north out of Scottsdale allowed us to explore just a fraction of the power on tap. These days, every time a mighty combustion engined machine is rolled out there's a sense that it's the last of its kind; with hybrid power imminent, the V8 supercar could well be consigned to history. Enthusiasts may lament, but this is the cost of progress. The cars that come next have a tough act to follow, such is the 720S's intuitive, almost telepathic relationship between engine, gearbox and steering.

The 600 LT Spider is a different proposition, although both cars are cut from the same cloth – a mid-engined, open-topped V8. 'LT' stands for Longtail, a throwback to the special-bodied racing versions of the seminal McLaren F1 back in the 90s and now enshrined as the company's high-performance badge. The 600 LT Spider is uncompromisingly focused on speed, stripped back with weight-saving materials and aimed at wealthy enthusiasts who like to mess about on race tracks, either borrowed, rented or owned outright. It is loud, raucous and – in the hands of a professional – seemingly gravity defying in its ability to stick to a track.

Produced in strictly limited numbers (with one eye on the collectors' market), there is no detail that hasn't been considered. The company has stripped out the glovebox and door bins to save a kilogram, and switched to titanium wheel nuts to save a further 420g. You'd have to be a McLaren test driver to notice such things, let alone the difference they make, but that's partly the appeal of the brand; McLaren does the details and you can choose how much they matter. Both of these cars represent a company at the top of its game, but also the limits of what current technology can offer, given the changing world in which we live. Opening them up simply enhances their visceral intensity. The next generation of supercar customers might need to have very different desires.
INFORMATION
McLaren 720S Spider, from £237,000. McLaren 600LT Spider, from £201,500. For more information, visit the website (opens in new tab)
Jonathan Bell has written for Wallpaper* magazine since 1999, covering everything from architecture and transport design to books, tech and graphic design. He is now the magazine's Transport and Technology Editor. Jonathan has written and edited 15 books, including Concept Car Design, 21st Century House, and The New Modern House. He is also the host of Wallpaper's first podcast.