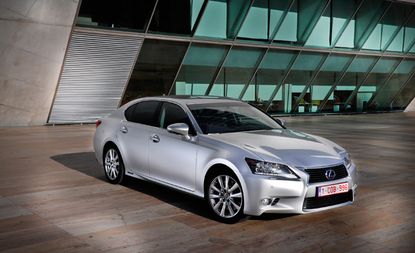 (Image credit: Lexus)
Lexus (opens in new tab) is something of an enigma, a company with a bizarrely broad remit. Book-ending a range of hugely competent but emotively sterile saloons and SUVs are a small luxury hybrid hatchback, the CT (opens in new tab) (a jazzed up Prius) and the LFA hypercar (opens in new tab), a GT racer for the road. Between these twin pillars, the company is trying hard to bolster its design credentials and bring fresh life into its biggest sellers.

Thinking of the Lexus GS (opens in new tab) – the GS stands for Grand Touring Sedan – memories of the Giugiaro-designed mid-1990s mk1 model, with its big swaggering GT shape, great concave alloys and leather-clad interior, immediately spring to mind. But a lot's changed since then. The mk2 (1998) and mk3 (2005) models brought softer lines and a face with four distinct round headlights and the mk3 added hybrid-only power. The 2012 mk4 model – on sale this July – returns to simpler twin front light covers again and reintroduces a petrol-only model alongside the large hybrid, due to pent-up customer demand, says Lexus.

The GS mk4 also gets the brand's so-called 'spindle grille' for the first time – where the sides of the radiator grille cut in diagonally before kicking back out at a similar angle. The GS has a distinctive enough front face, although from the side and rear, the BMW 5 Series-rivalling executive saloon looks a little generic.

The inside is better. There's still a lot of high quality leather as standard, and all models get perforated leather seats that are heated and ventilated too. Sophisticated details include the centre dashboard's analogue clock, forged from the same single aluminium billet as its neighbouring twin air vent surrounds – an element close enough to be appreciated by driver or front passenger, by sight and touch.

Along with a high specification equipment list – from 10 airbags to cool ambient interior lighting – the overall impression is refined and luxurious, especially in Premier trim. This top version adds a truly amazing 17-speaker Mark Levinson stereo, packaged with an extremely large 12.3-inch screen so full-colour satellite navigation map and music selection choices can be displayed clearly side by side without resorting to squinty-sized fonts. Both systems are adjustable from a mouse-style shifter and knob on the central transmission tunnel, whose intuitiveness has improved considerably over the previous generation.

The driving display for the GS450h is similar to the smaller CT200h hatchback and can change function and colour according to four driving modes. For instance, choose Sport S or Sport S + mode and a digital rev counter appears where the charging info was once displayed. Drive more economically and a green light comes on to indicate full-electric travel mode – possible at up to 25mph or for 0.62 miles.

With a smooth V6 petrol connected to an electric motor and CVT automatic there's none of the high pitch noise of the smaller CT200h's 1.8 at high revs. The GS 450h's progress is effortless and can be left in full automatic mode or adjusted via paddleshift gears to hold onto your gear selections rather than the car's brain deciding for you, as some other rivals have it. In Sport S +, the steering and suspension becomes noticeably firmer and the throttle sharper too but there's still a feeling of detachment from the driving process. Jaguar plus the top German marques still do it better.

Diesel isn't part of Lexus's GS engine strategy but it will offer a more economic and lower price hybrid – with a V6 petrol engine to keep things smooth – by mid-2013 to match BMW's popular 520d diesel model, so expect a lower starting price then of circa £30,000. Meanwhile the 209hp 2.5-litre GS 250 SE petrol unit starts the range at £32,995 with the 345hp 3.5 GS 450h Premier hybrid topping it at £50,995.
Guy Bird is a London-based writer, editor and consultant specialising in cars and car design, but also covers aviation, architecture, street art, sneakers and music. His journalistic experience spans more than 25 years in the UK and global industry. See more at www.guybird.com (opens in new tab)