Drawing inspiration: Karl Lagerfeld and Faber-Castell launch the artist's ultimate toolkit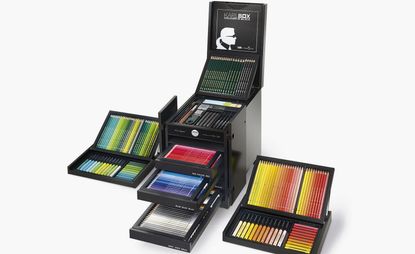 (Image credit: Karl Lagerfeld)
It's an impossible endeavour (and a foolish one at that) to try and condense fashion designer/artist Karl Lagerfeld's colossal career into a short and snappy introduction. In many ways, being such a powerhouse brand means that simply mentioning his name is sufficient.

It is precisely Lagerfield's monolithic presence that makes his latest collaboration so intriguingly intimate and personal.

Serving as a testament to his aptitude for illustrating – the central driving force behind his fashion designs and striking works of art – Lagerfeld has teamed up with the premium pencil-maker Faber-Castell to create the 'Karlbox'.

Combining Lagerfeld's sublime style with Faber-Castell's timeless sophistication, the 'Karlbox' is a luxury kit comprised of 350 fine art tools for drawing and painting.

The extensive collection includes Albrecht Dürer and Polychromos colour pencils, highly pigmented Pitt Artist ink pens, Castell 9000 graphite pencils, watercolour brushes and Pitt crayons and pastels; complete with essential accessories such as a foldable water cup, an eraser and sharperners.

Demonstrating his eye for simple, refined design, Lagerfeld conceived the box's all-black aesthetic. The wooden frame is reminiscent of a Chinese wedding cabinet, with the drawers housing shades that have been systematically sorted into primary and secondary colours. The drawers are also removable to fully personalise the working space.

Reflecting on his preferred mode of expression, Lagerfeld says: 'To me, drawing is like breathing and writing. These are things that almost relax me.' This admission suitably sums up the 'Karlbox', which feels like a love letter to the art of drawing itself.
INFORMATION
The 'Karlbox' is priced at £2,500 and is available exclusively at Faber-Castell stores, Karl Lagerfeld boutiques worldwide and at Harrods. For more information, visit the Faber-Castell website