Hay fever: chefs going crazy for cattle fodder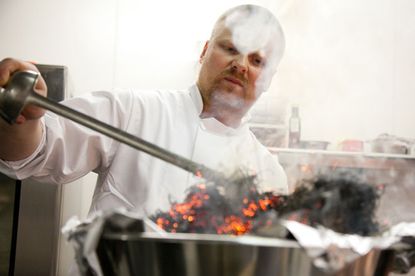 (Image credit: Angela Gokani Brasier)
Restaurant: North Road, London
Chef: Christoffer Hruskova
Cooking with hay is an old Scandinavian tradition, dating back to the Vikings, so for Danish chef Christoffer Hruskova, it is a means to reconnect with his heritage. He began experimenting with burnt hay at his bistro, Fig, four years ago and it now features regularly on the menu at North Road, the London restaurant he opened last year.
www.northroadrestaurant.co.uk
Foraging the forests, hedgerows and shorelines for culinary treasure has become routine procedure for today's young chefs. But, as shown in our December issue (out now) their rural rummaging is now spilling onto farmland, with hay becoming the haul of choice.
Hay has been at play in kitchens for centuries, principally as a herbaceous wrapping for baking meats (to give its French nomenclature - 'dans le foin'), or as a fragrant smoking agent. Discovering innovative uses for it has now become a favourite culinary pastime: while Heston Blumenthal (opens in new tab) is hay-smoking his mackerel according to an 18th century recipe, Christoffer Hruskova of London's North Road (opens in new tab) hay-bakes his rabbit, and over at New York's La Fonda del Sol (opens in new tab), lamb is cooked over hay and served with hay-infused yoghurt. Meanwhile, at East Village's Vandaag (opens in new tab), hay has been used in many different ways, from smoking breads, to beefing up stocks and cold-smoking scallops.
Celeriac, sweetbreads, chicken, venison, veal and shrimps are all getting the treatment too and in various eateries, including Jean Georges (opens in new tab) in New York and North Road in London, it is even flavouring ice cream. We have rounded up some of the more interesting hay-infused plates from restaurants around the world and asked North Road's Hruskova to explain its allure.
Why do you cook with hay?
Christoffer Hruskova: It's an old Scandinavian tradition, dating all the way back to the Vikings. Burnt hay was used as a means of preserving food - as was throwing burnt birch into water, to cure fish and meat. The tradition was forgotten for a while. It certainly wasn't being used when I was a child.
But, recently we've started to look back at our heritage and rediscover these wonderful techniques. I began experimenting with burnt hay at my bistro, Fig, four years ago and when I opened North Road last year it was always going to be something that featured regularly on the menu.
What is so special about the hay flavour?
CH: Burnt hay can give food a slight acidity, which makes sense if you think of it as originally being a preserving technique. It also gives a charred flavour that is very deep and earthy.
You use hay for both meat and ice cream. Is it a taste that lends itself easily to both?
CH: Absolutely. With meat, the charred flavour is a very natural accompaniment, and with the sweet dishes it can be used for a much more subte nutty flavour.
How do you make hay ice cream?
CH: We make a custard base for the ice cream, eggs yolks, sugar and cream, in which we steep the hay for an hour or so. After taking the hay out, we freeze and churn the ice cream like normal. The result is very popular with our guests.
Restaurant: North Road, London
Chef: Christoffer Hruskova
Dish: Norfolk wild rabbit and burnt hay with jellied pear aquavit and comice pear
Restaurant: North Road, London
Chef: Christoffer Hruskova
Dish: Hay ice cream, sea buckthorn and liquorice 'bonfire'. The black 'ash' on the plate is liquorice
Restaurant: Coi, San Francisco
Chef: Daniel Patterson
Dish: Young carrots roasted in hay with sprouts, radish powder and shaved pecorino
Daniel Patterson's philosophy of shining a light on produce means that his kitchen at Coi in San Francisco uses foraged or locally sourced ingredients in delicate yet startling dishes. He says that cooking with hay adds a complexity and sweet, smoky, herbaceous flavour to dishes that can't be achieved any other way.
coirestaurant.com (opens in new tab)
Restaurant: Noma, Copenhagen
Chef: Rene Redzepi
Dish: Smoked Quail's egg
A quail's egg, delicately blanched, smoked with birchwood and hay just before serving, at Rene Redzepi's superlative Noma in Copenhagen, twice ranked the 'world's best restaurant'.
www.noma.dk (opens in new tab)
Restaurant: Dinner by Heston Blumenthal at the Mandarin Oriental, London
Chef: Heston Blumenthal
Dish: Hay smoked mackerel, lemon salad, gentlemen's relish and olive oil
These mackerel fillets are cured in bergamot, smoked in hay and served with a garlic, anchovy and bread sauce. Blumenthal says that this dish follows the British tradition of smoking the food with whatever was available locally, in this case fresh meadow hay.
www.mandarinoriental.com (opens in new tab)
Restaurant: Vandaag, New York
Chef: Humberto Guallpa
Dish: Cheese toast made with hay-smoked country white bread and pear butter
This Dutch/Danish all-day bakery, bar and restaurant in New York is big on hay. It serves a smoked pumpkin soup, a sea weed salad with smoked goose breast, smoked mackerel, smoked beer with cheese ice cream and a cheese toast made with hay-smoked country white bread with pear butter, and, you guessed it, they are all smoked with the cattle fodder.
www.vandaagnyc.com (opens in new tab)
Restaurant: Vandaag, New York
Chef: Humberto Guallpa
Guallpa's hay-smoked bread basket