Hackney's hip new gym Blok opens with focus on fitness, fighting and bone broth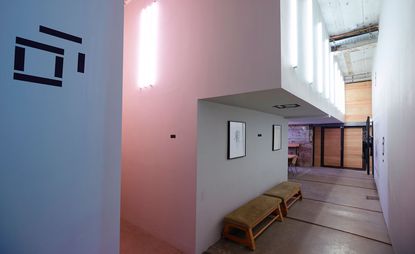 (Image credit: Max Oppenheim and Lou Rolley)
Bare brick walls, tramlines, vaulted concrete ceilings and cast iron pillars hardly spell out the makings of a great gym, but Blok, London's latest workout space, begs to differ. It is precisely these features that first drew founders Ed Stanbury and Max Oppenheim to the Hackney space. 'The location, at the bottom of a cobbled road flanked by Victorian industrial units, is raw and unexpected,' explain the founders. 'It reminded us of locations in Berlin, where high-end restaurants and clubs can be found in utilitarian industrial estates.'

Set up in partnership with Reema Stanbury, their resident health and nutrition expert, the trio already had the conceptual foundations of their modern endeavour: a designer gym with a gallery space and cafe.

'As you enter through its large timber door, you arrive onto a gallery space,' explains interior designer Daytrip. Here, the fluorescent lighting installations inspired by the works of Dan Flavin and Robert Irwin light up the space in a field of colour – pinks, oranges, greens and blues – evoking illusions and playing with the block forms of the atrium and interior. The gallery makes a link between the café area, the studios and the changing rooms.

Housed in converted depot stores – with their original brickwork and cast iron structure still exposed – the two studios cater to different themes, denoted by the different colour gradiations of the lights outside them. Studio 1 focuses on functional fitness, strength and conditioning and boxing (cantilevered metal I-beams mounting retractable training equipment), while Studio 2 focuses more on the relationship between body and mind with a variety of yoga, pilates, barre and meditation classes.

Blok Café caters a simple yet functional service, both in food and furnishings. A bespoke kitchen table in Douglas fir and steel takes centre stage, a hot-rolled steel service counter with reeded glass screens beyond; both are robust yet raw. On the menu are a number of nutritious drinks and snacks from companies like cold-pressed juice brand Botanic Lab, East London coffee roasting company Square Mile Coffee, protein supplement providers Monkey Nutrition and – interestingly enough – the Borough Broth Company, known for their organic (and restorative) bone broth.

Sprint, the work of artist Arran Gregory hangs between the cafe and reception, complimenting the unusual geometry of the reception and perfectly reflecting the ethos of Blok. Clapton it seems, is stepping it up a notch – in health, in art and in design.
INFORMATION
For more information, visit Blok London's website (opens in new tab)
Photography: Max Oppenheim and Lou Rolley
ADDRESS
Blok
Clapton Tram Depot
38–40 Upper Clapton Road
London, E5 8BQ
VIEW GOOGLE MAPS (opens in new tab)