Geox's technology and applied fashion is in the fast lane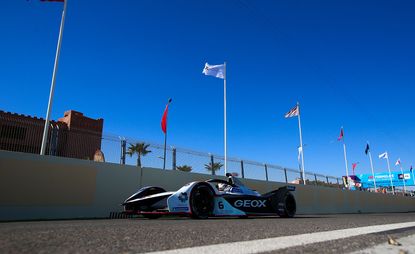 (Image credit: TBC)
Italian Mario Moretti Polegato's plantar epiphany happened in cowboy country, USA in the late 1980s. The son of Veneto wine dynasty, young Polegato was in Reno, Nevada promoting the family's famous Villa Sandi prosecco… and he was baking hot. 'The heat started to affect me immediately, especially my feet,' he recalls. 'So I took out my Victorinox swiss army knife and made holes in my tennis shoes for ventilation. I felt instant relief.' A small scar on the 66 year old's hand marks the moment where the knife slipped during the on-the-hoof procedure.

Returning to Italy and now on a podiatric, air-conditioning mission Polegato went on the hunt for perforated footwear… but could find nothing. So he invented his own; a revolutionary membrane-based construction composed of a microporous material that absorbs sweat in the form of water vapour before expelling it through the perforated sole. 'I discovered there was a membrane in existence that was made up of millions of micropores whose diameter is greater than that of a molecule of steam but smaller than a molecule of water. The membrane enables sweat to escape without letting water in.'

Polegato attached membrane to perforated sole. An effective, working prototype was made and (crucially) patents immediately established in 100 countries. He took his new invention to the world's major sports shoes manufacturers. They all turned him down.
'My story is a bit like Steve Jobs', the Geox CEO says. 'I had invented a technology that improved the experience of wearing a rubber soled shoe but people thought I was crazy, they said. You are trying to sell me shoes with holes in them!' Astonished that no-one believed in his maverick, game changing technology in 1995 Polegato decided to start his own business – just five people making children's shoes. Almost 25 years later, the Geox Respira brand – men's, women's and children's footwear (breathable rubber and leather soles), clothing and accessories – is 30,000 employees strong and has around 1,300 stores all over the world. And the likes of Nike and Adidas still haven't cracked Polegato's secret formula.

The restless, billionaire founder who drives a Tesla and designs his own distinctive spectacles, likes to call Geox 'a technology company with applied fashion.' Geox is not a trend-driven, or athletic-inspired brand, he insists, but it was responsible for inventing the now massive lifestyle sneaker apparel category, the applied fashionability of its lines contributed by the savvy appointment of, firstly, chief marketing officer Andrea Tremolada, formerly of Roberto Cavalli and Salvatore Ferragamo and then women's footwear designer Ernesto Esposito.

An Italian cobbling legend of international repute (Andy Warhol painted his portrait more than once) Esposito has been designing shoes for the likes of Sergio Rossi, Marc Jacobs, Chloe, Sonia Rykiel, Louis Vuitton, Fendi and Bruno Magli since the 1970s. Esposito joined Geox to rev up its now extensive women's lines, adding aeriated lines of Ballerinas and sandals with extra va-va-voom, his hiring rubber-stamping Polegato's desire to make his company a more design-focused endeavour.

Wallpaper* is with Polegato discussing women's shoes, breathable membranes, the company's recent acquisition of the Diadora brand and smartphone-programmed LED-illuminated soles (a new innovation for the Geox kids' line) in the pit lane of a FIA Formula E race in Paris. Cars pass by the street circuit's straights in a thrilling, blurry disconcert of clatter and whistle, big batteries humming with energy, carbon brake shoes glowing – two of them bearing the Geox logo.

Headquartered in Los Angeles, California – AKA the largest single Prius-driving, metropolitan EV (electric vehicle) market in the world – the Geox Dragon team's drivers wear racing shoes made bespoke by Geox's lab and fireproof suits that employ cutting-edge Geox apparel technology to enable improved cooling and breathing. Brand and race series are a good fit because, explains Polegato, 'the Formula E schedule takes in places like Saudi Arabia, Mexico, Morocco – hot places where keeping cool is essential. The drivers often have a body temperature problem.' When the races are done, the kit goes back to the Geox lab for examination and improvement, the drivers effectively serving as test pilots for the new product. A new line of Geox sneakers, the Aerantis D is a replica of the custom sneaker created for the Geox Dragon racing team.

The Paris race begins in sunshine and ends in a fierce rain storm. Cars spill off the corners and chicanes all over the track but the Geox Dragon team cars keep their cool – rubber maintaining a firm grip on wet tarmac, monochrome livery looking stylish. Geox's technology and applied fashion in fast-forward motion.
INFORMATION
For more information, visit the Geox website (opens in new tab)