Fresh from the Lab: Botanic Lab and Amelia Freer reveal new drink 'Shine'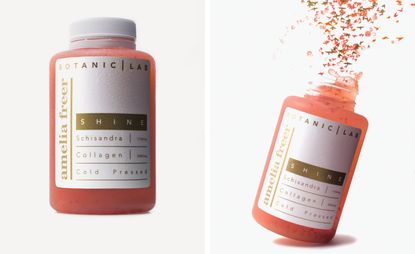 (Image credit: press)
Botanic Lab (opens in new tab) might be best known for mixing a medley of flavours and next generation drinks – including its popular Kola+ and Isotonic – but this month sees the London Lab dipping its toes into a new territory: beauty.
In collaboration with nutritional therapist Amelia Freer (the best selling author of Eat. Nourish. Glow.), Botanic Lab and Freer have launched an unprecedented rosy-hued beauty tonic called Shine. The new drink centres around two hero ingredients: skin-loving collagen and stress-reducing schisandra berry (or 'five taste fruit') – the former derived from natural, sustainable fish sources, while the latter, a herb and staple of Chinese medicine and beauty ritual for millennia, boasts a unique yet complex sweet, sour, salty, bitter and pungent flavour combination.
Armed with a cocktail of beautifying and healthful ingredients, the drink is also infused with vitamin C rich grapefruit, raw cane grass, lime and a hit of fresh ginger, revealing that Shine does not just ride a trendy wave of "it" ingredients, but rather redefines the image of cold-pressed juices altogether.
As the first organic, cold-pressed restorative with hydrolysed collagen, this potion proves that green and tasteless juices are a thing of the past, as this is a drink that explodes with aromatic flavour: floral, woody and the subtle savour of spice – the taste is surprisingly delicious. Staying true to Botanic Lab's innovative style, this concoction does exactly what it says on its sheeny, golden bottle: it will make you shine from the inside out.
INFORMATION
Shine is available to buy online (opens in new tab) in boxes of 8 bottles (including delivery) £60, or at selected Botanic Lab stockists (opens in new tab)
ADDRESS
Unit 306/307, 2 Portal Way, London, W3 6RT