Caesarstone and Arabeschi di Latte concoct an elemental cookbook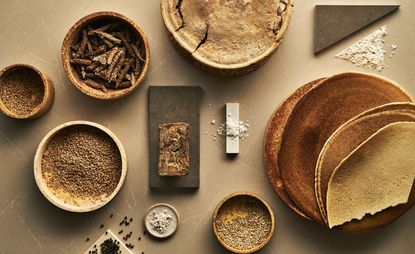 (Image credit: press)
Esteemed or not, a quartz company doesn't seem the obvious choice of publisher for a boundary-pushing cookbook. But Caesarstone isn't any old stone-cutter, and A Material Menu: Designs for the Culinary Aesthetic isn't any old cookbook.

For a start, the tome has been created in collaboration with Francesca Sarti of outré food/design studio Arabeschi di Latte. Secondly, Caesarstone has no little experience in these intersecting worlds, largely down to its work with designer du decade Tom Dixon – specifically, the Salone del Mobile-inaugurated project it created with him earlier this year based around the four elements, titled The Restaurant and on which this large-format book is based.
A sage-smoked and roasted cauliflower comprises The Dark Trophy, from 'Fire' (against Caesarstone 6003 Coastal Grey, 5100 Vanilla Noir)

Therein, eight conceptual recipes and and a series of food stories constructed around the concepts of air, wind, fire and earth are styled by Sarti, illustrated with photography by Tom Mannion and set on the page by Micha Weidmann Studio (and all against Caesarstone's austere quartz backgrounds, naturally).

Sarti herself has devised the book's recipes; riffing on traditional dishes and conspicuously integrating each of the elements in their ingredients and cooking methods. 'The book gave me the chance to develop our Milan menu and work on eight new recipes to represent the elements that would not only delight and provoke the taste buds but tantalise the eyes and echo Caesarstone's work surfaces in a way that would further explore the boundaries between food and design,' she explains.
Icefish Fritters, from 'Ice' (against Caesarstone 6131 Bianco Drift)


The results are varied, and endlessly eye-catching: from the Stone Sandwiches and Testaroli pesto pancakes of 'Earth', and the Salty Lemonade and Icefish Fritters of 'Ice'; to a cauliflower-based Dark Trophy and goat's cheese Torteau Fromager for 'Fire', and a torrone and meringue Egg Tower and tropical Snow Soup for 'Air'.

We helped Caesarstone launch A Material Menu in Miami last week, at Mr Chow on W South Beach. The auspicious dinner saw the imposing Egg Tower whipped up for diners and served on Caesarstone quartz plates. All in all, A Material Menu looks good enough to eat – quite literally.
INFORMATION
For more information, visit the Caesarstone website (opens in new tab)