Cool and collected: New York Pilates' new Soho location ticks all the boxes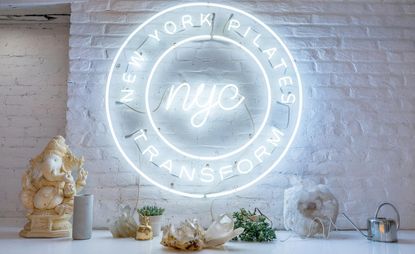 (Image credit: press)
Suffice to say that the fitness expertise of a former dancer is usually worth trusting, but that's only part of the reason we've cottoned on to the opening of Heather Andersen's second boutique pilates location in New York City. New York Pilates Soho follows the studio's Washington Square location, which opened in 2013.
The clean aesthetic of the zen-like space is the other reason. Complete with whitewash brick walls, candlelit bathrooms and sports-stadium-esque benches that double as storage, it has core strength devotees flocking to partake in intelligent workouts on spring-based resistance beds in a chic, contemporary space, while exuding minimalist cool and still being warm and welcoming.
Anderson's husband and business partner Brion Isaacs, owner and creative director of Rivington Design House, designed both spaces. 'We collaborated on everything with a focus on flow, vibe, function and beauty,' says Andersen. '[Isaacs] creates immersive experiences that highlight the sophistication of New York City, while transporting you to another place. We wanted it to feel authentic, clean and simple – no detail is overlooked.'
The couple has achieved an open and alive space that's fairly uncluttered. 'A native New Yorker, Brion feels there is nothing more luxurious than open space in Manhattan,' says Andersen. The Washington Square location, filled with plants and lighting, feels like a hidden outdoor oasis, while SoHo embraces the rich art loft history of the building. Large windows with flowing curtains reveal natural light that expands the space; while wide-planked maple floors host modern pilates equipment and props.
Bathrooms featuring traditional hex tiling, pedestal sinks and a reception area showcasing a neon logo and cool-girl apparel act as support spaces. 'Most of all, we wanted a grand seating area where students and staff could hang out together,' says Andersen. 'The coolest side effect is people coming in early to work and staying 30 minutes after class to just chill.'
INFORMATION
For more information, visit New York Pilates' website (opens in new tab)
ADDRESS
New York Pilates Soho
25 Howard Street
New York, NY 10013
VIEW GOOGLE MAPS (opens in new tab)