'Collection 1': the sunglasses throwing shade at the mass-market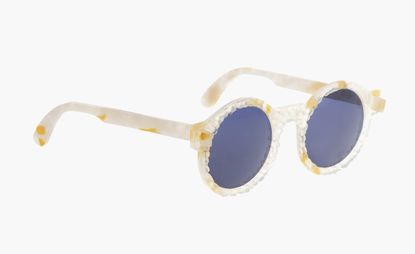 (Image credit: TBC)
With rising environmental concerns among consumers, many companies are striving to make products that are more eco-friendly – and no product epitomises this new awareness quite like 'Collection 1' from Crafting Plastics Studio.

Launched at Spazio Rossana Orlandi during Salone del Mobile, 'Collection 1' is a new range of sunglasses like no other. The result of innovative research conducted by Crafting Plastics Studio, each pair of glasses in the new collection is unique and handcrafted which, the studio claims, blesses each pair with 'a distinct personality'. Truly innovative, the sunglasses have unique lifespans – designed to biodegrade once no longer in regular use.

The brand behind the ecological sunglasses was originally conceived for a Masters project by designers Vlasta Kubusova and Verena Michels. Now working in collaboration with material scientists and having developed its own bioplastic, the studio's ambition is to develop products right down from the raw material, stating that, 'our pursuit is to be in full control of the lifespan of the product, from its origin through the final product until its inevitable decay'.

Although the designs for the sunglasses are not finalised, the studio does intend to release them as a limited 'imperfect' collection – with hopes to collaborate on a wider release with eyewear companies, material producers and distributors in the near future.

Quirky by design and eco-friendly by nature, the collection is not only stylish but provides a thrilling glimpse into the future of product materiality.
INFORMATION
For more information, visit the Crafting Plastics Studio website (opens in new tab)