Clerkenwell London opens as a multifaceted design destination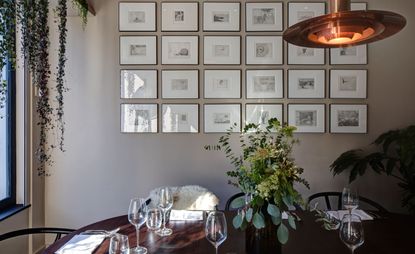 (Image credit: press)
Milan has 10 Corso Como, Paris has Merci, Manhattan has the all-new Chamber. Now, finally, London has its own bona-fide design destination of note in the 10,000 sq ft shape of Clerkenwell London, a space (don't call it a 'concept store') opening officially this month on Farringdon Road.

Combining eatery, bar, wine library, design gallery, furniture floor, event space, spa, tailoring boutique, gold-parqueted fashion space, perfumery, and jewellery rooms, Clerkenwell London's remit is to showcase niche and established designers, creatives and artisans. Mixing contemporary and vintage hand-picked homewares, fashion, jewellery, stationery, art, music and literature, it's a celebration of innovation and craftsmanship across many industries.

Clerkenwell London was originally founded and has been newly recreated by David J Brown – a trained tailor, classical pianist and fine-wine enthusiast who also happens to be co-founder and CEO of what is now Europe's third-largest tech company, Ve Interactive. With an impressive team on the ground to continually and expertly curate the space, the aim is to make the most of the location and its resident talents as well as the heritage of the architects, watchmakers and other designers the area has historically attracted.

Within a warren of different rooms over two floors, much of what is available is specific to Clerkenwell London. The on-site perfumery, for example, features their own in-house brand, 'Synesthesia', and customers can create their own bespoke fragrance, candle or body product. The appointment-only personal tailoring service with an experienced in-house tailor offers bespoke and made-to-measure clothing, including their very own signature suit – the 'Clerkenwell'.

Showcased designers hail from all over the world, however: the space stocks stationary from Akoto; blankets from Andreas Engesvik; ornamental glassware from Dechem; and geometric tableware from Ewelina Wisniosvka. In the neon-labelled Undressing Rooms, customers can try pieces by Stutterheim, Zoe Jordan and Hannibal.

The team behind the space have every intention of ensuring it is recognised as much more than a store or a restaurant, too. A busy calendar of events, workshops, tastings and classes include hands-on butchery, wellbeing sessions and scent-making master-classes.
With an impressive team on the ground to continually and expertly curate the space, the aim is to make the most of the location and its resident talents as well as the heritage of the creatives and architects the area has historically attracted
ADDRESS
Clerkenwell London (opens in new tab)
155 Farringdon Road
London, EC1R 3AD
VIEW GOOGLE MAPS (opens in new tab)