Chef Christopher Haatuft conjures up a gastronomic picture of Norway for our Scandinavian retreat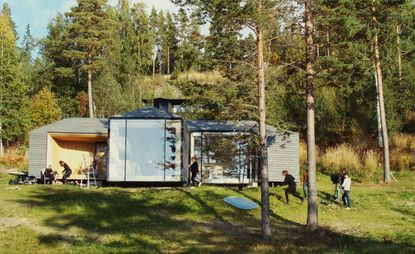 (Image credit: Benjamin Kempton)
or our December entertaining story 'Norse Power', we hightailed it to Hønefoss for a celebration of Norway's culinary renaissance. At an Atelier Oslo-designed cabin in Norderhov - its interiors styled by Wallpaper* veterans Benjamin Kempton and Melina Keays - we enlisted Bergen chef Christopher Haatuft to conjure up a gastronomic picture of this Scandinavian nation.
After stints at many restaurants worldwide, including Blue Hill at Stone Barns and Per Se in New York, Haatuft has now settled back in his hometown at the restaurant Lysverket, where he's revolutionised traditional Norwegian cuisine and pioneered a new incarnation some call 'Neo-Fjordic'. Using his expertise procuring the freshest ingredients, Haatuft tracked down the sea urchins for our shoot from northern Norway master diver Roderick Sloan. Haatuft married this local ingredient with a smoked-milk pudding and nasturtium purée to form a deliciously modern dish.
Among all the truly impressive gestures were some age-old Norweigian specialties, like pinnekjøtt (cured lamb ribs), which he designed with Wallpaper*-sanctioned clean glazing and adorned with a traditional garnish of rutabaga purée. From the fishing district of Lofoten he sourced aged salt cod, cured for more than two years, and prepared it three ways. Even the ice cream was impressive, its milk and cream taken from the same breed of cow and paired with Scandinavian brown-cheese caramel.
Haatuft's passion for Norway's culinary life continues to resonate in his new project, a dinner party series called 'Friends of Lysverket'. The events invite industry professionals, from historians to designers, to fully experience Lysvertket's authentic Noweigian food culture. Haatuft takes guests to regional restaurants, leads them on foraging expeditions from mountain to the sea and cooks the ingredients for them afterwards. Lysvertket takes fine hospitality to a unique new level and puts Bergen on the international foodie map.