Car master Frank Stephenson takes to the skies
New documentary 'Chasing Perfect' traces the renowned car designer's vertical move into electric aircraft design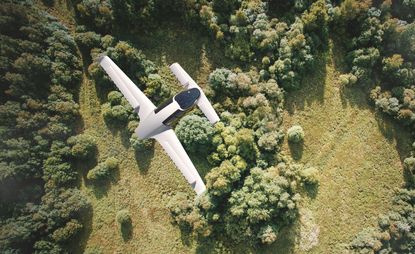 (Image credit: TBC)
Frank Stephenson takes sparklingly different approaches to design. His Ferrari FXX is a track-only supercar conceived to give the closest feeling to a race car as technically possible. The McLaren P1 hybrid hypercar offered an opportunity for this maverick designer to reimagine aerodynamic solutions by emulating nature. The MINI is a British icon re-invented for the 21st century, whilst the new era Fiat cinquecento saw the loveable Italian run-around designed for contemporary cities. Then there is the Ford Escort Cosworth racing car, complete with its enormous spoiler. These are all very different products, yet behind the surface, brilliance is a considered approach to design and a creative mind constantly pushing frontiers.

'Chasing Perfect' tells Stephenson's story. Released on 20 May, the documentary is a glimpse into the creative mind of one of the most inventive car designers of our time. In a career spanning 33 years, Stephenson has led design teams at Ferrari, Maserati, Alfa Romeo, Fiat, Lancia, MINI and McLaren. Now, he is about to embark on a more futuristic mission as he sets out to create the Lilium Jet, an electric vertical take-off and landing aircraft for 2025. Wallpaper* caught up with Stephenson to see what lies behind his adventurous mind.
Wallpaper*: Having largely been involved with traditional car design, as head of product design at Lilium Aviation, you have joined the progressive dialogue searching for the next stage of mobility. Why the move?
Frank Stephenson: Precisely because it feels like the next intelligent step in solving many of the problems with today's age of mobility. Designing cars is definitely a dream job, especially when it involves high-end supercars, but after 30 years it is dawning on me that there has to be a much more efficient way of getting from A to B. The great minds of our team at Lilium are intent on improving mobility for the masses, and the positive effects of this on our society are undeniable. Hence it is an irresistible challenge for a designer to be a part of this mission.

W*: The Lilium Jet is a highly inventive product, an all-electric flying hub with 300km range and Formula One speeds in the air. It is quiet for urban travel too. However, that means construction is complex, with individual electric jet engines embedded into the aircraft's wing flaps. Can you explain how your design supports engineering?
FS: Without getting into detail, the design of the tilting flaps with their electric jet engines allows for a fixed-wing aircraft that provides much more lift efficiency and higher straight-line speed than a drone-type aircraft. This translates into a faster, further and quieter journey.
W*: How does the interior support this progressive message?
FS: The Lilium Jet is an incredible opportunity to introduce a whole new direction of interior design that could only previously be imagined as a conceptual or futuristic design. So many new advances in materials, lighting technology and smart electronics are now allowing us to create interiors that will suit this innovative means of travel. It is exciting to be able to redefine what is the current state of transportation interiors and to set the course for a new wave of experiences for future customers.

W*: How close to production is the product revealed in 'Chasing Perfect'?
FS: What you see in the film is a genuine working prototype, and is designed to be taken to the skies, providing affordable flying taxi services around the world. In fact, right now we are working on something much more advanced and I am convinced transportation like this will become reality sooner than people tend to think.
W*: You have been responsible for some incredible cars, some of which pushed the limits of engineering and materials. How has the automotive experience shaped your work on the Lilium Jet?
FS: The things I've learnt from automotive design apply to aircraft design in that the best design is always a direct result of what works well. Good design is a consequence of understanding sound engineering principles and pushing the limits of what is currently possible. It is the job of the designer in any field to think of new ways to raise the innovation bar with each new design. Otherwise the designer is an artist.

W*: What are the differences?
FS: In car design the concerns are centred mainly around brand identity and aesthetics, interior comfort, luggage space and performance. In aviation these things also apply, but in addition safety and lightweight are even more important while aesthetics could play a lesser role. The objectives now are to create a jet design that provides the best performance and most exhilarating experience to customers who need to get from one place to another. The aesthetics will fall into place accordingly.
W*: Is your design team focused mainly on the jet, or do you have a role to play in other elements of the customer journey, such as landing pads and departure lounges?
FS: Much in the same way that Lilium is about introducing simplicity to the world of travel, our landing pads, lounges and integrated services will follow the same path of making the whole experience as relaxing and easy as possible. Customer satisfaction is at the centre of our core values and this requires that we put our efforts into the humanisation of the experience of flying with Lilium.

W*: 'Chasing Perfect' gives an interesting insight into how you work creatively. It is also a very personal account as we learn of your father's impact on your creative mind.
FS: He pushed me to pursue perfection. I've come to realise it is something that I'll always be chasing. I want the message of this film to inspire the next generation of car designers; the creative process of design can be hard, but pushing yourself to always try to achieve perfection – no matter how unattainable it may be – is the best piece of advice I can give to making incredible design become reality.
INFORMATION
'Chasing Perfect' is available for digital download from 20 May and on DVD from 27 May, courtesy of Lionsgate Home Entertainment. For more information, visit the Frank Stephenson website, and the Lilium website
Receive our daily digest of inspiration, escapism and design stories from around the world direct to your inbox