Combining the elements: Buster + Punch and Haeckels launch luxury fragrance diffuser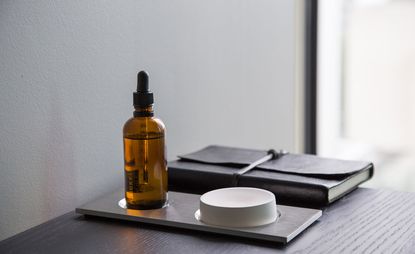 (Image credit: Buster and Punch)
Akin to the solid materials they machine, the brand Buster + Punch has been sticking to its design principles ever since it was born out of an East London garage back in 2013.

It was here that founder Massimo Buster Minale first discovered his love of producing refinement from raw materials. It's an ardent interest Buster + Punch has nurtured over the last couple of years, never deviating far from its clearly conceived design approach.

Buster + Punch's distinctly rugged edge makes its latest collaboration seem more fated than fortuitious, teaming up with likeminded Haeckels – the Margate–based skincare brand – to conceive a luxury fragrance diffuser kit.

Both masters at manipulating their respective materials, Haeckels has carefully crafted two fragrances that distil the essence of its approach while honouring its partners in the project. 'Sea Breeze' evokes the serenity of the seaside, comprised of cliff-top botanicals, grasses and rocks. 'Burnt Iron' serves as an ode to Buster + Punch's artistry, with a headier note developed from raw fragments of iron and burnt wood to symbolise the clash of craftmanship with nature in order to forge enduring creations.

The sensual collection is complemented by a ceramic diffuser crafted from locally sourced chalk. Aside from the obvious nod to Haeckels' ethos – acquiring only natural elements for their creations – the porous sedimentary rock also works as a natural diffuser with the simple application of a few drops of the fragrance.

Buster + Punch has fulfilled its part of the agreement by machining a sleek underlying surface for the fragrances, presented in two variations – solid steel and brass. The matte black silicon base elevates the plate and casts a slight shadow around the bottle and ceramic diffuser, adding further aesthetic gravitas.
INFORMATION
The Machined / Haeckels Fragrance Diffuser, £149. For more information, visit the Buster + Punch website