Myro's plant-powered deodorant wins Wallpaper* Design Award for Best New Grooming Product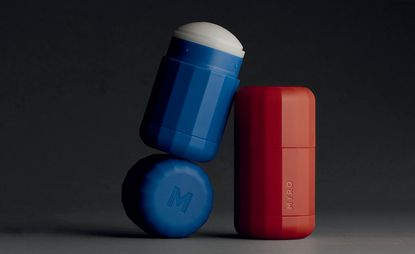 (Image credit: Philippe Fragnière)
Sustainable, organic and ethical wellness brands dominate in the Best New Grooming Product category, as voted for by our six high-flying judges, so its no wonder the winner is a plant-based, plastic-dodging deodorant. View the other winners of the Judges' Awards here.

Plant-powered deodorant, by Myro
Myro is a refillable deodorant system that addresses the health concerns and ecological impact of the plastic industry. Designed by New York studio Visibility, the packaging is a permanent piece of hardware that the user keeps, refilling with deodorising pods when necessary. The case comes in a choice of five shades, elegantly elevating a not-so-glamorous routine, and they're also airport-security friendly and leakproof. The deodorant refills, which are sent by mail, come in scents such as Chill Wave (cucumber, jasmine, spearmint) and Pillow Talk (violet leaf, ylang ylang and wild amyris) and are packed with plant-based ingredients like barley powder to keep you dry, and essential oils that release scent over time. What's more, the refills contain no aluminium, parabens, phthalates or talc.

Key features: Elegant refillable plant-powered deodorant with no hidden nasties
BEST NEW GROOMING PRODUCT SHORTLIST
Angle Razor, by Morrama
Angle Razor is the first solo project of London-based industrial design agency Morrama. A user-friendly version of the traditional cut-throat razor, it aims to bring back the pleasure and ritual of the wet shave in a domestic setting. In an era of smart shavers and disposable cartridges, it requires some practice to adapt to its lightness and optimised angle, but soon you'll gain more control than ever to achieve a close shave. Made from long-lasting anodised aluminium and with a sharp, timeless design, the Angle Razor sustainably facilitates the precise, detailed shave of a professional barber in the comfort of your home.

Key features: Made from machined aluminium and brass, this razor celebrates the modern wet shave
Make-up range, by Manasi 7
Susanne Manasi Persson is a Swedish-born make-up artist of Indian parentage with a passion for slow, organic living and a partner who is an art director. So it's hardly surprising that she has produced an ethical, inclusive, organic make-up line in dreamy packaging. Catering for long-neglected skin tones, her foundations are actually four 'skin enhancers' that range from very light to dark shades and can be mixed upon application to exactly match your skin, leaving room for slight variations in tone over the seasons. The range also includes All Over Colour (multipurpose colour), Custom Blush Duo, and Custom Eye and Brow Quad, as well as finishing powder and mascara, each product as versatile as the last. Her partner Olof Lindqvist has treated the branding as an art project, collaborating with photographer Emil Larsson on poetic still-life shots of raw ingredients, such as apricot leaves and castor seeds, while the simple boxes and text-based branding appeal to the minimalist in us.
Key features: Ethical, organic, versatile make-up range in minimalist packaging

Toothpaste, by Selahatin

Swedish entrepreneur and former magazine editor Kristoffer Vural has found a gap in the dental hygiene market – a place to be filled with minimally adorned tubes of toothpaste flavoured with natural ingredients skilfully combined to please the palate. While recovering from a stroke, he was contemplating the things that make life worthwhile and came up with the idea for what he calls 'the Chanel of oral care'. The experience of brushing teeth 'wasn't very uplifting,' he says. 'Whereas perfume can be like paintings for the mind, toothpaste receives very little love.' Raising the tooth-polishing experience by crowning clinical performance with complex accords, Selahatin's launch flavours include anise, honey and peppermint; cinnamon, orange and peppermint; and green mint, peppermint and menthol. Products come in minimalist packaging designed by east London studio Spencer Fenton and all have whitening credentials; contain fluoride, edelweiss extract (neutralises free radicals and redresses bacterial imbalance) and betaine (relieves dry mouth); and are approved by the Swedish Dental Association.

Key features: Minimally adorned tubes of toothpaste flavoured with natural ingredients

Wellness beauty range, by The Lost Explorer
National Geographic explorer David de Rothschild is a dedicated ecologist and environmentalist with a mission to 'elevate and celebrate nature'. He launched his lifestyle brand The Lost Explorer on a sustainable manifesto, with a wellness branch that includes practical products as relevant to urban adventurers as those frequenting the great outdoors, such as Traveler's Protection Balm with ravensara oil, camphor leaf oil and eucalyptus leaf oil; Magnesium Arnica Gel for soothing tired and battered bodies; Movement Massage Balm with arnica flower extract, Nepalese wintergreen leaf oil and camphor leaf oil; Marula 'Head to Toe' Nourishment Oil; Rehydrating Mist Hydrosol with rose water, aloe vera and coconut; and Everyday Face Moisturizer with samphire and agave. All ingredients are harvested sustainably, with the welfare and livelihoods of the ingredients' cultivators supported, and are also free from petrochemicals, parabens, synthetic fragrances and colours.

Key features: A range of wellness products for urban adventurers.
Mary Cleary is the Beauty & Grooming Editor of Wallpaper*. Having been with the brand since 2017, she became an editor in February 2020 with the launch of the brand's new beauty & grooming channel. Her work seeks to offer a new perspective on beauty, focusing on the pioneering personalities, product designs, and transformative trends within the industry.