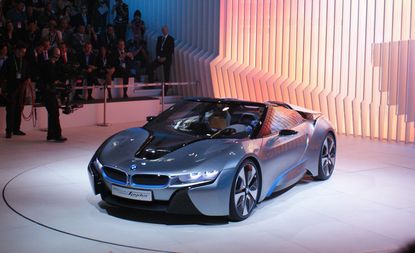 (Image credit: press)
BMW i8 Concept Spyder

Beijing witnessed the unveiling of a drop-top version of BMW's already acclaimed i8 hybrid electric supercar as the brand prepared the public for the imminent launch of its electric 'i' sub-brand in 2013. The third i-based concept is a two-seater open-top closely based on the i8 hardtop coupe, but adds dramatic scissor-doors and a pair of electric scooters under the transparent tailgate while taking away two seats through a shortened wheelbase. BMW promises 354hp, a 5.0-second 0-62mph time and 94mpg from the carbon-fibre masterpiece
If size equals power then the Beijing International Automotive Exhibition (opens in new tab) is now arguably the most important car exhibition in the world.

Last year's Frankfurt Motor Show (opens in new tab) might have offered more global unveils, but Beijing Auto, open to the public for six days last week, had the most vehicles on display with 1,125 to Frankfurt's 1,012. And while China's position as the world's biggest car market relies on millions of cut-price minivans and budget saloons, it has also become crucial for the financial stability of upmarket Western car brands. The country is now Ferrari (opens in new tab)'s second largest market and Bentley (opens in new tab)'s biggest: sales of the British marque soared by 85 percent in the first quarter of 2012 alone.

Unsurprisingly then, Beijing Auto - which alternates with a similar event in Shanghai (opens in new tab) every other year - attracts the most international interest. The 2012 expo is another crucial marketing (and sales) opportunity for Western brands to present their latest products to Chinese consumers. It also provides a shop window for domestic Chinese car brands preparing to export their latest models to more mature Western markets.

The Beijing International Exhibition Centre's 230,000sq m space played host to 120 global unveils, including a Lamborghini (opens in new tab) luxury SUV concept, the Mercedes (opens in new tab) Concept Style Coupe (a svelte four-door previewing the CLA production car that will hope to emulate the success of its bigger CLS brother) and a special-edition Range Rover (opens in new tab) Evoque by Victoria Beckham. Out of the 100-plus world firsts, here is Wallpaper's 2012 Beijing Auto Show top ten.
Citroen DS Numero 9 concept
This beautiful shooting brake-style hatchback heralds the new face of Citroen's upmarket and successful DS sub-brand. Chalking up 200,000 sales in two years with the DS3, DS4 and DS5, Citroen announced in Beijing that another three models are on their way - an SUV and two saloons - and that the Numero 9 concept would inform their styling. Despite the car's large proportions - it's 4.93m long with a 3m wheelbase - the concept's plug-in hybrid powertrain is said to be good for 295hp, 166mpg and 39g/km of CO2. Citroen should make it
Chery @Ant concept

Information on Beijing Auto's most convincing far-future concept from a Chinese domestic brand was sparse, but the Chery @Ant suggests a scissor-doored pair of vehicles able to dock with each other and travel in an energy-saving car-train style. File this particular concept under 'ambitious but unlikely', but don't underestimate Chery overall: despite its young age (it was founded in 1997), it has just signed a joint venture to manufacture Jaguars and Land Rovers in China
FAW Hongqi L9

The L9 represents an unashamed exercise in Chinese retro-car design, harking back to the Hongqi limousines of the late 1950s, 1960s and 1970s that used to ferry Chinese officials and their visiting dignitaries. FAW (First Auto Works) is the company behind the original limo and now makes the less standout Hongqi HQ3 limo, as well as joint ventures with Mazda, Ford, Toyota and VW
Geely Englon SC7-RV

Owners of the London Taxi Company and more recently Volvo, Geely recently installed ex-Ford and Volvo design master Peter Horbury as the group's creative boss. Thus the company is another one to watch. Its new Englon SC7-RV has a particularly provocative 'London cab in a fat suit' styling
Lamborghini Urus
Big and sporty 600hp SUV concept it may be, but Lamborghini has also set out its stall to make the production version, 'beat all comparable competitors when it comes to CO2 emissions'. Not a phrase formally associated with the brash Italian brand but welcome all the same. Expect a lot of lightweight carbon fibre on the showroom model, due circa 2015, to help achieve that laudable aim. And expect the SUV - by dint of being able to house four people and their luggage comfortably - to quickly become its bestseller. Indeed, Lamborghini says it could move 3,000 units per year, nearly trebling recent total annual sales
Great Wall Haval E concept

Another scissor-doored electric wondercar comes courtesy of Chinese manufacturer Great Wall. The concept is based on Great Wall's existing top-selling Haval SUV. And the brand, which sold nearly 400,000 vehicles in 2010, will this year launch into Western markets like the UK - albeit with a more mundane budget pick-up. Still, GW is one to watch
Mercedes Concept Style Coupe
This concept made big headlines in Beijing for its clean lines and the news that some 90 percent of its features are due to remain on the production model. Formally confirmed as the CLA at the press conference, it is set for a mid-2013 on-sale date. As Mercedes' exterior designer Mark Fetherston told Wallpaper*: 'The CSC is more similar to the production car than the Concept A was to the A-Class. It's very, very close. The concept's wheels are bigger and details like the wing mirrors and door handles will change, but essentially this is the production car'
MG Icon
This MG concept evidently has the thoroughly modern Nissan Juke small crossover in its design sights while its front face also gives a nod to the past - as well as the MGB sportscar that celebrates its 50th birthday this year. Now that the marque is owned by Chinese 'big four' player SAIC Motor Corporation, don't be surprised if a toned-down version of this concept makes production in a few years for both China and the UK
Range Rover Evoque Victoria Beckham edition
Real rose-gold plating on the grille of a Range Rover will no doubt offend diehard off-roaders, but then they wouldn't buy the largely on-road-focused Evoque anyway. This fashion flourish aside, Victoria Beckham's first auto-branding exercise is more assured than most fashion-auto collaborations, featuring a slick matt finish, black alloys and less-is-more clear rear lights that light up red only when braking. Inside, baseball-glove stitching on semi-aniline leather seats exudes quality and soft mohair carpet-mats feel good enough to take off your shoes for. And you won't find a Beckham logo anywhere, although each customer gets a hand-signed 'care book' to match the bespoke luggage set. VB clearly wants the car to stay subtle - and, at £79,995 and limited to 200 units worldwide, exclusive