Getting low, loud and undeniably bold with the Audi R8 Coupe V10 plus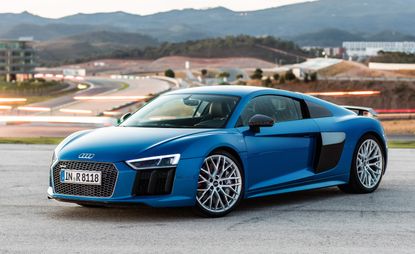 (Image credit: press)
Plenty of thoughts rattle around your brain as you explore the outer limits of the Audi R8's abilities. Aside from self-preservation, concern for those around you and a healthy respect for the legal restrictions of the land, the dominant train of thought is what on earth does one do with all this performance? The R8 blends huge capability with high levels of practicality, but there's no escaping the car's primary raison d'etre: to get from A to B as fast as is technically feasible.

This is the second-generation model of a car that has given Audi's image a healthy fillip. Until the R8 arrived, Audi's only dedicated sports model was the TT, often dismissed by purists as a design-centric bauble aimed at the overly self-conscious. That characterisation is largely unfair (and almost totally negated by the current version of the TT), but it was the R8 that proved without a doubt that Audi could do 'sport' just as well as its rivals. In truth, this was a ridiculous qualification given the marque's long domination at Le Mans and the fundamental dynamic solidity of its range, bolstered by the acclaimed 'quattro' four-wheel drive system. But the car industry has more than its fair share of stereotypes and sometimes a manufacturer has to address them head on.

The R8 also means that like several of its peers in the premium sector (BMW and Mercedes spring to mind), Audi now finds itself stretched between two potentially conflicting goalposts; forging a new future of ultra-low emission urban transportation, driven by steadily increasing levels of automation, versus powering ahead to create the most swiftest, most desirable and most outrageous mode of four-wheel transportation available.

Audi will always have stiff competition in the latter category. Eighty years ago, when its 16-cylinder racing machines dominated inter-war competition, it might have had a claim, especially since the Italian supercar industry had yet to be conceived. But today, an R8 must not only best a Ferrari, it also has to take on Aston Martin, McLaren, Porsche and Lamborghini, a clutch of totemic brands who all fulfil the primary function of the supercar without turning a wheel; to make you look.

That's not to say the R8 is humdrum. The new model sharpens the creases and blunts the edges of the original but retains the wide stance, transparent engine cover and grille-bedecked rear fascia of the original. Like all contemporary Audis it gets a lower, deeper grille, although the R8's slender profile keeps it from being too overbearing. The silhouette speaks of function, not seduction, with a 'cab-forward' profile that's not quite as rakish as its rivals. Perhaps there's a reason for that, given how much the platform is shared with Lamborghini, Audi's sibling brand. The Italian manufacturer's Huracan model is closely related to the R8, although such is the skill of the designer and brand engineer that not a trace of the other's existence remains in either interior or exterior.

Inside, the R8 suffers slightly from a desire to be elaborate and over-emotional, when we all know that Audi's excel best when they just stick to the functional script. There's little to fault in terms of finish and tech – the digital dashboard is especially well done – and everything works with the kind of seamless functionality we expect from our digital devices. Levels of comfort, dynamism, bite and snarl can be dialled in and out and tweaked to suit your preferences, allowing the R8 to ride with the serenity of a small limousine (on the right road surface). Flick a switch and that mighty engine makes itself felt (its raucous squawk set off a nearby car alarm when started from cold). The lightning fast connection between steering wheel and road, gearbox and engine is never in doubt and on a regular road only the upper, upper echelons of driver skill could discern any significant disadvantage in having an R8 over anything else if your primary motivation is to make spirited progress.

Ultimately, it all comes down to the shove. All R8s are now V10 powered, with an electric version in the works. Deploying such power is all about responsibility, perhaps, but it's a small salve to the conscience to know that the R8 is probably one of the cleanest and most efficient cars capable of cracking 200mph – even the enhanced V10 'Plus' model as driven here. The received wisdom is that the R8 tames the unwieldy image of the supercar, banishing the idiosyncratic and eccentric in favour of Teutonic functionalism. In truth, this car satisfies neither cliché, but it does still offer a relatively discrete option in a sector crowded out by extroverts. It's low, loud and undeniably bold, but the R8 still sneaks in under the radar, a fast car for those not looking to make a big splash.
INFORMATION
From £132,715. For more information, visit Audi's website (opens in new tab)
Jonathan Bell has written for Wallpaper* magazine since 1999, covering everything from architecture and transport design to books, tech and graphic design. He is now the magazine's Transport and Technology Editor. Jonathan has written and edited 15 books, including Concept Car Design, 21st Century House, and The New Modern House. He is also the host of Wallpaper's first podcast.