All-new Audi A1 supermini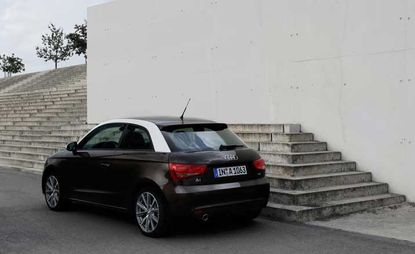 (Image credit: Audi)
Environmental crises may come and go, but personal mobility is clearly here to stay and whilst we all agree that we have to do something about emissions and urban congestion that doesn't mean we are yet quite ready to tootle around in Mr Magoo-style electropods. So while our cars still thrive on petrochemical hearts, the battle continues between the auto giants to deliver the perfect supermini: small, stylish, economical, clean(ish), sporty and highly desirable.
The benchmark boutique car is BMW's MINI: a clever blend of retro chic and low-slung sexy that has worked wonders for the company's coffers. This year Audi has at long last offered a retort and shrunk all their Vorsprung durch Technik knowhow into their new baby: the A1. The A1 was first revealed at the Motor Show Geneva 2010 in March but it will not reach the showrooms until November so we took it for a tootle around the streets of Berlin and a burn up the autobahn on your behalf to see if it is worth putting on this year's Christmas list.
First impressions were a tad disappointing. There is a very good reason that Audis tend to be the car of choice for architects and designers: lovely proportions, understated elegance, quality of finish, etc, etc. The new A1 has all of these yet it perhaps doesn't go quite far enough by the standards Audi has set itself. In fact, it might be fair to say that the A1 is conservative, even nudging towards dull in the looks department. The two-tone colour combinations that can make MINIs so eye-catching are disappointing here and, in the case of the cream and brown moccachino variation, downright sludgy. If you go for the all-silver finish you may be hard put to find it again in the car park.
Just like a girl to talk about the colour first, you might say, but Audi's professed target group here is young, professional urban professionals between 30 and 40 and they expect at least 50% of buyers to be women.
But what the 3.95 metre long and 1.74 metre wide, 3-door exterior lacks in external je ne sais quoi, the cabin interior more than makes up for in terms of space and elegance. There is all the quality of the A4 and upwards here - you really feel that you are in a far bigger class of car. Comfy, sporty seats, smart, clear and well-designed displays, controls, buttons and dials make driving an intuitive pleasure. Audi have cleverly downsized the high-end A8 Multimedia interface MMI) with a pop-up compact version that can display everything from a high-end 3D 'navigation plus' system to CD-radio or iPod connection. The sound system is a dream and you don't need a pilot's licence to work out the controls.
The A1 is currently on offer with three engine variations: two petrol and one diesel, including 86bhp 1.2 and 122bhp 1.4-litre TFSI petrol engines, plus a 105bhp 1.6-litre TDI diesel (an electric version, the Audi A1 e-tron, is currently in limbo).
Start/stop and regenerative braking technology are standard on all models, so too electric windows, remote-controlled central locking, tons of airbags, ABS and ESP. There is also a whole range of extras (Audi say there are 800 variations to choose from) including an S-line package for a go-faster sporty look, 18-inch alloy wheels and different upholstery details, in keeping with this particular sector's emphasis on personalisation. Splash out on options, however, and you start to push the price up dramatically so that modest start price gets quickly left behind. Add all the trimmings and you end up with a hefty price tag for a little runaround.
Nevertheless the A1 is a pleasure to drive, hugs the road well and accelerates with a pleasing little snarl. Also, judging by the admiring looks we got on the test drive, particularly from women, this understated supermini will inevitably be a hit - especially with smart city ladies who might be very happy to find it in their stockings this Christmas.