A simple existence: Sam Harris' 'The Middle of Somewhere' candidly captures family life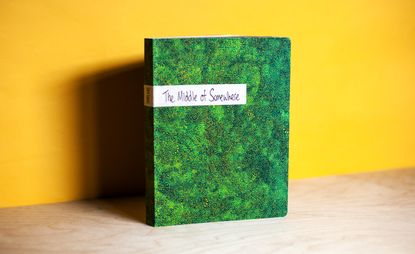 (Image credit: Michael Ainscough)
Once a London-based portrait and documentary photographer, Sam Harris was disillusioned by the commercialisation of creative industries and decided to take his family on the road. In pursuit of a radically different life, they spent a few nomadic years in India. Eventually they settled in Balingup, a rural town in the Southwest of Australia. Throughout this time, Harris has had his lens on his two daughters, Uma and Yali, documenting moments of domesticity, delight and discovery. A selection of which is now being published, family-album style, as The Middle of Somewhere (opens in new tab).

The bulk of the book consists of photos of Uma and Yali in Australia. There is Uma with a bunch of blackberries, their juices staining her hands and the corners of her mouth a rich crimson. She gazes straight into the lens with a fascinating combination of enjoyment and annoyance at being interrupted mid-snack. This is set in diptych with another image of Uma's hands, this time holding a fragile firetail, dead after crashing into a window.

There are pictures of older Uma helping her mother, Yael, clear away hailstones from the sunshade in their garden to save it from being damaged by a midsummer storm. Mother and daughter happen to have their bodies angled similarly in a poetic illustration of genetic inheritance.

In another picture, Yali is captured having just fallen off her tricyle, lying on the grass and about to burst into tears. Harris snaps a quick shot of her with his shoes in frame, before helping her back on her feet.

These portraits are punctuated by the occasional shot of cloud formations in an expansive sky, toiletries on a countertop, or the view of a forest road from behind the driving wheel. On their own peripheral, but collectively they offer an immersive portrait of their lives.

Everything about the book is entirely candid, shot, as Harris admits, on 'everything from a full-blown Nikon DSLR, to a point-and-shoot, to an iPhone.' Harris' incredible eye for colour and lighting compensate for the lack of staging, and as a result, the book is not only a riveting read but also an aesthetic delight.

Two notebook sections supplement the volume: one with excerpts from the diary of Harris' wife, Yael, where the trajectory of uncertainty, ambition and joy of their family experiences fill the page. The other section, 'Travelogue', shows images from their India years. Everything from Uma's amazement on one of her first journeys as she gazes out of a ferry's window to Yael on a birthing table as Yali is about to be born.

Like their nomadic life, The Middle of Somewhere was put together from far-flung corners of the world. Harris himself worked mostly from home in Balingup, with steady influence and support from his family (Yael was involved in the editing, while Uma drew the cover). Curator Eva Maria Kunz, who runs Ceiba Foto (opens in new tab) as a passion project but with tireless professionalism, is Italy-based. Many conversations were had over Skype before the two worked face-to-face for a week at Cologne's PhotoBook Museum.

Despite the geographical constraints, the book is meticulously made. 'When you go from an art dummy to a commercially-produced volume, you lose some of the authenticity,' explains the photographer, 'so it was important to us to keep a handmade element.' Post-its once exchanged by Uma and Yali were scanned, reproduced and stuck onto the pages. Other notes had their edges steeped in tea to mimic the aged, scruffy appearance of the original. Even the title strip on the cover is glued on by hand to give the impression of a scrapbook.

The attention to detail has paid off handsomely, lending the tome a layer of familiarity. 'I want to touch people, I want to make them think and realise that there are other ways of living,' explains Harris.

His book expresses the rewards of a modest existence, of noticing the little things around us, and growing up with nature. Above all else, it is an extraordinary affirmation of the love of a father, and a reminder that family life can be the highest pleasure of all.
TF Chan is a former editor of Wallpaper* (2020-23), where he was responsible for the monthly print magazine, planning, commissioning, editing and writing long-lead content across all pillars. He also played a leading role in multi-channel editorial franchises, such as Wallpaper's annual Design Awards, Guest Editor takeovers and Next Generation series. He aims to create world-class, visually-driven content while championing diversity, international representation and social impact. TF joined Wallpaper* as an intern in January 2013, and served as its commissioning editor from 2017-20, winning a 30 under 30 New Talent Award from the Professional Publishers' Association. Born and raised in Hong Kong, he holds an undergraduate degree in history from Princeton University.