Under the loupe: our 2019 watch and jewellery finds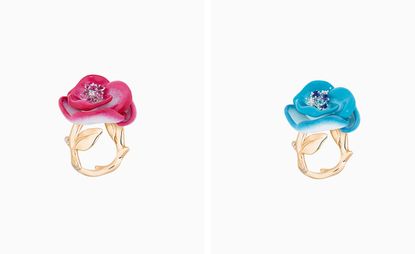 (Image credit: press)
Dior Joaillerie
31 December

Dior are celebrating the twentieth anniversary of Dior Joaillerie with two new joyfully colourful collections, Gem Dior and Rose Dior Pop. The pieces nod to the past with familiar design references, but this year's bold colours and whimsical architectures is wholly new. For creative director Victoire de Castellane, the jewellery's history is significant: 'Each of my collections leads to the next and I adore the idea of going even further. I hate being bored.' Her achievements in telling the stories of the Maison – she cites Christian Dior's garden at Milly-la-Forêt, the eccentric grand balls and the couture as vital elements to her design – are intertwined with her own personal experiences. 'The themes which inspire my collections are just a starting point. When I create, I am still five years old. I like to approach creation as children approach a game, with an open mind and with the freedom that childhood offers.'

Writer: Hannah Silver
Tessa Packard
20 December

At Wallpaper* HQ, we get a plethora of holiday-themed post through our doors. But nothing has provoked more festive joy than jeweller Tessa Packard's yuletide regards, which arrived in the form of a soft pink-toned card with punch out 'Merry Christmas' earrings. We'll be donning these merry messaged-designs all festive season through, and might just wear them in the new year too.

Writer: Laura Hawkins
Hirsh London
19 December

There's nothing like a glittering snowflake to brighten up December days. For the last 15 years, Hirsh London has created an annual Snowflake pendant design to mark the festive season, weaving dazzling gems into intricate, hypnotising patterns of precious geometry. 'We always begin with the central gemstone in the same way that snowflakes are first formed with a central ice crystal,' explains Jason Hirsh, creative director. The gem-specialist's yearly Snowflake is a unique piece, as complex and rare as any snowflake in both construction and design. As it takes hundreds of ice crystals to form one snowflake, so dozens of gemstones make up the pendant's symmetrical design. 'As in nature, we pride ourselves on creating unique forms: no two designs are ever the same,' says Hirsh. This year, however, the brand has broken with its own tradition, designing two unique pieces: the first is delicately hued – a natural fancy-blue diamond surrounded with rare pink diamonds, while the second is a wheel of diamond spikes punctuated with a central flash of emerald. In the spirit of seasonal nostalgia, we've homed in on the Hirsh family archive and picked out this 2006 design, its brittle snow crystals replaced by tightly interlocking diamonds in a tantalisingly mesmeric variety of cuts.

Writer: Hannah Silver
Caralarga
13 December

Textile design workshop Caralarga's focus on simplicity has resulted in a pared-back approach to design, and it is the craftsmanship rather than the materials which are at the heart of clothes and jewels. The company's artisans, adept at working with natural materials such as fibres from the sansevieria plant and recycled bull horn, here manipulate raw cotton threads. In their hands, the material originally discarded after errors in production become intricate textured jewels in their own right.
Peruffo
11 December

Italian jewellery brand Peruffo is inspired by Vicenza's thriving gold industry for its fluid jewels. Rings, necklaces, bracelets and earrings are free-flowing and unconstructed; designed to move with the body, they are fun to wear. The Slide collection combines the rigidity of the shapes with the central spiral of the design, and the end results are mini kinetic sculptures that take on a life of their own.
Arman Sarkisyan
6 December

In the fifteen years since he created his eponymous jewellery brand, Arman Sarkisyan's style has become well-defined. The Armenian-born designer, now based in LA, favours a Byzantine aesthetic and tends to incorporate a wealth of bright and precious materials, from gold to colourful gems, for rich results. It is the hypnotising deep blue of lapis lazuli taking centre stage in these Starry Night earrings, which takes on a tantalising new edge when framed with oxidised silver.
Tomfoolery
4 December

Art Ring, an exhibition from London jewellery boutique Tomfoolery, opens this week. Over 40 established and emerging jewellers have created one-of-a-kind rings for the occasion; using an abundance of techniques and materials, they are united in a shared commitment to bold design. Ana Thompson's swirl of gold and clever curves, pictured, will join unique pieces from Jacqueline Cullen, Ruth Tomlinson, Fraser Hamilton and many more.
Sonia Boyajian
3 December

The jewellery designer Sonia Boyajian (opens in new tab) has long been admired for the sculptural and art-based processes she embraces to create her individualistic and one-of-a-kind pieces. Evocative and captivating, her collections now have an equally enigmatic space to call home – a 5,000 square foot spot in West Hollywood that encompasses a boutique, ceramic studio, private office and pop-up art gallery, filled with homey touches. Created in collaboration together with interior designer Pamela Shamshiri, Boyajian's new home base is inspired by her collections of objects from her travels around the world. Studio Shamshiri looked to Georgia O'Keefe, Donald Judd, Robert Mallet-Stevens and Le Corbusier when creating the custom-made display niches and dusty rose-toned interior of the space. Restrained, yet architectural, the space creates an elegant foil to Boyajian's designs – many of which have been adapted and enlarged to form the ceramic sconces, mobiles and pendants that decorate the interior as well.
Writer: Pei-Ru Keh
Annoushka
27 November

London-based jeweller Annoushka (opens in new tab) turns ten this year, and its anniversary-celebrating collection riffs on the reptilian. 'The Chameleon Ring pays homage to our first Chameleon collection, as well as my love for nature and playfulness in jewellery,' explains founder Annoushka Ducas, of this wide-eyed figurative design, which features a curling white gold tail which winds around the finger. This cheeky chameleon swaps diamonds for scales and also features a gemstone body in onyx, lapis, malachite or tiger's eye, which can be interchanged so it really does change colour. 'It is very fitting that we mark our 10th year with a design that illustrates the transition of our collection,' Dukas adds. 'It's a journey I look forward to continuing for many years to come.'

Writer: Laura Hawkins
Solange
25 November

We've got real affection towards Solange's (opens in new tab) Sentimentals collection, which features pieces that posit on life's most emotive elements. Take the humorous 'Memory Bank' necklace, a brain shape locket that can house a secret photographic memento inside, or the 'Wisdom' ring, which features a diamond-set wisdom tooth, set inside an 18-ct gold claw. We'd love to add this 'Family' ring to our haute household. Resembling a fine family portrait, it features a mother of pearl frame, housing a gemstone-bodied family of four, holding hands next to a malachite and tiger's eye tree. Family jewels indeed.
Suzanne Kalan
20 November

Suzanne Kalan's twisting of conventional design concepts always surprises. Her past work, which married scatterings of baguette diamonds with large unblemished gems, or set diamonds in surprising places, nodded to traditional techniques whilst appearing wholly fresh. Her latest pieces for Dover Street Market are equally as subversive; the brand's signature baguette-cut and princess-cut diamonds are randomly paved and when enveloped in black rhodium, starkly modern.
aeyde
12 November

Longtime fans of aeyde's (opens in new tab) footwear offering, we rejoiced when last winter the Berlin-based label launched its debut nine-piece jewellery collection. Now, the label has bought some colour to its latest offering, with organic earrings – from twisted hoops to organically scrunched drop earrings – hand dipped in pistachio and red enamel. They'll bring an elegant touch of colour to any winter ensemble, most notably, ones paired with aeyde's Western boots.

Writer: Laura Hawkins
Sophia Vari
6 November

Greek artist Sophia Vari is the focus of Jewellery, Painting & Sculpture, currently exhibiting at London's Louisa Guinness Gallery. Bringing together her jewellery, paintings and sculptures from the last three decades, it showcases a style characterised by voluminous detailing and bold, curving lines. 'In a piece of jewellery or a sculpture, the balance, the weight and the way that it feels is so important and I think that's what Sophia really does so well,' Guinness says. 'We presented her large scale works alongside her wearable sculpture to give her admirers more context on how one practice informs and carries through the other.'

Writer: Hannah Silver
Marni
31 October

There's a surrealist slant behind the jewellery in Marni's (opens in new tab) 'Wandering in Stripes' holiday collection. The offering features Breton strip knits and cotton poplin dresses emblazoned with naturalistic motifs, but we're paying real lip service to its range of rope necklaces, aysmmetric earrings and pins, which feature resin charms in the forms of cartoonish red mouths and eyes blinking with dense eyelashes. For festive frolics, we'll be pinning this brooch to a tailored lapel, allowing the bold eye blinking in the centre of the pin a customary glance around the room of any party.

Writer: Laura Hawkins
Chaumet
30 October

Chaumet celebrates the fluidity of jewellery's role in Autrement, an exhibition taking place in Paris until Saturday which explores the ways jewellery can be worn with a series of portraits by Swedish photographer Julia Hetta. Pieces from the heritage collection – a Seventies adornment in hammered gold and bronze, a playing card brooch created by Pierre Sterlé in the Sixties – join contemporary jewels in Hetta's romantically subversive style. Bracelets loop over shoulders, a full paved wedding band holds back a strand of hair and, pictured, diamond-studded sheafs of wheat from the L'Épi de Blé de Chaumet collection become modern hair accessories. 'Jewellery has always been a territory of experimentation and twist, transforming the very first function of a jewel to make it your own and to adapt it to a different use,' says Chaumet CEO Jean-Marc Mansvelt. 'These unconventional wearings are very Chaumet but also very much part of the history of art. It is beautiful and it makes sense.'

Writer: Hannah Silver
Ruhong Chen
25 October

Kath Libbert's flair for spotting new jewellery talent is integral to the success of her gallery at Salts Mill, and her graduate exhibitions are a highlight in the industry calendar. Flux, which runs until 10 November, puts nine new jewellers from across the UK under the spotlight. Edinburgh College of Art graduate Ruhong Chen has been inspired by Buddhist philosophy for this piece, playing with ideas of impermanence and incorporating charcoal for a brooch that will only reveal its precious interior over time. The more it is worn, the quicker the gold within will be revealed, in a celebration of the transient nature of fragility.
Diaboli Kill
21 October

When conceiving the pieces in Diaboli Kill' (opens in new tab)s Invidia collection, founder Angie Marei adopted the roll of a flaneur, taking inspiration from an evening stroll through the streets of Paris. This has culminated in a series of chunky cocktail rings formed from hand-carved columns of black onyx and 18-ct gold and edged with pearls or coloured gemstones, like citrine and sapphire. Marei was particularly taken with the Art Deco period and the mathematical assemblage of onyx nods to the graphic style of the era. 'The pearls nod to rows of street lamps glowing in the night,' she adds of this ring's ornamental orbs. How aesthetically illuminating.

Writer: Laura Hawkins
Lisa Walker
18 October

Lisa Walker has questioned the nature of jewellery itself during a career which has seen her incorporate everything from lost woolly knits and abandoned parts, to gold foil and more conventionally precious materials, into her pieces. The New Zealand based jeweller frequently exhibits her creations in galleries and museums around the world: they can currently be admired at London's Gallery SO, in an exhibition taking place until the 27 October. Witty and irreverent, they include this necklace crafted from merino wool and stuffing, which adds a welcome playful accent to the everyday.

Writer: Hannah Silver
Jemma Wynne
15 October

There's a modernity behind diamonds which float on the finger, and appear free from the band they have been set on. It's a style which Stephanie Wynne Lalin and Jenny Klatt of Jemma Wynne (opens in new tab) know well. The duo create open rings set with emerald, tanzanite and pairs of pear cut diamonds or Art Deco-inspired bands with ends that gently graze each other as they wrap around the finger. Boasting floating finesse, this one of a kind ring features an unusually elongated baguette diamond, which appears to float next to a delicate pavé diamond band. We think it's an enchanting alternative to an engagement ring or simply something which will twinkle on your finger for any elegant occasion.

Writer: Laura Hawkins
D'Heygere
11 October
We've got a burning desire towards D'Heygere's (opens in new tab) Ashtray Ring, a handy and playful piece which will allow you to tap the ash from your cigarette while on the go. Belgian founder Stephanie D'Heygere has ignited our interest since she launched her surrealist accessories label last year, which incorporates everyday objects with alluring effect. 'Everything I make has a reason to exist – there is always a lot of thought put behind it,' she told Wallpaper* back in July. S/S 2020 also sees signet rings reimagined as chunky ear cuffs, long earrings crafted from silver shoehorns and a belt with a buckle which snugly holds a Bic lighter. These accessories are smoking hot.
Maria Black
10 October

There's real wiggle room behind Maria Black's (opens in new tab) Acquatica collection. For her latest undulating offering, the Danish designer was inspired by the slow-motioned movements of the underwater world, like gently rolling waves and water swirling into sand. Here, long asymmetric earrings feature pearls suspended from wiggles of pavé gold and delicate cuffs feature gentle curves which trail around the wrist. Black associates the sea with calm and reassurance, and you're sure to find these pieces just as soothing.
Shihara
8 October

Japanese label Shihara (opens in new tab) is rethinking the way jewellery is retailed. For its new boutique in Osaka, designer Yuta Ishihara has conceived an unconventional, yet practical space to present his minimalist creations. Working with Masahiro and Mao Harada of Mount Fuji Architects, the pared back, mostly concrete space is backed by an impressively functional design. At fist glance, bare walls and an absence of details makes the store appear unfinished. However, hidden wall panels actually open up to reveal concealed glass display cases filled with Shihara's delicate collection. Just like in its Tokyo store, which opened in 2014, each piece is suspended within magnetized walls and on thin glass shelving. What's more, the opened wall panels also divide the store into several intimate spaces, including a private viewing area at the back of the store, thus bringing Shihara's design philosophy to life at an architectural scale.

Writer: Pei-Ru Keh
Vhernier
4 October

Milan-based jeweller Vhernier pair unexpected materials for contemporary results, and have previously had fun layering rock crystal with mother-of-pearl, or playing with ebony and jet. The new Trottola collection takes a darker turn, uniting black matte titanium with more traditional pavé diamonds in an appealing clash of textures. Like every Vhernier piece, nothing detracts from the end result thanks to flawless invisible fastenings.

Writer: Hannah Silver
Deborah Pagini
27 September

New York based jeweller Deborah Pagini has imbued her signature luxe understated style with an easy functionality. The Pill Link necklace, composed of heavy links of yellow gold, can be worn six ways. There is also the option to remove nine links and the heavy pill of diamond and enamel itself and wear it alone as a bracelet, if feeling so inclined. Worn layered, long or with a single dangling chain, the plethora of ways this necklace can be worn means the purchase itself won't be such a bitter pill to swallow.
Rado Star Prize
25 September

3D design student Huw Evans has been announced as the third winner of the Rado Star Prize. His design, 'Concertina,' stayed faithful to the 'Re:Imagine' theme, which looked at how reinterpreting existing designs can bring new value. The collection is created from timber, cut in such a way as to appear fluid. By working on the exterior only and keeping the inside raw, he has celebrated the material in its natural form.
Faraone Mennella
18 September

Robert Faraone Mennella and Amedeo Scognamiglio, the duo behind Faraone Mennella, add a Dolce Vita edge to their Italian heritage for bold, colourful jewels. Now, they have taken their love of a polished surface to a new level, and their thunderbolt earrings, crafted from titanium and studded with precious stones, are fabulously flamboyant. Comfort remains a main preoccupation for the design duo, who have engineered the perfect storm of high impact and wearability with earrings so light on the lobes you can barely feel them.
Flora Bhattachary
13 September

Flora Bhattachary's distinctively sharp silhouettes are recognisable in the rainbow-hued 'Lakshmi Glow' collection, but her embrace of a plethora of bright tones is entirely new. The rings come in six ceramic-plated subdued jewel tones, juxtaposing her Indian links with a love of Art Deco design in a joyful celebration of colour.
Isla Gilham
11 September

Since graduating from Central Saint Martins last year, Isla Gilham's jewels have been showered in acclaim. It is easy to see why she was recently announced as one of International Jewellery London's Bright Young Gems; her teasing reinterpretations of traditional jewellery concepts are both playful and fun. The plethora of brightly coloured gems she uses – green quartz, emeralds, carnelians and malachite are all favourites – appear to have had a big juicy bite taken from them, nodding to the indulgent nature of jewellery itself. Jewels that are this tempting? It's no surprise they are good enough to eat.
Alighieri
5 September

On Tuesday evening, a host of striking women spanning all ages and ethnicities, stepped silently down the aisle of the intimate gilded mosaic Fitzrovia Chapel in Central London. Clad in soft monastic shirt dresses, they walked soporifically in pairs, like a cultish community, or pagan worshippers, towards a spindly scorched tree at the church's altar, sporting swathes of molten jewellery, including gold and silver chains dangling with tusk and coin pendants, chunky ankle cuffs and long earrings jingling with pearls.

Rosh Mahtani, founder of mythic London-based jewellery brand Alighieri (opens in new tab), has sought Dante's Divine Comedy for inspiration since launching her label in 2014. The author was in exile in the 1300s when writing his famed narrative poem, and it's this concept of displacement – one experienced by Mahtani herself, which has inspired her S/S 2020 'Where is home?' collection, debuted with a catwalk show. Mahtani was born in Zambia – where her grandparents fled to during the Partition of India – before moving to London at the age of eight. 'The sense of not belonging to any one place had, in all honesty, always made me feel inferior to those around me,' she explains. Her S/S 2020 collection is offered as a 'patchwork of her cultures, memories and rituals, tying them together through woven chains, strings and links, to create a home of my [Mahtani's] own'. In today's political climate, it's an ideal to be sought more than ever.
Writer: Laura Hawkins
Shihara
2 September

The minimalism of each of Shihara's (opens in new tab) jewellery pieces hardly comes close to summing up the level of discreet sophistication that underscores each design. Since establishing the label in 2010, the Tokyo-based designer Yuta Ishihara has consistently rethought how jewellery is made. Each of Shihara's pieces boast integrated posts for earrings, concealed clasps that secure necklaces, as well as a multi-dexterity in terms of how pieces can be worn – often in multiple ways. One of the label's newest additions is a jazzed up version of its Rectangle earring, featuring a row of diamonds along one side. Made from 18-ct gold, the earring is made from a proprietary gold alloy, specially created for Shihara in Japan, which enables the micro diamonds (each 0.7mm) to be held securely in a four-prong setting. Strong, yet featherlight, the earring can be worn as an earring or as an ear cuff to suit the wearer's mood.

Writer: Pei-Ru Keh
Marion Vidal
30 August

Marion Vidal's plexiglass jewels incorporate a wealth of juxtapositions: combining fragility with strength, they cut imposing silhouettes and yet are playfully light. The Petals earrings come in a choice of ten clear plexiglass hues, but it is this deep blue which has us captivated.

Writer: Hannah Silver
Faris
21 August

There's an effusive energy behind these Verre Hoops. Designed by Seattle-based Faris (opens in new tab) du Graf, the jeweller had the movement of a salt shaker in mind, imagining the red glass beads which hang from these irregular circles of bronze metal to judder and jiggle. For maximum trembling potential, we recommend an energetic turn on the dancefloor, where the earrings' bead details will waggle and wiggle, and will also reflect the glimmer of the disco ball.
Writer: Laura Hawkins
Kalmar
19 August

Kalmar's (opens in new tab) focus on the human silhouette manifests itself in a myriad of ways, casting surreal faces in bronze rings and inviting Reuben-esque goddesses to recline in spherical earrings. With a focus on sustainability, all pieces are crafted in London from recycled brass. Proportions are playfully oversized, and these brass large face profile earrings sway far below the jawline.

Writer: Hannah Silver
Prasi
16 August

There's a mosaic-inspired mindset behind Brazil-based brand Prasi (opens in new tab). The fine jewellery label – new to Dover Street Market's roster – has a penchant for the gummy ring silhouette and its latest collections features drop earrings and rings derived from this shape. This piece has been spliced together from two identical slivers of rose and white gold, for a captivating bi-colour effect. Which way the ring is worn is dependant on whether the wearer fancies something smoothly polished or more sparkling on show. Prasi's founders Helena Sicupira and Mariana Prates also incorporate the design heritage of their home country into its creations. All pieces are soft finished with rounded lines in a nod to the style of Sixties Brazilian furniture.

Writer: Laura Hawkins
Renna
12 August

The first piece of jewellery Renna (opens in new tab) Brown-Taher designed was a charm bracelet dangling with gold coffee bean shells, inspired by the beach bounty she discovered on the shores of Salt Creek Beach in Laguna, California. A beachcombing aesthetic is central to Taher's eponymous jewellery line, which includes a pavé diamond detail ring with a fluid freely moving mother of pearl drop pendant and a slim 18-ct gold chain bracelet with an ocean blue topaz rondelle accented with sapphires. The cut-out form of these Lunasea hoop earrings evoke both the spiralling form of a shell and a foaming whirlpool of waves. Constructed from blackened gold, there's also an evening time elegance in their design. Viewed from one side, a smooth opal is revealed at the centre of each hoop, while from the other, pavé diamonds snake around the slivers of coiling metal.
Bleecker & Prince
8 August

There is a sense of humour to New York-based jewellery brand Bleecker & Prince (opens in new tab)'s pieces, where precious materials become fun and gems pepper lapis, jade and onyx like the sprinklings on a cupcake. It's the perfect bubble of the clear crystal we are craving though – adorned with rose gold bezels, sapphires, whited diamonds and rubies, it really does look good enough to eat.
Writer: Hannah Silver
Cecilie Bahnsen and Sophie Bille Brahe
5 August

Visit Copenhagen Fashion Week – which for S/S 2020, kicks off in the Danish capital tomorrow – and you'll be warmed by the sense of familial unity which stems from its catwalks. Designers sit at each other's shows, supporting from their sidelines, and friendship feels like a true creative force. Ready-to-wear designer Cecilie Bahnsen and jeweller Sophie Bille Brahe know a thing or two about this unity. The duo first met when studying at the Royal College of Art and have remained firm friends ever since, Bahnsen going on gain renown for her subversively pretty dresses, which sparkle with beadwork, and Brahe for her sculptural experimentations with diamonds and pearls. Now the two have bolstered their bond with a 22-piece capsule collection, available exclusively from today at Net-a-porter (opens in new tab). The range includes a series of freshwater pearl pieces, which evoke Brahe's recent Botticelli collection, like these clustered earrings which appear to bubble in foamy fronds down the jawline.

Writer: Laura Hawkins
Samuel Francois
31 July

French stylist Samuel Francois' first jewellery collection merged Surrealist and macabre influences for an eclectic collection which included bronzed skulls and eyes dripping tears, swaying from heavy gold necklaces. Now, his focus has shifted to the lips. Each pair of lips on the rough sheets of gold which make up his necklaces, earrings and bracelets are unique, and unforgiving: every crack in the lip and every gently curved philtrum is exposed. Francois' fingerprints can be occasionally glimpsed; in other places, it's clear his nail has tweaked a lip into shape. Naturalistic in design and yet cast in gold, the results are unapologetically, appealingly rough.

Writer: Hannah Silver
Meadowlark
26 July

When embarking on the research process for its latest Venus collection, Meadowlark (opens in new tab) founders Claire Hammon and Greg Fromont found 1970s lighting design particularly illuminating. These organic earrings nod to the naturalistic shape of Carlo Giorgi's Gingko lamp, inspired by the fan-shaped leaves of the endangered maidenhair tree. Folds of 9-ct gold extend from the centre of each earring like the veins of leaves radiating from the focal point of a gingko leaf blade. In the spirit of multitasking, you'll be nodding both to Italian furniture design and horticulture, when you sport them.

Writer: Laura Hawkins
Sunnei
25 July

There's a gungey glamour behind Sunnei's A/W 2019 hoop earrings. Rubber abounded in the Milan label's sophomore womenswear outing (the brand debuted as a menswear label in 2014) – which featured bright patterned cagoules, Bermuda shorts and denim cargo trousers – paired with stacked platform sandals and plimsolls. But it wasn't just the shoes which were rubberised. In a contemporary twist on the classic hoop earring, chunky curves of gold and silver metal were partly rubberised by hand in hues of maroon, navy and neon green. We're stuck to the slime like effect of these hoops, dangling with acid hued rubber which appears in danger of dripping from the ear. We might just invest in those rubber platforms too.
Solange Azagury-Partridge
19 July

Something fishy is going on at Dover Street Market London. As part of its seasonal changeover, which sees a swathe of new installations, designer section set-ups and brands, Solange Azagury-Partridge's high jewellery pieces are available to purchase exclusively. We've long had a sweet spot for the London-based jeweller's pieces, which include humorous chunky rings resembling a desk calendar and doodle-inspired earrings drenched in colourful lacquer. There's an underwater élan behind this Lapis Lazuli ring, which features a Malachite fish swimming towards a patch of coral. It's a wearable, under-the-sea's-surface world.
Kavant & Sharart
18 July

Partners in business and life Nuttapon Yongkiettakul and Shar-Linn Liew are making waves with their eponymous jewellery brand (opens in new tab)'s 'Talay' collection. This summer, whether we're poolside or simply wishing for calming waters, we'll be making a splash with this 'Dancing Wave' ring, which undulates around the finger like water breaking on the shore. The folds of the ring are lined with diamonds, evoking a rolling wave glinting in the sunlight.
Benjamin Hawkins
15 July
A symbol of determination and metamorphosis, the moth is a fitting motif for Sarabande, the Foundation set up by Lee Alexander McQueen in support of pioneering artists and designers. The original death head moths inspired McQueen in their unfaltering journey towards the light and became a recurring theme in his work. Now, jeweller and former Sarabande studio resident Benjamin Hawkins (opens in new tab) has reinterpreted the motif to raise funds for the charity, recasting its lines in recycled sterling silver from his London atelier. The pin will be presented in the Sarabande matchbox, and available to buy from the Sarabande Foundation from 22 July. It will subsequently be available at the LAPADA Art & Antiques Fair from 13-18 September.

Writer: Hannah Silver
Shinta Nakajima
12 July

Artist and silversmith Shinta Nakajima (opens in new tab)looks to organic plant forms when creating his designs, which include ornaments and vessels, like a series of hammered silver and glass drinking flasks inspired by seed pods and a hollow silver objet in the shape of a mango. It's a fruitful collaboration, then, that Nakajima has teamed up with American Express on an immersive event celebrating the launch of its newest Metal Platinum Card in London. The show also features a series of floral sculptures by florist Mary Lennox, and a dinner designed by chef Nuno Mendes. Here, a series of Nakajima's works are displayed, including this 2016 silver vase, which has a tactile surface inspired by kiwis. Shinta has been in residence at the Sarabande Foundation's studios in Haggerston since October 2018, and the event acts as precursor to the Sarabande's collaboration with LAPADA Art and Antiques Fair, taking place in London's Berkeley Square in Septmember, where Nakajima's works will be displayed.

Writer: Laura Hawkins
Roberto Coin
11 July
In the last two decades, Roberto Coin's plethora of collections have grown to each encompass their own distinctive identities, united only in the small ruby hidden inside every piece. This Black Jade necklace is typical of the brand's aesthetic, in adding a surprising quirk to an otherwise traditional design. A simple amalgamation of black jade with green agate and white quartz is gently distorted by an eccentric gem placement, tapping into the asymmetric trend for a pleasingly off-kilter finish.

Writer: Hannah Silver
CLED Jewellery
10 July

From shells to recycled silver, upcyled materials are being used by a plethora of jewellery brands, to allow them to work with a more sustainable output. Less than 35% of glass bottles are recycled in the United States, so in a bid to prevent more waste entering landfill, eco-conscious LA-based label CLED (opens in new tab)is working to incorporate colourful gems of discard glass into its designs. Salvaging glass bottles from local restaurants, CLED use a process of purifying, cutting, heating and annealing to create globules of glass which hang from barrettes, earrings, rings and necklaces.

Writer: Laura Hawkins
David Yurman
27 June

David Yurman's (opens in new tab) fascination with the pearl – which began in 2005 with the Orbit collection – has now developed into a celebration of the sphere. New pieces in the Solari collection are deceptively simple, intertwining the familiar coil of gold, hand-twisted from a piece of wire, with a plethora of round gems. Freshwater pearls, cabochon white moonstones and vivid cabochon turquoise add a simplicity to rings, necklaces and bracelets which let the sculptural forms speak for themselves.
Writer: Hannah Silver
Motley X Sian Evans
21 June
London-based jeweller Sian Evans is fascinated by conventional jewellery shapes. Her pieces often incorporate empty space, which brings a new design language to traditional form. In her collaboration with online concept store Motley (opens in new tab), Evans has mused on the concept of an idiosyncratic fine jewellery ring design, one which features a central stone surrounded by diamonds. Here, a pair of hoop earrings, are centralised by a lapis lazuli bead. The bead is not surrounded by diamonds, but instead a series of hollow circles which ascend around the ear.
Writer: Laura Hawkins
Melanie Georgacopoulos
19 June

Melanie Georgacopoulos (opens in new tab)' fascination with pearls has seen her fearlessly slice, drill and facet them, her experiments in the past leading to unique results. Since 2016, her focus has changed direction, and a new fixation with mother of pearl has led her to challenge preoccupations that traditionally view it as an inferior material. Her Cube collection, comprised of 15 pieces, celebrates this often overlooked by-product. Seamlessly juxtaposing the smooth roundness of a pearl with the angular nature of a cube, the cube becomes the symbolic oyster shell housing the pearl. Deceptively simple in appearance, the results are both playful and eminently wearable.

Writer: Hannah Silver
Browns x Hatton Labs
12 June

We've latched onto Browns (opens in new tab) x Hatton Labs' (opens in new tab) sterling silver padlock bracelet, which elevates the humble security tool into a striking and industrial repeated link in a chain. 'The brand was born from a want of well-designed jewellery but at an affordable price. I was initially making grills, pendants and chains as a request from the people around me but it always crossed my mind that perhaps there was an interest in my jewellery outside of just my peer group,' says the brand's founder Jack Cannon. The piece was designed for an exclusive collection for Browns, part of its trainer culture-celebrating Sneaker Beast month, which boasts a host of collaborations and product launches. Cannon looks to streetwear culture and its British origins for inspiration, and finds particularl inspiration in Hatton Garden, the epicentre of London's Jewellers. 'I grew up in and around the area as my dad was a watch collector, I would play football in the back alleys of Leather Lane so the area has always held a fond place in my heart,' he says. We're feeling similar affection for his Hatton Labs' designs.

Writer: Laura Hawkins
Le Gramme
11 June

The simple outlines and clean forms which characterise Le Gramme (opens in new tab) designs are present in its new collection, which also incorporates ceramic for new experiments in lightness. Loved by watchmakers for its scratch resistance properties, ceramic is here celebrated for its tantalising play with light. An unfussy silhouette and the clashing black hues of the ceramic and waxed cord bring depth to the 1.7g cord bracelet.

Writer: Hannah Silver
Alighieri
10 June

In the Divine Comedy, Dante Alighieri is guided through the nine circles of Hell by the poet Virgil. We too have followed this famed narrative, not led by the ancient Roman poet, but guided instead by Rosh Mahtani, founder of London-based jewellery brand Alighieri (opens in new tab), who creates epic history-steeped modern relics inspired by Dante's Inferno, Purgatorio and Paradiso. Five years after the brand's inception, Mahtani has now launched her debut men's collection, one featuring pendants and rings which denote the different Cantos of the Divine Comedy. This Canto V Necklace explores the way in which we are subject to external forces, and reminds us to dance with them, as we go,' Mahtani explains. 'All of the souls Dante encounters in the Inferno are subject to tormenting elements. In the 5th Canto, the circle of lust, he meets the lovers Paolo and Francesca. They are trapped in an eternal storm, jettisoned from one side to the next, bound together, in a manner that is both tragic and beautiful. Without the ability to change their situation, all they can do is dance in the storm, as it takes them at their mercy.'

Writer: Laura Hawkins
Kath Libbert
7 June

Kath Libbert (opens in new tab)'s reputation for identifying the best and the brightest contemporary jewellery talent is well deserved. This summer's 'Sun, Sea & Sand exhibition', which will run from 9 June to 1 September at the Kath Libbert Jewellery Gallery in Saltaire, is a case in point. Six jewellers have interpreted the elements in a plethora of ways, resulting in jewels which resemble rock pools of liquid silver, or feature precious recycled metals cast in sand. Here, Francesca Marcenaro (opens in new tab) frosts pearls with shimmering glass granules, recalling the hypnotic charm of the ocean.

Writer: Hannah Silver
Magda Butrym
5 June

Voluptuous ruffles, flounces of ostrich feathers, larger than life bows…details in Magda Butrym's (opens in new tab) A/W 2019 collection are decadent and eighties-focused. Crystals, hand-embroidery and lashings of lace all abound in the Polish designer's most recent offering, which fuses her idiosyncratic power-shouldered style with elements attributed to Eastern European folklore. We're always enraptured by Butrym's accompanying earring options, which for A/W 2019 feature molten gold, strings of pearls and bold red gemstones. We've got real affection for these oversized studs, which appear as two halves of a shattered heart, formed from fragments of 24-ct gold plated brass, hammered or set with Preciosa crystals. The heart motif evokes outré 80s catwalk jewellery, and will reflect the shimmer of a disco ball, whatever decade they're worn in.

Writer: Laura Hawkins
Hancocks London
3 June

Vintage and contemporary jewellery purveyor Hancocks London (opens in new tab) presents an eclectic trove of treasures, with the era-defining designers represented in their collections including Castellani, Lalique, Belperron and Boivin. Their Jewel of the Month edits are a visual treat, and this month is no exception. June's pick, a gold and diamond bracelet from goldsmith David Thomas dating from 1960, highlights just why he is one of the masters of the London modernist movement. A patchwork of textured, polished and openwork gold, its playful geometric structure means it is as strikingly modern now as it was then.

Writer: Hannah Silver
De Beers
31 May

The Horizon ring from De Beers is tantalisingly tactile, designed to move fluidly with its wearer. Its effect is both visual and auditory, the central band of micropavé diamonds subtly clinking as it travels its endless arcs. It is an enticing preview of the full Horizon collection, set to follow in the autumn.
Polly Wales
24 May

Fine jewellery has connotations of rigour and structure. Gems set in rows, pavé set with precision, and gemstones faceted into geometric cuts. UK-born LA-based Polly Wales (opens in new tab) subverts this jewellery making stereotype. Her organic and kaleidoscopic creations are made using a 'cast-not-set' technique, which sees gemstones cast directly onto molten gold. They include these Mondrian Diamond Hook earrings, which resemble bubbling golden discus glinting with light.

Writer: Laura Hawkins
Chaumet
22 May

There's swathes of symbolism around rings. Unions of love, familial lineage, eternal connections, bands have the power to represent feelings with real force. Chaumet (opens in new tab)'s Liens Evidence collection celebrates the symbolic bonds we hold with our loved ones, and features rings, bracelets and earrings created from bands of metal which appear tied together. There should also be personality behind sentimental jewels, and lucky for us Chaumet's piece comes in a range of colourful enamel and pavé details.

Writer: Laura Hawkins
Mia Larsson & Other Stories
21 May

Wald Berlin, Tohum, Renna: brands have made a stylish splash with beachside-inspired jewellery, be it tulip shells cast in gold or cowrie's strung around the ankle. Mia Larsson (opens in new tab) incorporates scallop and oyster shells into her minimalist designs, and now the Swedish jewellery designer has teamed up with & Other Stories (opens in new tab) on a series of hand-crafted unique hair pins, earrings, rings and a necklace, created using recycled silver and oyster shells sourced from a seafood restaurant in Stockholm. These sustainable styles have a surfs up-meets-sculptural sensibility, and bring new beauty to decomposable sea bounty.
Phillips
17 May

In an innovative move for an auction house, Phillips (opens in new tab) is working with Bacs & Russo to launch a new concept which will showcase collectors' timepieces in elegant custom-built surroundings. Phillips Perpetual, now in London and soon to be extended to New York and Hong Kong, will also offer curated programming and private selling exhibitions in a move which looks set to revitalise the auction industry.

Writer: Hannah Silver
Dunhill
15 May

Millennials may have gone made for vapes and Juul's but when it comes to smoking apparatus we prefer something a little more fire power. In 1924, Dunhill (opens in new tab) launched the first lighter that could be operated by hand, and in the mid-1950s, it produced one of the first butane gas lighters. Lucky for us, the British luxury goods brand has relaunched a limited series of three of its 1949 Aquarium lighters, meticulously crafted from four panels of Perspex and featuring reverse intaglios of birds in flight and fish dodging greenery underwater. A small run of 15 Turbo lighters has been created in each style, finished with 18-ct gold plating. Adding fuel to the fire, Dunhill has also launched a capsule collection of clothing inspired by the lighters' natural motifs, including summer shirts and drawstring backpacks.

Writer: Laura Hawkins
Mari Ishikawa
9 May

Mari Ishikawa (opens in new tab)'s jewels reflect a preoccupation with borders and the limits of time and space. Silver and silk are united in a tangle of textures that mirror the wild growth of nature when allowed to go unchecked by man. In this 'Rebirth' brooch, a single Tahiti pearl blooms in a snarl of silver.

Writer: Hannah Silver
Prada
7 May

We're going bananas over Prada's (opens in new tab) first collection of fine jewellery. In recent seasons, the Italian label has made direct reference to the renowned signatures in its design canon. Last September, it reissued its sports-focused nylon Linea Rossa (opens in new tab) collection, first launched in 1997, and for A/W 2018 it reimagined its famed flame emblazoned heel from 2012 as a striking fire-licking wedge. For its fine jewellery debut, the brand has created design symbols and motifs from its history as cartoonish 18-ct gold pendants. These include a pair of bananas hanging from diamond earring studs, a bunny suspended on a short asymmetric chain and two diamond-eyed robots dangling from delicate hoops. Just like the brand's banana motif, it's sure to prove a fruitful endeavour.

Writer: Laura Hawkins
Cornelia Webb
3 May

There's an organicism integral to Cornelia Webb's (opens in new tab) designs. The Scandinavian jeweller imbues her creations with a raw naturalism, with metals moulded with fingerprints and rings set with healing gemstones. Webb's respect for nature is reflected in her environmentally aware output too. She works with Swedish stonemasonries to acquire leftover materials like granite and green marble. Coral has inspired Webb's S/S 2019 designs, like this 24-ct gold plated brass ring set with coral and rainbow moonstone. As part of the brand's sustainable roadmap, Webb is donating 1% of the collection's sales to Bio-Rock (opens in new tab), a non-profit organisation that supports the restoration of the heavily damaged coral reefs in Northwest Bali, which have been disastrously damaged by global warming and fishing. Now that's rock solid thinking.
Simone Rocha
1 May

Simone Rocha' (opens in new tab)s obsession with Louise Bourgeois began in the early 2000s, when, as a student, the Dublin-born designer saw works by the artist at the Irish Museum of Modern Art. Threads of Bourgeois' aesthetic and output are notable in Rocha's ready-to-wear. Take her recent A/W 2019 collection, which featured blue and pink tones (at an early career stage Bourgeois was known to wear these colours to portray her joyful or melancholic moods), and spiderwebby prints which nodded to her experimental 2006 fabric book 'Dawn'. Bourgeois' work placed focus on female sexuality and gender, and her hanging works have informed Rocha's collaboration with Hauser & Wirth (opens in new tab), on a series of figurative earrings, which hang from the ear in suspended form, in the same way Bourgeois' works hung from gallery spaces. These earrings, created in 24-ct gold plated sterling silver, and in a limited edition of 250 pairs worldwide, are inspired by 'Spiral Woman' (2003), a fabric hanging piece which fuses the female body with an ambiguous organic visage in spiral form. Art not just for your eyes, but for your ears too.
Fernando Jorge
28 April

We're going nuts for the designs of Fernando Jorge (opens in new tab). The Brazilian jeweller has a flair for natural materials, and uses locally sourced gemstones and minerals in his organic creations. There's a sense of wooden wonder behind these Signal earrings, whic are formed from concentric circles of petrified wood and Tagua seed. The earring studs and pendants of the design are connected by a sliver of diamonds, like a strip of glittering dew connecting two Tagua palm trees in northwestern Brazil.
Motley x Sim & Stout
15 April

Fine jeweller Simone Paasche and artist and furniture designer Katie Stout are the duo behind Sim & Stout (opens in new tab). They were inspired by the abstract nature of driftwood washed up on the beach for the Motley X Sim & Stout earrings, the latest addition to online concept store Motley. Cecily Motley, co-founder of Motley, says: 'They worked first in wax to make the organic shapes, which they then cast in silver. Their work is totally abstract: Flotsam, Jetsam and Lagan are the general terms for things washed up on the shore - from treasure to drift wood - and is a broad house for something that has no set shape, size or form.'
Writer: Hannah Silver
V&A Museum
12 April

An enamel Art Deco Cartier vanity case playfully concealing a gold key, dating back to 1925, joins a host of other new pieces at the V&A's recently reopened Jewellery Gallery. It is one of 49 vanity cases donated to the William and Judith Bollinger Gallery, a gift from Kashmira Bulsara in memory of her brother, Freddie Mercury. Cast in a plethora of vividly coloured stones, enamel and lacquer, the vanity cases were made by jewellers in New York and Paris including Cartier, Laloche, Van Cleef & Arpels and Charlton.
Avakian
13 April

Avakian (opens in new tab)'s La Mystérieuse Collection Drop earrings exhibit a fluid flexibility; designed to be worn in a plethora of ways, stems can be spun to reveal a different colour gem stone and pear-shaped ear tops detached. This versatility lies at the heart of the brand, says Haig Avakian: 'The backs of the jewels are just as important as the front; sometimes crafted with hidden elements and secret clasps achieved through the experimenting and refining of nuanced design ideas.' White and brown diamonds and gently swaying white agate drops cut strong geometric silhouettes, but at heart the jewellery is fun and effortlessly wearable: 'Our philosophy is to make jewellery part of day to day life, to be able to dress the pieces up and down depending on the occasion and not just have it locked up in a safe,' he says.
Jacqueline Cullen
2 April

Jacqueline Cullen (opens in new tab)'s 'Atomic' multi cascade earrings were a highlight of the recent exhibition 'British Craftsmanship: Jewellery, Gold and Silver by Scholars of the Queen Elizabeth Scholarship Trust'. Charity 'Qest (opens in new tab)' works to support the training of aspiring and talented craftspeople. Part of the exhibition's display at Bentley & Skinner (opens in new tab), these hypnotising earrings celebrate both the smoothness of Whitby jet and its broken edges. Brilliantly reflecting light, tiny diamonds glint in the hand-carved fissures and crevices. 'Jet is a good choice for this at it breaks with a conchoidal fracture, and by carving the jet I am forcing it to break naturally,' says Cullen. 'In another material this would all have to be created and would look contrived. I am able to set the tiny diamonds into the jet without them losing their light.' An early conceptual interest in jet grew into a desire to see it reworked for a modern age: 'For so many years jet was associated with death and grief but I thought it a beautiful material that needed to be reinterpreted. As I learnt how to work with jet it became apparent that the processes suited my way of working too – it is very direct, sculptural and instinctive.'
Kathleen Reilly
27 March

There's a literary leaning behind artist Kathleen Reilly's upcoming exhibition As Above, So Below at Gallery S O. The show features a series of poetic writings, which unite the literary and metalworking facets of her work. The results are rich and often witty. Meanings are neatly untangled from words and become tangible; for example Reilly's text about her grandfather becomes a glass of whisky in cast acrylic. The flimsiness of human life is imagined as a brittle cream cracker, while the age-old riddle of what came first, the chicken or the egg, becomes a physical book with two spines and no obvious beginning or end. Pictured, Life Vest Under Your Seat. As Above, So Below is on view at Gallery S O in East London, from 5 April to 26 May.
Kloto
11 March

Istanbul jeweller Senem Gençoglu's Kloto (opens in new tab) pieces follow a purposeful symmetry, spiralling through precisely-angled planes across wrists, collarbones and fingers. Gençoglu, who previously worked with Marcel Wanders, combines her industrial design credentials with the concept of 'sacred geometry' - repetitive patterns found in nature - in the MOD121 ring in silver, 24-ct yellow gold and pitch-black enamel. 'Everything in the cosmos is interconnected following a geometric code, so even though each part seems separate, they are actually all united. The ring plays with the relationship between the part and the whole,' she says.

Writer: Caitlin McDonald
Bleeker & Prince
4 March

Jeweller Leehe Segal's Bleecker & Prince (opens in new tab) Sky Crane ring, hewn from a block of moss-green labradorite, is intended as a modern spin on a retro cocktail ring. We're ready for cocktail hour: layered with linear striations, the angled planes of labradorite are punctuated with 10 tiny white diamonds that seem to float across the surface, hinting at the depths of stone beneath. 'We carve out comfort fit between the fingers to make it more wearable, but this is definitely not an everyday ring, or at least not an "all day ring",'explains Segal. 'I like to keep the iridescence of the stone as much as possible when shaping the rough. The result is surprisingly fun to wear.'
Elie Top
26 February

Following his playful costume jewels with Alber Elbaz at Lanvin, French designer Elie Top (opens in new tab) struck out in 2015 with his own, more mechanical aesthetic, influenced in part by 17th century astronomical clocks. Top's Mira ring takes the form of an articulated, orrery-like sphere that can be carefully opened up to reveal hidden treasure: inside, concentric circles of yellow and blackened gold surround diamonds and rubies set in the shape of a petalled daisy. On the reverse, another surprise - the ring band curves into a loveheart, concealed against the finger. Consider us charmed.
KatKim
13 February

Los Angeles jeweller Katherine Kim's statement pins form clean lines that resist the ear's natural curves, re-working the safety pin earring into a singular fluid piece. Hooking over the helix, her KatKim (opens in new tab) diamond thread pin extends straight down the ear before puncturing a pierced lobe, channelling a punk rock spirit into modern fine jewels.
Marion Delarue
11 February

Marion Delarue (opens in new tab) lives and works in Paris, and creates unique, bird-inspired contemporary jewellery, which is now on display at Galerie Pont & Plas (opens in new tab) in Ghent until 3 March. 'The Ostrich Policy. Envisioned Nature', features a series of feathered shoulder brooches. The collection is inspired by the philosophical and metaphorical narratives in Jean Cocteau's poetry, who writes that 'every human being has a parrot on his shoulder'. The parrot symbolises imitation and a kinship with humans. Delarue's pieces, are unusually formed from the feathers of turkeys, partridges, pigeons, pheasants, ducks, chickens, geese, guinea fowl and quails, and also incorporate silver, steel wire and rice paper pulp. They appear as poetic emblems, objects positioned on the human body, as if ready to take flight.

Writer: Ruby Reding
Shamballa Jewels
8 February
Siblings Mads and Mikkel Kornerup's refined charms, handmade in Copenhagen, combine Eastern spirituality with Danish design savvy. This yellow gold SOS ring, circled with twin rows of diamonds, is embossed with a repeating double Dorje on the spinning band: Shamballa Jewels' (opens in new tab) signature motif, it's an ancient Buddhist symbol representing the 'thunderbolt' moment of true enlightenment. We're feeling more zen already.

Writer: Caitlin McDonald
Annoushka
7 February

We love Annoushka (opens in new tab) Ducas' precious yet witty takes on modern talismans, so we've really caught the bug for her new Beetle collection. Creepy-crawlies for the ear, each insect's black rhodium-plated mandibles keep a tight grip on rose gold hoops. A custom-cut amethyst forms the body, set with grassy tsavorites and twin black diamonds. Beetle-mania is back.
Maria Black
6 February

Copenhagen-based jeweller Maria Black (opens in new tab) has concealment on her mind. 'I was inspired by the different masks we put on to cope in our daily lives,' she says of the multifaceted faces which inspired her latest 'A Pause' collection. During 1970, Many Ray worked with Italian jeweller Gian Carlo Montebello, and one of his designs was imagined as a pair of gold plated silver eyeglasses, with multiple drilled holes in the place of clear lenses. He settled on the design as a mask, when he could not create stable arms for his design. We can't wait to get face to face with this 'Ray' bangle, which nods to Ray's original 'Optic Topic Mask', and features a miniature face with indented eyes and a graphic nose, which is framed by the wrist.

Writer: Laura Hawkins
Andi Gut
5 February

London-based Swiss artist Andi Gut juxtaposes the precious metals in his jewellery designs, like titanium and gold, with synthetic materials including nylon. This fibre also works at odds to the curved, natural forms his designs take. This 'Ring Electrosmog' resembles both a both a sound-emitting technological instrument and a gliding aquatic creature. Jewellery has strong sentimental value to many people, and this connection is emphasised here in the ring's frond-like details. They nod to the phenomenon of Electrosmog - the unwanted connection felt between humans and electrical signals. A prescient symbol in today's digital era, and one of the sensitive designs Gut designs on view at Gallery S O (opens in new tab) in London until 3 March.

Writer: Ruby Reding
Claude Lalanne
30 January

As half of the French artist duo Les Lalanne, which she formed with her husband François-Xavier Lalanne in the 1960s, Parisian artist Claude Lalanne is known for the fantastical organic sculptures and naturalistic style associated with the Lalanne name. Now, as part of an extensive show at Ben Brown Fine Arts (opens in new tab) in London, a selection of the artist's singular bronze, gold, silver and copper jewellery designs is also on display. Using an electroplating technique that transforms organic material into copper, Claude's woodland and botanical flora are transformed into everlasting, jewelled motifs. These 'Little Apple' earrings (2017) capture the essence of this metamorphosis. They are simultaneously weighty and ethereal – as if plucked from the flora of Eden. Les Lalanne is on view until 15 Feb 2019.
Xiaoyu Guan
25 January

The surreal and beautiful photographs of plants by artist Rob Kesseler are a starting point of inspiration for Xiaoyu Guan. In her creative process, Guan places beans under a microscope to illuminate their biological intricacies. Possessing a thalassic quality, the designer's Bean and Pearl brooches combine embroidery and ceramic with tooth-like pearls, which are then intended to serve the wearer as a good luck charm. The pieces are on display as part of the graduate exhibition The Playground at the Kath Libbert Jewellery Gallery (opens in new tab). Alongside Guan are similarly vibrant works by Rebekah Wilson and others, which can be viewed until January 27th.
Vram
25 January

These Nocturne studs by Los Angeles house Vram (opens in new tab), helmed by designer Vram Minassian, possess serious space-age appeal. Twin clusters of black rhodium-plated gold beads have an oily finish, set with nebulous cabochon-cut emeralds. 'This series was influenced heavily by the science fiction that I read and watched growing up,' says Minassian. 'Films like Dune and Star Wars tell predictable age-old stories, but the emphasis on inventive production design and powerful visuals captured my imagination. The same synthesis is present in the 20th century sculpture that I collect — primitive and futuristic motifs balance to create something new and compelling.'

Writer: Caitlin McDonald
Mallarino
18 January

As the January blues set in we're been setting our sights on more tropical, mood-elevating climes. Enter, Net-a-Porter's (opens in new tab) Colombian Collective, a project that brings together a selection of brands from the country, in celebration of South American creativity. We'll be metaphorically taking flight with these exotic bird earrings by Mallarino (opens in new tab). The brand work with a host of artisans on their designs, and specialise in the technique of filigree, an ornamental technique which portrays the feathers of these charming creatures like delicately embroidered threads.

Writer: Laura Hawkins
Sophie Bille Brahe
16 January

Dover Street Market's (opens in new tab) seasonal changeover is an awaited moment on the fashion calendar, for it ushers in the retailer's newest avant-garde installations, pop-ups and latest roster of designers. Sophie Bille Brahe's (opens in new tab) latest 'L'Ocean Ensemble' collection, newly installed at Dover Street Market in London, has bought a twinkling element to proceedings. It features the largest diamonds which the Copenhagen-based jeweller has used to date, and includes this 'Escargot Ensemble' ring, with diamonds which snail to a central point around the finger. Like the structure of Brahe's signature 'Croissant de Lune' earring, the stones gradually increase in size, bringing an alluring asymmetry to the design.
Marla Aaron
8 January
We're latching on to NYC jeweller Marla Aaron (opens in new tab). Her collections of sleekly-engineered hardware for the body take cues from industrial inspiration including bridge architecture and zipline harnesses. The tactile Phyllis lock is a carabiner-like clip in 18-ct yellow gold, with a spinning closure inlaid with kaleidoscopic tiles of chalcedony, opal and malachite. It hooks on to the winding All Inlay chain, itself punctuated with bright, matching links. 'The idea began to simply do the closure as entirely inlaid and then we kept going a little further and realised we could inlay entire pieces and retain their functionality. It is always about taking an idea and extending it in as many directions as possible, and our Inlay series is the highest expression of this,' says Aaron.

Writer: Caitlin McDonald
GFG Jewellery
7 January
London-based GFG Jewellery (opens in new tab) has gone full circle. Boldly-hued, responsibly-sourced stones form the focal point of founder Nilafur Kizilkaya's Project 20/20 earrings, as two neat golden hoops loop around emeralds from Gemfields' Zambian mines. A tilting, pear-cut emerald appears propped up by a round white diamond, while the hoop itself is part-lined with tiny gems. The collection marks 20 years since Kizilkaya arrived in the UK capital from Istanbul - so the emeralds, traditionally gifted on a 20th anniversary, are a fitting celebration.
Hannah Silver joined Wallpaper* in 2019 to work on watches and jewellery. Now, as well as her role as watches and jewellery editor, she writes widely across all areas including on art, architecture, fashion and design. As well as offbeat design trends and in-depth profiles, Hannah is interested in the quirks of what makes for a digital success story.