Embellishing an empire: a new exhibition puts Napoleon's jeweller in the spotlight
Heritage-jewellery exhibitions are proving a top draw at museums across the globe. But then, rare jewels bring wonder, history, high glamour, jaw-dropping skills and, for some, a twitch of schadenfreude with them – they also symbolise the rise and fall of faded dynasties. Chaumet's current exhibition Chaumet in Majesty: Jewels of Sovereigns, then, delivers on all fronts. Here's our highlights.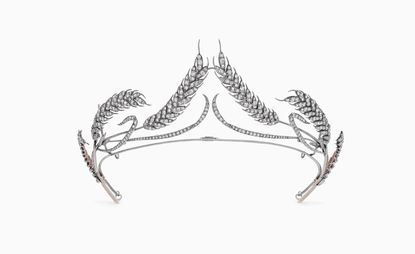 (Image credit: press)
'Crèvecoeur' tiara

Chaumet captured the market in tiara design from the moment the founder, jeweller Marie-Étienne Nitot, became jeweller to Napoleon. Nitot, a die-hard royalist had a canny instinct for embellishing the Imperial aspirations of his client – Napoleon and Josephine both adopted his tiaras as power symbols. Centuries of tiara designs make up a sizeable portion of the 250 pieces on show. Here, the tiaras are endowed the status of 'cult' jewel. But that seems trite, a curator's clunky modern spin, because this intimate view reveals tiaras as miniature works of art and architecture, a lasting homage to the sheer artistry and engineering skills of the dedicated Place Vendôme jewellers who sculpted and set them.

Ear of wheat, or 'Crèvecoeur' tiara, in gold and diamonds. 18th-century design by François-Regnault Nitot, adapted by Joseph Chaumet a century later
Hair comb

While many of the exhibition jewels are loaned by private collectors, Chaumet owns studio replicas, also made by the house-founder Nitot, of pieces from a parure for Napoléon's second wife, Marie-Louise of Habsburg-Lorraine, Archduchess of Austria and grand-niece of Marie-Antoinette. This exquisite comb was part of a set of designs in oriental rubies and diamonds, including a tiara, coronet, necklace, drop earrings and bracelets. It was delivered to the empress in 1811.

Comb, in gold, silver, white sapphires, zircon and garnets. Designed by François-Regnault Nitot
Briar rosebud tiara

By the early 20th century, the tiara had been set free from royal circles and tradition to become a covetable fashion accessory for new societies with money to spend on status symbols. Tiaras were popular during the Belle Epoque period, when romantic motifs, such as bows and stars, were common design hooks. By the 1920s, Jazz Age socialites infused them with a pop sensibility, finishing off sleek, silk gowns with decadent tiaras at society parties. Today, a new kind of lavish lifestyle has sparked demand once again. "The tiara has very much enjoyed a revival since the beginning of the 2000s,' confirms exhibition co-curator, the jewellery historian Christophe Vachaudez. 'Workshops at jewellery maisons are continuously undertaking special orders.'

Tiara, in platinum, diamonds and pearls. Designed by Joseph Chaumet, circa 1922

'Vertiges' tiara

'When Chaumet commissioned Central Saint Martins student Scott Armstrong to design 'a tiara for our times' in 2017, he imagined a light structure of criss-crossing straight and curved lines that was inspired by the geometric grids particular to French formal garden design. Its name – 'Vertiges' – refers to aerial shots of these gardens and, Armstrong says, 'the lightheadedness experienced with vertigo.' The designer subverted the romantic floral motifs that also play a key role in Chaumet's canon, such as bouquets of hydrangeas and stalks of wheat.' – Laura Hawkins


Tiara in white gold, with pavé and channel-set white diamonds, with green tourmalines and yellow garnets.


'Chaumet in Majesty' exhibition runs until 28 August at the Grimaldi Forum, Monaco