Art for everyone: 15 installations that capture the global imagination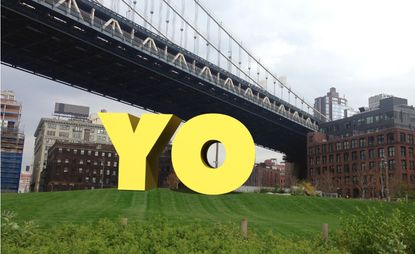 (Image credit: press)
A truly timeless installation, whether temporary or permanent, alters its surroundings by broadening the idea of what could belong there. From a mirage-like luxury store in the American desert to a floral matrix that for decades was the unrealised vision of a leading conceptual pioneer, to the Chicago structure we can now no longer imagine the city without. What is done with art cannot be undone – and our world is richer for it.

OY/YO, by Deborah Kass, Brooklyn, New York

The latest addition to Brooklyn Bridge Park is a prominent example of Deborah Kass' pop art aesthetic. Cheekily proclaiming 'YO' as one enters Brooklyn and 'OY' as one leaves, it quite literally speaks the local vernacular. Kass' painted aluminum sculpture references Ed Ruscha's OOF, which hangs in NYC's MoMA, as inspiration. If these fresh vowels inspire any good natured trash talk as to the prevailing message, they've succeeded in capturing the spirit of the city.
© Deborah Kass, courtesy Two Trees Management Co.
7, by Richard Serra, Doha, Qatar

Comprising nearly 24m of steel, Richard Serra's 7 sculpture stands with regal confidence beyond the towering skyline of Doha Bay. A site-specific work, it showcases Serra's signature spatial simplicity as well as thoughtful references to Islamic culture, a new symbology for the artist. 7 is a perfect addition to the ancient-meets-contemporary mission of the Museum of Islamic Art, a minaret of cross-cultural exchange.
Lines In Four Directions In Flowers, by Sol LeWitt, Philadelphia

Five years after Sol LeWitt's death and 30 years after his floral installation was first conceived, Lines In Four Directions in Flowers finally came to fruition at the Philadelphia Museum of Art. White, red, yellow and blue flowers planted in quadrants and surrounded by a hedge inhabited a plot of land behind the museum. The geometric gardens, which bloomed for two years, call to mind the finely pruned estate gardens of yore – though, in this case, it is the province of conceptual art royalty.
For Pittsburgh, by Jenny Holzer, Pittsburgh, USA

The cultural renaissance of Pittsburgh – formerly defined by the steel industry (and its decline) – has been widely covered. Having emerged as an education hub and civic example, it's no wonder the predominant theme of Jenny Holzer's For Pittsburgh installation is celebratory. Utilising LEDs on a nearly unparalleled scale, the work is a continuous neon scroll of great texts about Pittsburgh. The words of Thomas Bell, Annie Dillard and more illuminate the roofline of the David L Lawrence Convention Center, reminding locals and visitors alike that there's a future in looking up.
Exterior Boat = Ghost Ship, by Chris Burden, NYC

Compared with Chris Burden's early infamy for death-defying performance art, the unmanned voyage of his Ghost Ship seems relatively tame. After completing its remote controlled navigation from Fair Isle to Newcastle-upon-Tyne, the ship has found a home suspended on the exterior of The New Museum in New York City. The late Burden – who died earlier this year – studied under Light and Space pioneer Robert Irwin and, although the artist is better known for his theatrics than his optics, the striking planes of that nautical vessel hint at his origins.
Heartbeat, by Charles Pétillon, London

Charles Pétillon's Covent Garden installation – his first public art work – was a 100,000 balloon bid to elevate the ordinary. Hovering over the well-trafficked arcade like so many elastic hearts, the installation undulated with its own pulse. 'Heartbeat' also marked the first of Pétillon's dreamy balloon compositions outside of France – but hopefully not his last.
Kolonihavehus, by Tom Fruin, Brooklyn, New York

Tom Fruin lives and works in Brooklyn, so it's appropriate that his 2010 work Kolonihavehus would return to Brooklyn Bridge Park after a tour of Scandinavia and Eastern Europe. Modelled in the archetypal, peaked form of a Danish gardening shed, the reclaimed plexiglass structure glimmers with the patchwork gleam of a far less modest stained glass window.
Maman, by Louise Bourgeois, Moscow

As the artist who wrote 'I have been to Hell and back and let me tell you it was wonderful,'
Louise Bourgeois' irreverent point of view is steeped in universality. Her massive steel, bronze and marble arachnid – hewn in 1999 – has travelled the world, eliciting strong emotions everywhere it goes. An ode to motherhood and, by extension, daughterhood (and the most primitive of human pains), Maman, is a 30 ft sight to behold
MPavilion, by Amanda Levete, Melbourne

At the center of Melbourne's rising architecture profile is a rotation of installations at Queen Victoria Gardens. One recent site-specific work to bloom in Victoria's capital is Amanda Levete's canopy of 52 resin petals. The graceful structure is deceptively strong – incorporating innovations in nautical engineering. Fitting technology for a work that transports you.
Pluto and Proserpina, by Jeff Koons, Miami

Koons' sculpture, previously installed in Florence's Palazzo Vecchio, has taken up temporary residence in Miami. This move, of course, bore no resemblance to the myth of Proserpina's unwilling journey south to the Underworld. Pluto and Proserpina is the city's first public large-scale Koons
Prada Marfa, by Elmgreen and Dragset, Marfa, Texas

Michael Elmgreen and Ingar Dragset's 2005 installation has survived pillaging, defacement and swarms of photo loving Prada diehards. With the fashion house's blessing, the creative duo raised a store replica in the Texas desert, with actual Prada handbags and shoes filling the building. Just 30 minutes northwest of Marfa, it's a necessary pit stop on any continental road trip.

Courtesy of Art Production Fund and Ballroom Marfa
Encounter, by James Turrell, Culiacán, Mexico

An integral part of the Light and Space movement, James Turrell has focused his efforts on literal outer space, with works designed to shift the eyes toward the heavens. In the late 70s, he began converting an Arizona crater into an observatory or 'skyspace'. This year, he unveiled a philosophically similar work at Mexico's Culiacán Botanical Garden. Entering a grass-covered dome, the viewer glimpses the sky through an luminous ellipse – inviting the naked eye to absorb our place in the Universe
Untitled, by Herman Kuijer, Zutphen, Netherlands

Underpasses – renowned for, at best, quality graffiti – have been reimagined in one Dutch town as a spectrum of neon light. Herman Kuijer's tunnel vision is both an infrastructure asset and a sight for sore eyes. As far as tunnel entertainment goes, it certainly beats the childhood practice of holding one's breath. As long, that is, as drivers remember to keep their eyes on the road
Your rainbow panorama, by Olafur Eliasson, Aarhus, Denmark

Olafur Eliasson's work has always explored natural elements and phenomena. From filling the Tate with a glowing mist, to installing waterfalls in New York's harbour, the Danish-Icelandic artist has a knack for creating wonder. Your rainbow panorama, located atop ARoS Aarhus Kunstmuseum, is no exception. The full ROYGBIV spectrum can be experienced by visitors circling the 150-metre-long pavilion, offering panoramic views through rose – and every other colour – tinted glass.
Cloud Gate, by Anish Kapoor, Chicago

Fondly nicknamed 'The Bean', it's hard to believe Anish Kapoor's kidney-shaped arch has only been a Chicago fixture for less than a decade. Now, no trip to the Windy City is complete without the requisite reflective selfie (hair, no doubt, in one's eyes.) A stainless steel distortion of sky, skyline, and passerby alike, Cloud Gate is everything an outdoor sculpture should be.
Understanding, by Martin Creed, Brooklyn, New York

Understanding has come about between the boroughs of Brooklyn and Manhattan, literally, thanks to Turner Prize-winning British artist Martin Creed. Creed's conceptual projects include an affinity for word art and crossover between art and music. His Turner Prize entry–an empty room with uniformly flickering lights– was so minimal as to provoke outrage from members of the public. Compared to that, Understanding is very straight forward. Although, as with any prominent art, the 25-foot neon structure is open for broad interpretation.
Receive our daily digest of inspiration, escapism and design stories from around the world direct to your inbox