Slim Aarons' jet-set snapshots inspire Yaitte's Resort collection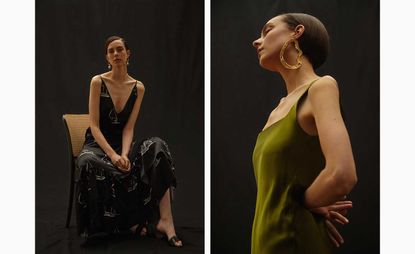 (Image credit: press)
Allow yourself, for a moment, to indulge in a daydream. The sun is setting. You're relaxing on the deck of a fine, mid-sized yacht, floating on the glossy blue of the Mediterranean. Life is good. So, in this beautiful daydream, what are you wearing? This is where Yaitte comes in. The ready-to-wear label, courtesy of designer Danielle Windsor, derives its name from 'yate', the Spanish word for 'yacht', and Windsor takes as her key inspiration travel, as women in the modern world do it.

Yaitte aims to address the needs of the contemporary female traveller, releasing two collections per year for Resort and Cruise. 'It'll never be about "true winter" or "true summer",' Windsor explains from her London studio. 'Because you can be somewhere where it's lovely and hot, and then all of a sudden there'll be a storm. So I want it to be really transitional, very effortless.'

This translates into knitwear, shirting and silk pieces created with the skills Windsor garnered over years spent as a designer at Viktor & Rolf, Matthew Williamson and Zara. 'It's an industry where you're constantly learning,' she says of those years. 'I've always loved to learn, which is why I went to each of those brands.' But even while travelling the world and working for such big names, the desire to start something of her own never quite dissipated.
Perhaps it was the years spent at Zara, in the Galician town of La Coruña, that had the greatest impact on Windsor – not just in providing the Spanish blueprint for her future label's name, but in teaching her the value of a commercial eye in the fashion industry. 'Being a commercial designer always gets a negative angle,' she says. 'Even though my work is more high-end, I still think about it. Customers are getting more clever and we're also getting more sensitive with how we spend our money.'

For Resort 2019, Windsor looked to the visual identity of Slim Aarons, photographer to the 20th-century American jet-set, as well as to the impressive, self-assured women she regularly meets in her work and her travels. 'These are working women who, like me, love to escape the city sometimes and who use travel as a way to escape the pressures of life.'

Yaitte's trans-seasonal collections are an attempt to outfit these women for whatever might come their way, wherever their travels lead them. Silk pieces are crafted from heavyweight fabrics to minimise creases when unpacked, and classic tailored shirts are given an off-beat update. 'I think about women's shopping habits. I would, like everybody else, go to the high street to buy a few casual jersey pieces, but I still want those higher-end pieces, too. I'd rather save my money and buy a really lovely shirt or some knitwear, so I don't have to look like everybody else.'

With each collection building on the colour palette and configuration of the one that comes before it, over time the Yaitte woman will find herself with a wardrobe that is refined, sophisticated and sensuous at her disposal.
INFORMATION
For more information, visit the Yaitte website (opens in new tab)