Tongue in chic: the accessories designers turning traditional Italian luxury on its head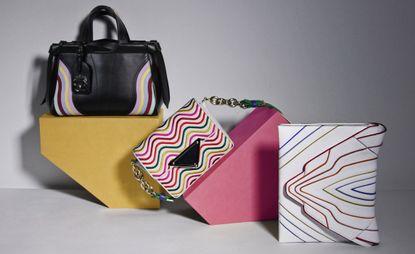 (Image credit: Aylin Bayhan)
Famed for its leatherwear, Italy has long ruled the roost as manufacturer and supplier of exquisite luxury accessories – from Fendi to Gucci and Prada – the world's leading brands call this country the home of artisanship. Crafting their wares in the accoutrement capital, three well-and-truly-emerged designers have put their names on the map too.

Employing all the savoir-faire of their predecessors' craft, this trio of female designers has introduced a sense of playfulness to the role of the hardworking handbag and it's all down to an array of ebullient brights and a pattern-led aesthetic that nods to the joyousness of the 1970s and 80s.

Brazilian designer Paula Cademartori brings a jolt of colour and bravas to the rigorous world of leatherwear with her zingy, bright and all Italian-made handbags. Having worked as accessories designer with the house of Versace, Cademartori was listed as one of Vogue Italia's emerging designers to watch in 2009. She's since combined glossy luxury craftsmanship with an oomph that reflects her origins with wildly popular effect, and expanded from handbags to shoes and other leather goods.
Her Bowie brights and Memphis Group graphics have seen her reinvigorate the high-gloss boxy bag. 'Colour, for me, is joy and happiness, which is exactly what I want to convey with my creations,' she says. Ingenious touches – silk scarves wrapped around ladylike top handles and fluid touches of loose straps or tasseled trims – are the catnip of her customer who is, according to the designer, 'eclectic and cosmopolitan, with a strong personality and unique style'. For Cademartori, luxury is having the time to create something truly unique – clearly the contemporary shopper agrees.

Having started out her career working with brands like Trussardi and Salvatore Ferragamo, and progressing to the role of head of accessories at Emilio Pucci, Elena Ghisellini knows by rote the rules of Italian precision, quality and design. Her work with Riccardo Tisci for Givenchy, where she spearheaded the design of the now ubiquitous 'Antigona' bag, will similarly have certified her talent for a hit product. With such a serious resumé under her belt, her eponymous line sees a little more joie de vivre amid the design process.
Her latest creation, the 'Angel' tote, comprises an overtly chunky weave that, as well as its luscious tan and cream iterations, comes in a Bauhaus palette. Her clutch bags also feature vibrant leather piping in a variety of prismatic hues. 'I try to offer customers my vision of freedom, unity and personality,' Ghisellini explains of her homage to the flag of inclusivity. It's an outward act that brings contemporaneity and progressive perspective to an age-old industry, prided on its tradition.

With an extensive menu of cross-body bags in a rainbow of fruity colours, Sara Battaglia has an accent for every look. 'In my opinion, accessories, especially bags, are fundamental for your look. With a bag you talk about yourself, about your personality, your job, your day. With a handbag you tell a story and the topic of this story is you.' As such, the offering of this Italian designer is vast enough to cater for many a personality. Minimal pouches in luxuriously stiff black or white leather are edged-up with woven, rainbow guitar straps, or tasseled zip pulls.
Her tote bags also feature surprising flashes of colour, with sides crafted from accordion folds of leather, in rainbow shades. Each item combines an element of old school elegance, only reworked with a little extra flair. 'I always pay attention to the functionality – around a glamorous shape of course – because I'd like to offer the maximum in design and functionality, at the same time,' Battaglia explains. Such duality is a recipe for serious retail success.
INFORMATION
For more information, visit Paula Cademartori's website (opens in new tab), the Elena Ghisellini's website (opens in new tab), and Sara Battaglia's website (opens in new tab)