Focal point: Thierry Lasry opens his first optical boutique in Paris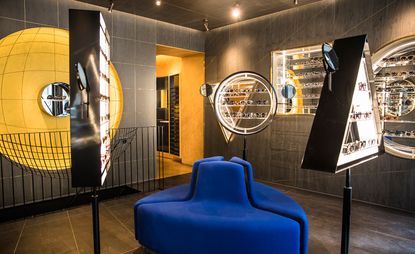 (Image credit: TBC)
Anyone who spends enough time in Paris can agree that optical boutiques are about as abundant as boulangeries. But Thierry Lasry is not your average eyewear designer – see his Nymphomany, Polygamy and Vandaly styles – and so it follows that his first shop would make a statement, both inside and out.

Located at 40 rue du Four, amidst a well-trafficked pocket of the Left Bank, the compact storefront invites passersby to peer at themselves through a reflective pupil and blue iris surrounded by rows of shelves. Bordered in striped marble meant to evoke tortoiseshell, the facade loosely takes on the appearance of a giant frame, with an illumination from the boutique's back wall completing the optical effect. But it's not the only one, as the interior space reveals a dynamic interplay of geometric vitrines and design details. Seams of golden brass delineate perspective lines along the darkened grey wood walls, while triangle, square and circular displays orbit around a deep blue sectional at the store's centre.

Such a whimsical yet sophisticated concept was masterminded by none other than Vincent Darré, who cited kinetic art, Leonardo da Vinci and Fontana Arte lighting as references. The point, he told Wallpaper*, was to translate Lasry's retro-future aesthetic into a retail-friendly 'visual universe'. While the in-demand Paris designer was responsible for conceiving the Roger Vivier and Elsa Schiaparelli showrooms, this is his first shop; Emmanuel Bénet of architecture agency Achille oversaw the meticulous execution of the fixtures.

Despite its compact size, the 45 sq m space accommodates a back area, its golden glow the work of an artisan from Atelier Poulaillon. Here, a custom cabinet meant to resemble a safe holds Lasry's special editions, including his vintage acetate frames, collaborations, archive pieces and models in buffalo horn. It's no stretch to imagine his star clients – Rihanna, Katy Perry, Jennifer Lawrence and Madonna among others – heading straight to this lustrous niche.

Lasry, who is mainly based in New York, is confident that this bold debut establishes the brand's retail signature going forward, mainly because 'there is a real coherence between the details of the store and the details you can find in every single piece of the collection,' he says, noting that the frames, all handmade in France, combine a lifetime Lego obsession with a commitment to craftsmanship.

Of course, it takes a certain brio to arrive at such an extroverted brand image, which likely explains why the partnership between Lasry and Darré proved so successful. In this project anyway, they shared the same vision.
Located at 40 rue du Four, amidst a well-trafficked pocket of the Left Bank, the compact storefront invites passersby to peer at themselves through a reflective pupil and blue iris surrounded by rows of shelves
INFORMATION
For more information, visit the website (opens in new tab)
ADDRESS
40 rue du Four, 75006 Paris
VIEW GOOGLE MAPS (opens in new tab)