Four score: the men's labels doing timeless with a new twist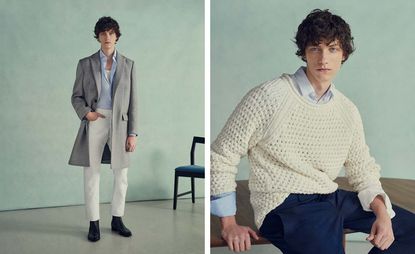 (Image credit: Sean Alexander Geraghty)
Left, Salle Privée. Luxurious classics, founded by Patrick Munster. Coat, €1,260; shirt, €280; jeans, €340, all by Salle Privée. Boots, £715, by JM Weston. 'Krusin' side chair, price on request, by Marc Krustin, for Knoll (opens in new tab). Right, Helbers. Unpolished elegance, founded by Paul Helbers. Jumper, £1,190; shirt, £390; trousers, £540, all by Helbers. 'CH339' table, £5,342, by Hans J Wegner, for Carl Hansen & Søn (opens in new tab).
Fashion may be fixated on the latest thing, but Salle Privée, Helbers, Connolly and Jeffrey Rüdes are dialling down the need for novelty, using luxurious fabrics and clever cuts to reinterpret ageless menswear staples.

'In fashion today, people have access to everything, so I try to make things a bit simpler,' says Patrick Munsters, who launched Salle Privée in November 2016. The label's luxe classics include gold-buttoned pea coats, merino roll-necks and single-breasted overcoats in a spectrum of greys.

With seasonless designs on display at Salle Privée's first store, in Amsterdam, Munsters plans to issue signature silhouettes in varying cuts and fabrications throughout the year, in limited editions of 50. 'I don't want logos or prints on my designs,' Munsters says. 'My shop doesn't even have a sign.'

Instead, details play on absence. Off-white replaces traditional pinstripes for the inner linings of coat sleeves, while shirt collars have no topstitching. 'A lot of my customers are architects or artists,' Munsters says. 'They have a creative outlet for their expression, so their clothing is often very neutral.'
Connolly: Unisex refinement, owned by Isabel Ettedgui. Suit, £1,300; bag, £1,600, both by Connolly
Paul Helbers, who launched his eponymous label in January 2016, also looks to artists' wardrobes for inspiration. 'A lot of sculptors and painters in Paris at the turn of the 20th century wore very limited clothes,' he says. 'In a way it was like a uniform.'

The former head of menswear at Maison Margiela and ex-menswear director at Louis Vuitton, Helbers took his cues from the French coastline for S/S17. 'I was inspired by the colours of the midnight ocean, cloudy skies and flecked granite rocks,' he says. 'I wanted to translate them into fabrics.' Oversized painter's jackets, band-collar shirts and panelled jogging trousers use speckled wool, silk and linen or lightweight stonewashed cotton, while trainers come in vegetal-dyed calfskin. 'The pieces are quite hybrid,' Helbers adds. 'I strip canvas out of the linings of jackets so they feel soft like sweaters; trousers aren't just classic, sporty or casual. What I always try to achieve with my garments is that they don't define a moment.'

'The restaurateur Jeremy King used to say to me, "My clothes are falling apart. When are you going to open again?"' says Isabel Ettedgui, owner of Connolly, which reopened on London's Clifford Street in October 2016 after a six-year hiatus. Founded as a family-run saddlers in 1878, Connolly provided leather to stalwarts of the automobile industry, including Rolls-Royce, for more than a century; its upholstery also covers benches in the Houses of Parliament.

Ettedgui and her husband, the late fashion designer Joseph Ettedgui, bought the company towards the end of the 1990s. For last year's reopening, 'I knew I had to give Connolly a new lease of life', she says. So she asked Marc Audibet, who has designed for Hermès, Prada and Ferragamo, to create the brand's first ready-to-wear collection.

The fluid tunics, pinstripe suits and knitted polo shirts of Connolly's 'Classic' collection are constructed for both men and women. 'They are a result of carefully studied cuts and proportions that allow a couple to share the same elegance,' Audibet says. 'A family came into the shop last week and they all left with the same coat,' Ettedgui adds.
Jeffrey Rüdes: Hollywood chic, founded by Jeffrey Rudes. Jacket, $3,600; suit (worn underneath), $2,400, both by Jeffrey Rüdes
An expert in fabrication, Audibet is renowned for his innovative stretch fabrics, and he created delicate silks woven like paper for Connolly's S/S17 collection. On Clifford Street, his designs feature alongside luxurious symbols of Connolly's history, such as leather motoring goggles and gloves. 'Heritage is like knowledge,' Audibet says. 'It is what remains when all else has been forgotten.'

For Jeffrey Rudes, founder of American denim behemoth J Brand, classicism comes with Californian flair. 'It really centres around the grandeur of Hollywood,' Rudes says of his new menswear brand, Jeffrey Rüdes (the added umlaut a reference to his German heritage), which he launched in July 2015. Featuring gently flared suits, pointed leather boots and gabardine macs in sumptuous earth tones, his S/S17 collection is inspired by 1970s rock and roll renegades.

'We took the traditional collar off and updated it,' Rudes says of a rust suede biker jacket with a narrowed collar, reinterpreted to bring lightness to the silhouette. 'The cut of the suiting is more New York,' he adds of the elegant tailoring that hangs in his flagship store on Manhattan's Greene Street. 'It's masculine and sexy and, importantly, it's not tricky. I wore a black crêpe suit and a spread-collar shirt to a dinner recently, and I didn't stop getting compliments.'

As originally featured in the March 2017 issue of Wallpaper* (W*216)
INFORMATION
For more information, visit the Salle Privée website (opens in new tab), the Mr Porter website (opens in new tab), the Connolly England website (opens in new tab), and the Jeffrey Rudes website (opens in new tab)