Taller Marmo: jet-style style, for the maximalist and modest dresser alike
The designers behind Taller Marmo on making the kaftan cool and carving their own, timeless-fashion niche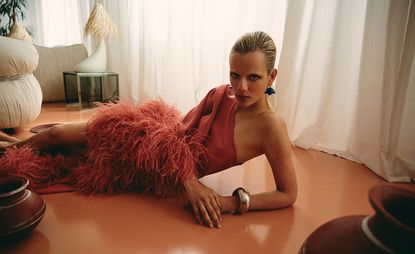 (Image credit: press)
The Middle East has become a territory of prized interest for luxury Western labels. In November 2021, Dior's roving retrospective 'Designer of Dreams' exhibition opened in Qatar's capital Doha, the first show inside the design and cultural hub M7. The same week that month, Valentino presented its debut 15-piece Haute Couture Abaya collection, while Virgil Abloh presented his first museum exhibition in the MIddle East, 'Figures of Speech', at Doha's Fire Station. Brands including Giorgio Armani have touched down in Dubai to present celebrity-studded runway shows. Last week, Boss relocated its Milan Fashion Week show, in favour of a see-now-buy-now show in the desert surrounding the skyscraper-lined city.
For Italy-based label Taller Marmo – known for its lighter-than-air satin kaftans and asymmetric gowns, that ripple with fringes and ostrich feathers, attracting modest and maximalist dressers alike – its Euro-UEA evolution took place in reverse. Back in 2012, the brand's two founders, Argentine Yago Goicoechea and Italian Riccardo Audisio, dropped out of the Istituto Marangoni in Milan where they met, disillusioned with their academic studies and the frenetic cycle of the fashion system. The duo decamped to Dubai, with zero design experience and having never interned for another label, where they began creating fluid kaftans, inspired by the jet set style of the 1960s and 1970s, the louche hedonism of Old Hollywood, and the sophistication of Sophia Loren.
Taller Marmo: timeless style for modest and maximalist dressers alike
'We put our pieces in garment bags and went into the top store selling black abayas and kaftans for Emiratis, asking if they wanted to sell our designs,' Goicoechea says. The owner said, "OK, let's try!" We put together our company after selling a couple of units in that first boutique.' In 2015, the label won the prestigious Woolmark Prize India, Pakistan and the Middle East regional final. 'It was interesting representing Dubai as an Argentinian and an Italian,' Goicoechea says. 'But that's really the spirit of Dubai.'
Taller Marmo relocated to Milan in 2016, a decision based on a desire to build its wholesale business. 'We sold all our furniture,' Goicoechea laughs. 'Within two weeks of our decision we were back in Italy.' The label now operates with a small team, is stocked by luxury retailers including Harrods, Matchesfashion and Browns, and in the wake of the Covid-19 pandemic, has seen a staggering eight-fold increase in sales. When it comes to the label's kaftans – which make up approximately 60 per cent of Taller Marmo's business and are imagined for Resort 2022 in tropical floral satin jacquard and lime satin moiré – Goicoechea aligns their success with their inherent relaxed elegance. 'They are very comfortable, but can still look very dramatic,' he says of the pieces. The collection also includes frothy feather-trim mini dresses and skirts and trousers festooned with fringes.
The brand's success aligns with its focus on key pieces that are tweaked or reinterpreted each season – belted, open-back, draped or created in a new fabric or colourway – instead of indulging in endless clothing categories.
'We consider ourselves more dressmakers than fashion designers,' Goicoechea says. 'We don't see ourselves that related to the industry itself. We don't just want to make the hottest or trendiest thing.'