Talia Byre: 'There's nothing stiff about my designs. I like them to have soul'
As part of our Fashioning the Future series, we explore Talia Byre's A/W 2021 womenswear collection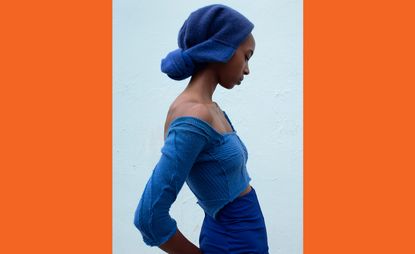 (Image credit: Dougal MacArthur)
When Talia Lipkin-Connor, a 2020 Central Saint Martins MA Fashion graduate and founder of label Talia Byre, moved back to her home town of Manchester in the early days of the United Kingdom's first lockdown, she immersed herself in her family's rich clothing history.
Struck by personal tragedy, and the loss of several older matriarchal members, she found herself clearing out her grandmother's wardrobe – 'she had an obscene amount of hats, about 100 ' – and musing on the renowned Liverpool luxury ladieswear shop, Lucinda Byre, owned by Lipkin-Connor's great uncle, which her grandmother and mother worked in, from the 1960s to the late 1980s. Her family also ran a tailoring business on the other side of the city.
Talia Byre: harnessing sartorial history
'A lot of clothing has been passed down to me,' Lipkin-Connor says, referencing pieces lacking labels or chronological clarity, including a mid-length pleated skirt 'that suits four completely different bodies'. This silhouette, affectionately called an 'Everlasting Skirt' and made lighter and shorter for A/W 2021, is layered with lineage. Lipkin-Connor uses complex processes to symbolically recreate her family's rich sartorial history, and imbue designs with a decade-spanning depth. Body-hugging knitwear in ultramarine and fuchsia is crafted in panels, washed, cut, draped on the body and washed again. 'I'm trying to replicate the feeling of clothing that has been passed down to me.'
Fascinated by colour – 'brown, pink, yellow, blue' – Lipkin-Connor accrues 'bags and bags' of fabric samples in tones she is touched by, as part of her research process. Often these are incorporated into her brand's designs, when she cannot find alternatives that are an exact match. 'There's always an upcycled element,' she adds of the collection, which features leather and cashmere. She sourced the latter from Oxfam's Yorkshire warehouse, incorporating 'jumpers with tiny holes that could be cut around, dyed and washed'.
'There's nothing stiff about my designs,' Lipkin-Connor adds of her pieces, which protect the body in folds of silk, tweed and knit. 'I like them to have soul.'
INFORMATION
A version of this article appears in the September 2021 issue of Wallpaper* (W*269), now on newsstands and available for free download.