Double vision: with a curated Fitzrovia space, an Aussie couple looks beyond Savile Row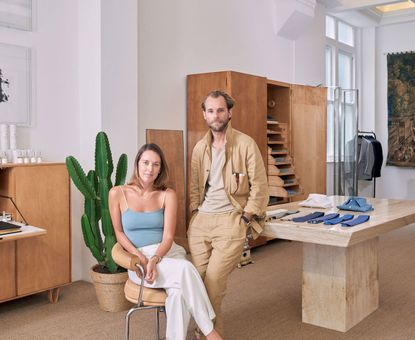 (Image credit: Gabby Laurent)
Savile Row may be the heart of men's tailoring in London, but Australian tailor Patrick Johnson, who recently added a showroom in the English capital to his burgeoning business (including four stores Down Under and one in New York), made a conscious decision to open in Fitzrovia's Rathbone Place instead. 'I have a lot of respect for English tailoring, but I'm very different,' he explains. 'I like being slightly off the beaten track.

Though not quite a fashion destination yet, the area brims with trendy eateries and galleries; Facebook will soon move its European HQ into a Make Architects-designed building down the road. 'I think the area's on a cusp,' says Johnson. The choice of location befits the P Johnson brand, which is known for its relaxed approach – think lightweight fabrics, a fresh palette of beiges, creams and greys, and unstructured fits. Johnson's suits are relevant to all contexts, seemingly designed to be casually thrown on in the morning, paired with light knitwear (today he is wearing a cream crewneck merino jumper of his own design) or perhaps a T-shirt, and lend themselves to mixing and matching. They are almost impossibly soft – 'You should feel like you're not wearing anything,' he enthuses.

There's also an ample amount of detail to enthral the suiting geeks. Take, for instance, the option of using high power magnets in place of buttons for fastening, or the addition of a light layer of canvas inside a flannel jacket to enhance comfort. 'But we never harp on about that, because it takes the fun out,' he says.
Most of what P Johnson does is custom tailoring, meaning that individual patterns are cut for each client. There are tailors at each showroom (in London, they work downstairs in an atelier that is almost twice the size of the retail space), though most of the work is done in Sartoria Carrara, a workshop in Tuscany that Johnson acquired around two years ago. The brand also offers knitwear, shirts and ties off the rack.

Given the focus on informality, one imagines that P Johnson's clientele would be largely young and bohemian. Not necessarily, says Johnson. He describes his favourite client as 'an older English guy who has had his suits made on Savile Row his whole life', and is now looking for something more versatile as his work tones down. 'I find those guys fascinating because they've had their experiments, found how they want to dress, and they're very comfortable with themselves.'

The new showroom, like all P Johnson boutiques, is by Johnson's wife of six years, interior designer Tamsin. From a visual standpoint, it is very much in line with the clothing: simple, comfortable, and thoughtfully appointed. 'We met in a pub in Notting Hill when we were students,' says Johnson. 'We've been together for a long time, so we've evolved our aesthetic together. She's been the biggest influence on me.'

The walls are mostly populated with modern European art, with a focus on Spanish painter Antoni Tàpies, contrasting with an old Flemish tapestry that the couple purchased at an antique fair. The furniture selection is eclectic – a travertine table with a trapezoid top, sourced from eBay, sits at the centre of the space, surrounded by Le Corbusier chairs upholstered in beige leather. Adjacent, an impressive wooden dresser by Piero Portaluppi leans against the wall, its doors whimsically propped open by a pair of porcelain Chinese dogs to reveal the merchandise in its sliding drawers (probably three people a week come in and try to buy the piece, says Johnson).

There's also a Cees Braakman cabinet and a trolley that Tamsin believes was designed by Adolf Loos. In a far corner is a screen that once stood in Tom Ford's dressing room. The couple's most cherished pieces, however, are a series of Brancusi-inspired mannequins handmade by Tamsin. Though the product of evening woodworking classes, they fit seamlessly with the rest of the space.

It's the kind of environment in which one would like to linger and unwind. As the couple say, 'We want people to come into our space and just chill.'

As originally featured in the September 2017 issue of Wallpaper* (W*222)
INFORMATION
For more information, visit the P Johnson website (opens in new tab)
ADDRESS
51-52 Rathbone Place
London W1T 1JP
VIEW GOOGLE MAPS (opens in new tab)
TF has been editor of Wallpaper* since December 2020. He is responsible for our monthly print magazine, planning, commissioning, editing and writing long-lead content across all our content pillars. He also plays a leading role in multi-channel editorial franchises, such as our annual Design Awards, Guest Editor takeovers and Next Generation series. He aims to create world-class, visually-driven content while championing diversity, international representation and social impact. TF joined Wallpaper* as an intern in January 2013, and served as its commissioning editor from 2017-20, winning a 30 under 30 New Talent Award from the Professional Publishers' Association. Born and raised in Hong Kong, he holds an undergraduate degree in history from Princeton University.