Saint Laurent reinstates its Left Bank legacy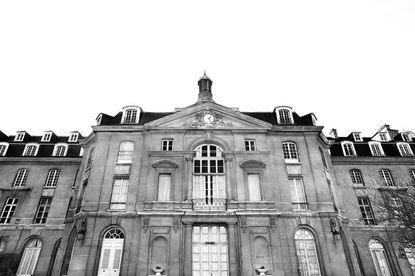 (Image credit: Hedi Slimane)
As legend has it Yves Saint Laurent founded the notion of ready-to-wear in 1966 under the label Yves Saint Laurent Rive Gauche, democratising fashion at a time when the Parisian mode scene was dominated by haughty couture houses. Yet, in spite of the Parisian brand's many tries to the city's infamous bohemian enclave, it has been many moons since its headquarters last inhabited the city's Left Bank.

However, today, creative director Hedi Slimane announced that by 2018 the house's current Rive Droite headquarters will be relocated to the 7th arrondisment's 37 Rue de Bellechasse. Shot here by Slimane, the former 17th century Penthemont Cistercian Abbey, which is currently in use by the French Ministry of Defence, will house the brand's new showroom and offices spanning 9180 sq m, while the designer's studio remains in Los Angeles.

This new Paris property will join the brand's atelier within Hôtel de Sénecterre at 24 Rue de L'Universite, which moved in January last year. The restoration of this 2100 sq m site, built in 1685 by Thomas Gobert, has been overseen by Slimane in the 18th century traditional French style and hosts the house's tailoring and flou ateliers. That said there is also a strong African undercurrent throughout, tied to its founder's exotic sphere of influence, and represented in a collection of Bamana masks and modern furniture pieces by Pierre Legrain and Deco designer Elizabeth Eyre de Lanux.

Other modernist furnishing pieces curated by Slimane include Jean-Michel Frank (opens in new tab) and Paul Dupré-Lafon (opens in new tab), resulting in an elegantly eclectic mix of 1930s pieces within the building's grandiose, 18th century surrounds.