Hedi Slimane turns his lens to Hollywood's music scene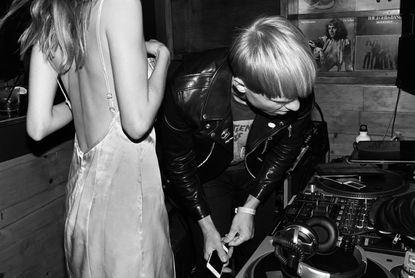 (Image credit: press)
Music has always been a constant in Hedi Slimane's lexicon and last weekend the Saint Laurent creative director hosted a private pre-Grammys bash in Los Angeles that was anything but the shiny, sanitised industry norm.
Held at Good Times at Davey Wavey's on El Centro, the party saw guests ushered in via a secret entrance - a faux refrigerator - for a genuine, if not gritty, rock 'n' roll experience that reminded us of Slimane's recent Sonic exhibition in Paris.
With the event decreed a social media void, any trace of the rambunctious night was left solely to Slimane's lens to record. The result is an intimate, black-and-white photographic essay that illustrates the industry's persevering rock spirit - an extension of Sonic's reportage style that saw the polymath capture the drama of life under the bright lights and on the road in minute detail.
The venue's snug stage hosted a line-up that included Sunflower Bean (singer/bassist Julia Cumming has twice graced Saint Laurent's runways), Sky Ferreira, Bleached, The Garden and Mini Mansions, as well as as DJ sets by Slimane's friends Jonathan Pierce (from The Drums) and Ioanna Gika of Io Echo. The crowd was similarly stocked with a cast of Slimane's past and present portraiture subjects, including a mix of young Hollywood actors and musical mainstays, such as Daft Punk, Mark Ronson, Queens of the Stone Age and the Arctic Monkeys.
Slimane's interest in music first formed during his youth after being gifted a copy of Bowie's David Live album - the star peacocking on its record sleeve in a blue Freddie Burretti suit. However, more than the clothes, it was the creative synergy of music photography that drew Slimane in - the lighting, composition, and energy - and he's been capturing it ever since.