René Scheibenbauer: exploring 'what people want to wear and why at this moment'
As part of our Fashioning the Future series, we explore René Scheibenbauer's A/W 2021 collection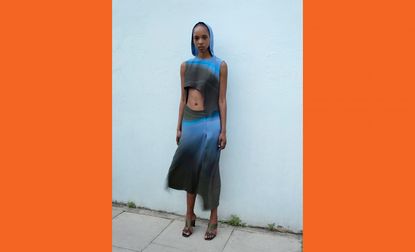 (Image credit: Tilly Macalister-Smith)
'I'm curious to start a conversation about the people's own emotional connection with their clothes,' says René Scheibenbauer. During lockdown, the designer conducted a series of workshops to expand his understanding of what people desire from their present-day wardrobes. 'This form of research allows me to really analyse what people want to wear and why at this moment,' he says.
Scheibenbauer is fascinated with the power of dance, performance art, and community as conduits to explore his subject – all of which played a part in his workshops. As a young child, the designer took formal dance classes and its influence continues to pirouette through his collections. His clean and modern clothes focus on elegant tailoring with abstract sculptural shapes, and aspects of everyday casualwear and workwear: utility trousers, stretch ribbed jersey with provocative cut-outs, wrap skirts that flash a sliver of thigh.
His A/W 2021 collection is titled 16:16, a numerical combination with magical, mystical connotations, denoting the time of day that he would notice a shift in the light in his studio switching to a deep blue.
René Scheibenbauer: embracing sustainability
Taking a sustainably-minded approach to fashion, the designer manages to maintain a low carbon footprint by sourcing and making locally: all production takes place in north London and fabrics and trimmings are sourced entirely from Europe. Packaging is recyclable and biodegradable, and Scheibenbauer is now looking to increase the use of new sustainable technologies such as dry dying.
This season, Scheibenbauer collaborated with the visual artist Anya Gorkova on print designs. He was drawn to her playful photographic explorations that resonated with his own design ethos: 'Gorkova's prints are created physically on negative film strips, working with chemical reactions. In the development process there is a strong element of letting go of control and being present in the moment, allowing spontaneity.'
A self-described 'natural introvert who recharges in quiet environments', the queer designer works from his studio in a small conservatory close to his house in Lewisham, south London, surrounded by a garden that allows him to 'tune into the seasons'. Scheibenbauer, who is turning 30 in September, found the lockdown initially recharging and appreciated the sense of slowing down.
INFORMATION
A version of this article appears in the September 2021 issue of Wallpaper* (W*269), now on newsstands and available for free download
Tilly is a British writer, editor and digital consultant based in New York, covering luxury fashion, jewellery, design, culture, art, travel, wellness and more. An alumna of Central Saint Martins, she is Contributing Editor for Wallpaper* and has interviewed a cross section of design legends including Sir David Adjaye, Samuel Ross, Pamela Shamshiri and Piet Oudolf for the magazine.
With contributions from