Prada's third sustainability conference makes the case for human dignity
At Prada's global HQ in New York, speakers including architect Sir David Adjaye, US youth poet laureate Amanda Gorman and Amale Andraos, dean of the Columbia University Graduate School of Architecture, took a deep dive into human dignity, respect and equal opportunities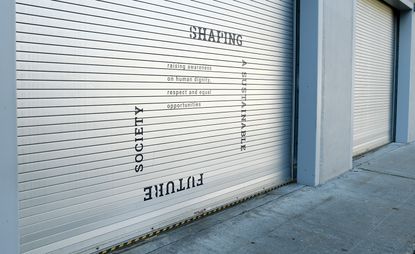 (Image credit: Getty Images for Prada)
If you thought you knew all there was to know about sustainability—from recycling to composting—think again. Prada's third annual sustainability conference held at their New York HQ last week (in a somewhat fittingly stripped bare former piano factory), peeled back the surface layers of the issue and took a deep dive into topics of human dignity, respect and equal opportunities.
A diverse cast of global speakers from the worlds of architecture, academia and various international institutions gathered to discuss the theme of the day: 'Shaping a Sustainable Future Society.' 'We are having to act when we don't know what the solutions are,' said Amale Andraos, dean of the Columbia University Graduate School of Architecture and co-founder of WORKac. 'But I love the idea of discovering ways to combine beauty and ethics.'

It seems Prada is aiming to lead by example in that respect. 'Envisioning a sustainable world requires a magnanimous attitude,' enthused the inaugural US youth poet laureate Amanda Gorman, 21, who recently accompanied the Prada team on a trip to Slovenia to see how plastic ocean waste and fish nets could be recycled for the fashion powerhouse's Re-Nylon initiative (they aim to convert all of their own virgin nylon into regenerated versions by the end of 2021). It's a project that's been well received by nineties Prada devotees who bought the original nylon bags, and newer fans, such as Gorman: 'My generation wants to purchase items that have a purpose they can stand behind,' she said. (A study Prada conducted with Yale showed Gen Z aren't the only ones who care: luxury shoppers aged 18 to 88 all agreed to pay more for a product when fairtrade issues were at stake).
But just when we thought we had a solid grasp on how to move forward (Recycle! Demand brand integrity! Pay more when necessary!), Kate Crawford took the mic and turned the conversation around to a broader issue: unregulated tech systems, unmoderated A.I. developments and how they impact individuals. While Crawford—research professor at New York University—is often described as a writer, composer and producer, for the purposes of this conference, she played the role of whistleblower for the less educated among us in the area of presumed tech advancements. Crawford, pointing out the prevalence of male executives over women and other minority candidates in the field, argues, 'A.I. works best when it partners with humans, rather than when it's used to replace them, but it won't be enough until we address, who is in the room?'

Beyond placing our focus on environmental issues, true sustainability looks out for the needs of others and believes we're only as strong as the weakest among us. The work of Sir David Adjaye is a considerable example. 'Dignity is not a token gesture,' he urged, as he talked through former projects (Harlem's Sugar Hill development and Washington DC's Smithsonian's National Museum of African American History and Culture, among them). His M.O.? 'We try to bring justice to the built environment.' Ensuring justice for others is key where true sustainability is concerned. 'When young people talk about the liberation of the world,' says Gorman, 'it's not for myself, it's for my neighbour, or for people who look different from me; inclusive freedom is going to make the most transformative change.'

That, and, argues Crawford, a pushback on powerful corporations. 'The biggest trick the devil ever pulled is to make us feel that we're individually responsible for the state of our environment,' she said. 'Instead, we should push back together on the 100 corporations who create 71% of global emissions. And when it comes to A.I. we need to demand greater transparency, accountability and liability when these systems fail.'
Carlo Mazzi, Chairman of Prada S.p.A. sums it up this way: 'Sustainability goes beyond the border of any nation. We must remember that progress cannot take place in a vacuum but within society.'
INFORMATION
www.prada.com (opens in new tab)