Pierre-Henri Mattout, Victorinox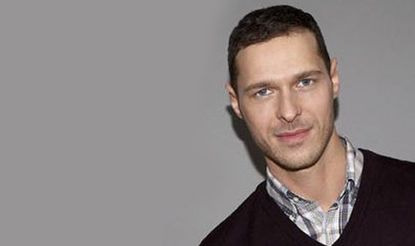 (Image credit: press)
Pierre-Henri Mattout was appointed Creative Director of Swiss label Victorinox at the beginning of 2008, debuting his first collection, Spring Summer 09, in October.
Where did you work prior to Victorinox?
For ten years prior to Victorinox I was involved in many projects. My primary focus was my own collection, a menswear collection. I also spent 4 years as the Creative Director for Dormeuil.
What attracted you to the job of Creative Director at Victorinox and why do you think they chose you?
The core values of the Victorinox brand speak closely to my own design values. It is exciting for me to contribute to the brand's iconic and functional design, high level of quality, and outdoor heritage. I believe that their decision to work with me stemmed from a desire to infuse a European fashion sense with the functionality that the brand is known for, together making for a stronger design and appeal.
How important is the cult of the Creative Director to a label nowadays?
I don't think the cult of the creative director is as important as it had been. The days of Tom Ford being a superstar at Gucci are over. The collection balance and the brand image are of primary importance.
People maybe think of penknives when they think of Victorinox – where do clothing and accessories fit into this heritage?
The collection takes its inspiration and infuses elements from the values presented by the Swiss Army Knife. Outdoor heritage, iconic design, engineered product, high quality performance and functionality are all present in the collection. I think there is a lot one can do with these values in terms of clothing.
Where do you intend to steer Victorinox?
I simply hope to maintain the functionality and technicality of the pieces while adjusting color, cut, hardware and trim to infuse a great sense of design.
How difficult is it to balance the rich heritage of a very traditional brand with bringing it into the 21st century?
I don't see Victorinox as a very traditional brand. It has a rich heritage and a strong history, as we approach next year's milestone of our 125th anniversary. This history, however has included such great evolution and innovation throughout the years as evident in the Swiss army knives, watches and travel gear. Within the context of the brand, it is easy to use the same spirit of evolution and innovation in the clothing.
How did you approach your first collection?
The first collection I did for Victorinox is inspired by the story of a young man facing the trials and aspirations of living in the big city and feeling increasingly lost. He leaves this place of hyper-kinetic energy and constant mobility to find solace and joy in the beauty of nature. Reverence and respect for the natural world, historically authentic and balanced materials, and garments that are engineered to serve a function and fulfill a need are at the heart of the collection.
Describe the collection in five words.
Engineered, Urban, Casual, Sleek, Refreshing
We're allowed to take you to one shop now, anywhere in the world – where should we take you?
I would want to go to the new concept stores by Comme des Garçons, Pocket Shops, in Paris. I would love to discover it.
You're allowed to take one other person – living or from history – who would you take?
I've always dreamed of meeting Rei Kawakubo… that be a nice opportunity…
Tell us something surprising about yourself.
What is really surprising anymore? I am a surprise!
Jack Moss is the Fashion Features Editor at Wallpaper*. Having previously held roles at 10, 10 Men and AnOther magazines, he joined the team in 2022. His work has a particular focus on the moments where fashion and style intersect with other creative disciplines – among them art and design – as well as championing a new generation of international talent and profiling the industry's leading figures and brands.