Paris Fashion Week Women's S/S 2019 Editor's Picks
From Germanier's eco-friendly, fabulous garments encrusted with beads, to experimental designs from Ottolinger's surfer-inspired collection, we present the Wallpaper* pick of Paris Fashion Week Women's S/S 2019...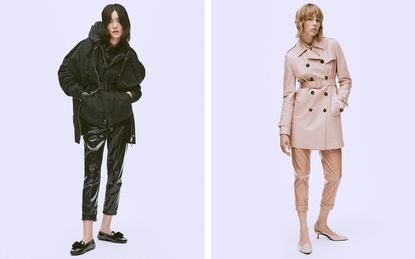 (Image credit: Jason Lloyd-Evans)
Tod's: 'We want to remain very luxurious and high quality, but we need to move forward,' said Tod's president Diego Della Valle, of the launch of its 'T-Factory' project – a series of capsule collections to be created by guest designers, four times a year. The first designer on the roster is N°21's Alessandro Dell'Acqua, who has brought what he defines as a 'femininity and contemporaneity' to Tod's silhouettes. His collection includes the brand's signature Gommino loafers reimagined as sling back sandals or as sock boots, alongside glossy leather trousers and trenchcoats, in Dell'Acqua's signature nude, tan and black. 'It's been a great honour to design the collection,' Dell'Acqua says.
Ottolinger: Surfer-inspired collections have made a splash on the S/S 2019 catwalks, just look to Sportmax, Etro and Emporio Armani. Surf brand-centric floral motifs were a feature in Ottolinger's S/S 2019 collection, but true to their deconstructionist and experimental form, Swiss designers Cosima Gadient and Christa Bösch's turned the paradisal print on its head. Models in their spring show (who walked to a live musical performance by female vocalist Eartheater), appeared like surfer's washed up on an alien island, in fringed, frayed and patchwork tropical prints, spliced denim, and rope tie-detail swimwear. Wherever they've washed up, we want to end up there too.
Germanier: Swiss designer Kevin Germanier is a pioneer of eco-friendly fabulousity. The burgeoning designer, who debuted at Paris Fashion Week last season, upcycles garments like denim and vintage bags and encrusts them with beads using a silicone glue application. 'I wanted to push the concept even further this season,' the designer says of his sophomore offering. This features delicate organza dresses with corsets, which are constructed without boning. Instead their embellished shape is held by the strength of Germanier's silicone glue. 'It create drapes and is there to help hold shapes' he says of the gel's new utilitarian function. Amongst the haute evening creations also appear more casual shapes like T-shirts and jeans embellished with beads and organza ruffles, or fluffy blouses knitted from threads of organic cotton and recycled plastic. 'There's a new ease to the shapes' he adds.
Ellery: For her S/S 2019 collection, Kim Ellery looked to Paul Klos' conceptual artwork 'Sound of Ice Melting', a 1970 installation, which featured eight microphones focused on a melting 12-kg block of ice. At her spring presentation, Ellery evoked this watery inspiration by showcasing her latest lookbook images on boards of ice-like transparent plastic. Her collection was a futuristic take on sculptural 1960s silhouettes, and included sporty metallic silver coats, suits with unusual cuts and crops, flaring ribbed knits and a blazer and trouser two piece with a toile de Jouy dragon print.
Courrèges: The future of our earth has been on the mind of Paris' burgeoning designers. Just look to Marine Serre's partly upcycled S/S 2019 collection, or Germanier's fusion of vintage garments with Haute Couture finishes. When André Courrèges launched his eponymous line in 1964, his mini-skirted vinyl-clad aesthetic was the epitome of space age fashion. Its spring show was also a futuristic moment for the label, as it showcased the debut collection of new creative director Yolanda Zobel. It was a contemporary club-kid offering, all bodysuits, mini skirts and poppered pants, paint splattered jackets and Sixties floral prints. Under her creative direction Zobel has pledged to discontinue the brand's vinyl in place of a more sustainable fibre. We think the brand's future looks bright.
Yang Li: The darkly gothic designer advocated 'romantic minimalism with a soft punk sensibility' for spring. This culminated in a S/S 2019 collection in black, white, acid lime and turquoise of gauzy deconstructed tailoring and wispy dresses. The collection also featured embroidery of names of women photographed by Magnum photographer Antoine d'Agata, like 'Leah' emblazoned over a transparent turquoise blouse.
Marques'Almeida: For S/S 2019 the London-based brand switched up their show city for Paris Fashion Week, with a spring show at the classic show venue Palais De Tokyo. With Britain in the midst of Brexit turmoil, Portuguese designers Marta Marques and Paulo Almeida looked back to their roots, with a collection rich in ruffled skirts, fringed silks and floral jacquards. The label uses a merry band of M'A Girls, real women who walk in their shows as models, and they appeared on the Paris catwalk, also rocking silhouettes that are more signature of the brand, like thick ribbed knits, denim jackets, punky slip dresses and biker boots.
Atlein: There's been a surfs-up sensibility on the S/S 2019 catwalks, just look to Sportmax, Etro and Ottolinger. There were undulations of that wave-making sensibility in Atlein's S/S 2019 collection, which featured naive ripple-prints splashed across draped dresses, and gauzy patterned tops which nodded to the silhouettes of dry suits. Amongst pretty Pointillist floral prints and bold sun set shades, this was a collection rooted in reality and bought back to earth with boxy blazers, utilitarian multi-pocket jackets and wonderfully tailored trousers.
Ann Demeulemeester: There's a strong poetic sensibility behind Sébastien Meunier's collections for the renowned Belgian house. In recent seasons, Meunier has looked to William Blake and Mary Shelley for inspiration. For S/S 2019, the designer looked to L'Inconnue de la Seine, the unidentified woman whose body was pulled from the river at the Quai du Louvre in Paris in the late 1880s. Her death inspired a host of artistic portrayals, and Meunier's interpretation culminated in a collection of melancholic and fluid silhouettes. Waistcoats swathed in corsages, silken double-breasted jackets, gauzy slip dresses and pinstriped coats, with models striding the catwalk with their faces hidden by transparent veils.
Moynat: Creative director Ramesh Nair looks to the luxury accessory house's archive for inspiration behind his collections. For S/S 2019, the designer also looked to his personal collection of watch pieces and Bibles, in a collection embellished with graphic metal hardware which featured on clasps or as tessellated grids on bag flaps, inspired by their metal details. Elsewhere, bauble-shape and pyramidal minaudières, had a sun-kissed opulence and the brand's cubic 'Mini Variety' bag was imagined in industrial shades of grey.
Off-White: In August, Virgil Abloh and Nike launched the Queen Collection: a series of neoprene tutus that the tennis stars would wear to compete in the US Open. The collection was a taste of things to come for Off-White's spring collection, which was a modern fusion of sports and feminine partywear, worn not just by Abloh's regular roundup of famous model faces (Bella, Kendall and Kaia) but also world leading sportswomen. Abloh is leading in the concept of casual luxury, and his collection, which was presented on a runway-come-runway track, included a tailored blazer paired with cycling shorts (a patchwork of ribbed Nike socks), a broderie anglaise skirt and a wetsuit top, and a long neon dress with matching highlighter hue leggings. Titled 'Track and Field' it represented a well winning formula.
Myriam Schaefer: Master of minimalism Myriam Schaefer is the designer behind many of Balenciaga's bag hits, including its signature Lariat bag. Schaefer launched her eponymous line in 2011, one dedicated to versatile and classic designs. For S/S 2019, her collection includes a doctor's bag with a hole-punched adjustable strap and a squishy vintage-inspired shoulder bag.
Holland & Holland: There were a delightful array of outdoorsy options on display for S/S 2019, from zip detail boiler suits to thick houndstooth shirts in striking red and navy check. Pieces were imagined in lilac, aubergine, navy and khaki, and accessories included sumptuous silk neck scarves and a versatile belt bag with oversized suede pockets.
Yohji Yamamoto: For his S/S 2019 show, the Japanese designer presented his collection against a sparse scaffolded show set inside the Grand Palais. In an industry obsessed with change, and contending with a revolving door of creative directors, Yamamoto has always remained true to his dark and deconstructed aesthetic, and his pared-backed unadorned show set was a testament to this. His contemplative spring collection was a cacophony of draping, raw hems, cut outs and considered forms. Standouts were a series of looks deconstructed with zips, with pops of colour from red to blue, punctuating the monochromatic mood.
Andreas Kronthaler for Vivienne Westwood: The everyday ritual of getting ready, Jessica Fulford-Dobson's photographs of skate girls from Kabul and humorous views on life of Austrian artist Walter Pichler and American artist Paul Thek, were all a source of inspiration for the Andreas Kronthaler for Vivienne Westwood's Spring/Summer 2019 collection. As one can expect from the offering, it was an eclectic mix, of which highlights included a model wearing a chair-hat, skaters breezing by, and bodybuilders on scooters showcasing the new range of underwear designed in collaboration with Yasmine Eslami, all set against an explosive paper runway installation by Gary Card.
Delvaux: There was a relaxed bohemianism behind the Belgian accessory label's S/S 2019 offering. Delvaux imagined bag silhouettes in jade, raspberry, navy and ivory, and updated classic shapes like the 'Brilliant' and 'Cool Box' using weaving techniques, raffia and adjustable chains. The spring collection also sees a collaboration with the French designer Jean Colonna -– who gained renown for his grunge aesthetic during the Nineties – on a supersize version of its 'Brilliant' bag.
Noir Kei Ninomiya: The Japanese designer is an unbelievable technician of form and texture, able to manipulate frothy tulle and plastic into architectural and feminine shapes in a predominantly black and white colour palette. These are silhouettes that reflect a dedication to handcraft and manipulation, which for S/S 2019 culminated in an amazing densely ruffled cocoon coat, a cropped biker jacket embellished with spirals of plastic resembling tightly coiled telephone wires, and sparkly transparent dresses crafted from fronds of lurex. The collection bought a moment of creative contemplation amidst a day of frantic dashing for fashion shows, a beauty evoked even more by the dandelion seeds which fluttered from white wigged models heads onto the floor of the catwalk.
A_Plan_Application: Last season, we showcased the debut collection of A_Plan_Application, the line devised by artist Anna Blessmann (opens in new tab), designed to provide everyday, simple wardrobe options for shoppers living through the high-speed digital age. 'The offering is relaxed and comfortable,' Blessmann says of her sophomore collection, which imagined in white, beige, black and with a hint of highlighter yellow, features boiler suits, unlined raincoats and sweater dresses with hoods. Judo style coats and blouses also nod to martial arts. 'It's a different take on my tracksuits story,' she adds. 'Something from sport, a silhouette which isn't fixed to a particular time.'
A.P.C.: For years, Jean Touitou presented his A.P.C. collections in his headquarters on rue Madame. A few editors would gather there and cozily sit on the sofas or on the floor while the brand's founder discussed the collection and made humorous personal comments and jokes. It always felt like a welcome change from the pomp of catwalk shows. But Touitou has decided it's time for the brand to grow: and so, this time, guests gathered in a garage off Boulevard Beaumarchais for a proper fashion show. Models strutted by to a Kanye West soundtrack (Touitou is a friend of the rapper) clad in the familiar designs of the brand, including skinny jeans (cropped this time), simple shift dresses, knitwear, Hawaiian motif shirts for men and, of course, the kind of minimal accessories that have become synonym with Paris cool. The only difference – aside from the colourful palette, which included lime green and bubblegum – was in the styling: a rockabilly spirit ran through the collection in the form of quiffs, high ponytails, twin-sets and kitten heels. It was a fresh way of repackaging the ever realistic, yet desirable A.P.C. offering.
Delfina Delettrez: The subversive jewellery designer's latest 'Two in One' collection acts as a playful take on the piercing. Delettrez's latest offering features her signature eye pendant sporting a tiny piercing and her Dots rings featuring piercings drilled through the diamonds. 'I've given the piercing a piercing,' she smiles.
Wandler: Elza Wandler launched her brand Wandler in 2017 with her now signature Hortensia bag. Each season, the Dutch designer spends a month in Italy to shape, form and further develop her collections, together with the craftsmen of the atelier where all bags are made. For S/S 2019, additions include a patchwork tote bag and the use of hand-painted outlines which appear in several styles.
Oyuna: The starting point for the luxurious cashmere label's S/S 2019 collection was the concept of a strip. Whether it is a strip of textile to start making a garment or a strip of wood for the construction of a house, the strip is often the beginning of something bigger. The 'Sudal' collection, meaning stripe in Mongolian, comes in a colour palette of punchy blues and yellows, latte white and deep black. Sleeveless dresses feature vertical and diagonal placed drawstrings with which a ruffled effect can be created and several tops feature strip details on the side which can either be left hanging or tied around the waist.
Venczel: Swedish designer Matilda Venczel studied at the Royal Academy of Fine Arts in Antwerp and gained experience at several brands including Ann-Sofie Back before setting up her own Copenhagen-based accessories label. The thickness of the vegetable-tanned, full grain leather she uses ensures the brand's designs have an organic, sculpture-like shape. The objects, as she describes them, of this season include a large Yves Klein blue tote bag, belts and key chains inspired by the harness of a horse and a yellow triangle bag with an oversized chain strap.
Alysée Yin Chen: The Taiwanese designer is based in Figeac, a small town in the South or France, where she set up the studio of her namesake label. Rather than working in seasons, Yin Chen focuses on an evolving collection to which she sometimes adds to or even removes. The collection currently includes a pair of reflective silver trousers, a floral jacquard trench coat with soft camel hair lining and a checked quilted bustier top that was made by what the designer describes as fabric sculpting. We're looking forward to seeing what her next additions will be.
Nehera: This season, the design collective celebrates the famous photograph of a man baring his chest in front of a tank, taken by Ladislav Bielik 50 years ago. The photo itself is only seen as printed on a T-shirt but the rest of collection features several references to the Slovakian military – the country where the brand was founded and is still based. The S/S 2019 offering includes linen M-65 jackets, sturdy yet elegant leather lace-up boots, wide A-line dresses based on the design of a parachute and a graphic camel and army green print – the camouflage print used by the country's army.
Esteban Cortazar: The designer's S/S 2019 show had us dreaming of a trip to its founder's native country Colombia. The collection was partly inspired by his father, artist Valentino Cortazar, who always reminded him not to forget about nature. Pieces include flowing dresses in dusty tones, knitted beach costumes and a cropped jacket featuring the colours of a setting sun at the end of a long day at the beach. The translucent accessories, described as water suspended in time, were seen as sheer Perspex shapes curling around the models' ponytails.
Renli Su: 'The Goblin', a narrative poem written by Christina Rossetti in 1862 was the starting point for Renli Su's S/S 2019 collection. This season there is a bigger focus on tailoring; blazers feature corsetry lacing in the back and fabrics interwoven with metal thread to give the overall look a vintage feel. The prints, which are created from paintings by the in-house team, reference verses from the poem and include a gooseberry and blossom print.
Rudi Gernreich: The Sixties label is renowned for its invention of the breast-baring mono-kini. Now relaunching for S/S 2019, the label's new team consists of entrepreneur Matthias Kind, and artistic directors Camilla Nickerson and Neville Wakefield, and its new designs include cut out swim pieces and knitwear, colourful t-shirts with a gold and silver button on the breast and Gernreich's signature balaclavas.
Vince: For S/S 2019, creative director Caroline Belhumeur looked close to home, the Los Angeles home of Vince that is. The designer was fascinated by the ocean hues and sandy shades of LA's beaches, bringing the hues of these vibrant shores in Nineties A-line cargo skirts, knitted tank tops and silky Palazzo trousers. Footwear for frolicking on the sand includes soft leather espadrilles and strappy sandals.
Jack Moss is the Fashion Features Editor at Wallpaper*. Having previously held roles at 10, 10 Men and AnOther magazines, he joined the team in 2022. His work has a particular focus on the moments where fashion and style intersect with other creative disciplines – among them art and design – as well as championing a new generation of international talent and profiling the industry's leading figures and brands.