A glitchy Peter Saville print marks Anna Blessmann's utilitarian fashion debut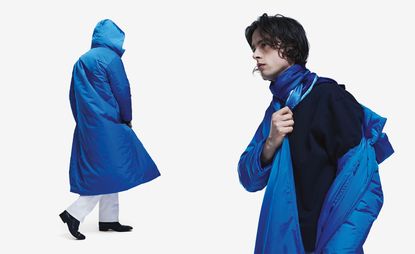 (Image credit: Britt Lloyd)
Anna Blessmann is not someone who finds seasonal trend pieces appealing. 'In luxury today, fashion garments are so distinctive' says the German artist. 'You can immediately tell what label someone is wearing.' It's fortuitous then, that following a meeting between Blessmann, her partner in life and art Peter Saville, and Virgil Abloh, the Off-White founder (one ironically known for his love of branding) invited her to create a versatile clothing collection based on the concept of the everyday wardrobe.
When growing up in Berlin, Blessmann had a penchant for repurposing old military jackets which she picked up in surplus army stores. A_Plan_Application's debut, which features men's and women's styles, has a similar utility-focused flair. Imagined in monochromatic gradations of blue, from azure to indigo, pieces include cotton drill sweatshirts, straight leg denim, and a kimono style wrap dress. 'Something you can keep on if you need to quickly leave the house or studio,' Blessmann explains of the pieces designed to carry you from work to private view.

Splitting her time between London, Berlin, and Milan, Blessmann was searching for something not just travel-friendly and timeless, but for garments that cater to women's figures. She modelled the collection on herself using a series of illustrative self-portraits. A_Plan_Application women's silhouettes include a pair of workman's overalls 'modelled on milkman's uniforms' with a nipped in waist. Elsewhere, a hooded sweatshirt has powerful boxy shoulders and gently skims the hips. The pieces are also wonderfully practical. A sock boot is imagined in a comfortable mid-heel, a fetishistic boxy leather tote can hold a laptop, and a duvet coat has internal zip pockets

A_Plan_Application's collection lacks any pattern, save for one Peter Saville-designed scarf print titled 'Blue Blue Glitch', which is a graphic amalgamation of the blue tones in Blessmann's debut. Every season a new print will be added to each collection, the designs acting as wearable artworks which wrap around the body in an otherwise monochromatic wardrobe, designed for ease, durability, and a dash from an exhibition install to an evening out.