Paco Rabanne's Riviera rendezvous at the 2016 Hyères International Fashion and Photography Festival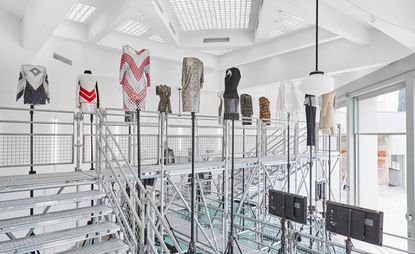 (Image credit: Jean-Etienne Portail)
Now in it's 31st year, the annual springtime pilgrimage to the French Riviera for the International Festival of Fashion and Photography at Hyères remains more vibrant than ever.

This past weekend the event attracted an international and cosmopolitan crowd to the Robert Mallet-Stevens-designed Villa Noailles (perched high on the hills above the seaside town), all keen to discover the latest wave of design talent chosen by the prestigious photo and fashion juries. Following on from the Chanel-centric proceedings of the 2015 edition, when Karl Lagerfeld took over the entire festival as creative director, it was Paco Rabanne designer Julien Dossena's turn to helm the fashion jury, while the competition's photography component was graced by the honorary presence of iconic 88-year-old photographer and filmmaker William Klein (opens in new tab).

Both Paco Rabanne's evolutionary exhibition 'Work in Progress' and a multimedia exhibition of Klein's seminal film Who Are You, Polly Maggoo? (1966) lent the festival a decidedly retro-futurist air. The former (on show through May 22) consists of an installation of new and archive Paco Rabanne gowns (mostly crafted in metal mesh) set in a scaffolding structure above the villa's glass-covered indoor swimming pool; the latter assembles stills and videos from Klein's avant-garde Sixties film across the walls of the indoor squash court, accompanied by the sheet metal dress sculptures that featured heavily in the film.

Neither aesthetic particularly corresponded to the choice of winners in this year's fashion competition however, with the Premiere Vision Grand Jury fashion prize going to the Japanese menswear designer Wataru Tominaga for his fantastical experiments with colour-blocked heat-bonding techniques that accented hybrid suits, flared trousers, and biker jackets cut from a bold rainbow of floral cottons, jersey, and thick corduroy. A special jury mention and the annual Chloé Prize were awarded to a Finnish duo, Anton Vartiainen and Hanne Jurmu, whose men's collection featured panels of pressed wildflowers and intricately patch-worked knitwear with a decidedly bohemian touch.

The photography prize celebrates a more global view on art and documentary-style photography and links rarely to fashion, a fact that rang true in the choice of Czech finalist Vendula Knopova. She took home the Grand Prize for an absurdist portfolio of personal archives exploring memories and the oddities of family life, with an installation that included a consumer-style display unit of her book Tutorial and various souvenir-style ephemera available for purchase. Equally popular was French photographer Anaïs Boileau, who won both the People's Prize from the city of Hyères and an artist residency in Beirut courtesy of the Lebanese designer Elie Saab. Her humorous body of work was photographed in La Grande Motte, and featured pastel-tinged portraits of sunbathing tourists alongside views of the pyramidal architecture that punctuate the Jean Balladur-designed resort town.
INFORMATION
For more information, visit the International Fashion and Photography Festival website (opens in new tab)