No 21's opulent new headquarters is an ode to Milan's multifaceted architecture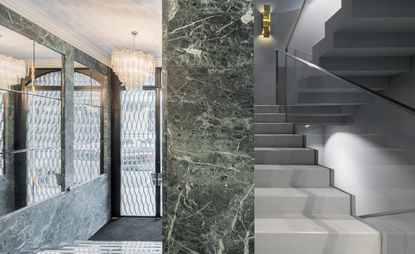 (Image credit: Delfino Sisto Legnani & Marco Cappelletti)
When No 21's Alessandro Dell'Acqua opened his first standalone store in the Omotesandō district of Tokyo, we were drawn to the boutique's striking black and white-tiled marble floors and diverse design elements. No surprise then, that we've taken to the brand's new recently opened headquarters in the Porta Venezia district of Milan, an expansive overhaul undertaken by architect Hannes Peer, who designed not only No 21's Tokyo store but also its Milan and Hong Kong outposts.
The multi-story 1500 sqm space has been conceived by Dell'Acqua and Peer as a 'modernist palazzo'. It pays tribute to the signatures of Milanese architecture and design, spanning decades and genres. The headquarters' all black facade and monochrome optical marble floor nod to the architectural details of No 21's Tokyo store, and house an amalgam of aesthetic gems, including mid-century furniture by Le Corbusier, Marcel Breuer and Willy Rizzo.
Like the delightful juxtapositions that define Dell'Acqua's design aesthetic, contrasts abound within his label's new headquarters. It's stark exterior works in opposition to the entrance corridors; a space lined with black Marquina and Verde St Denis marble, and adorned with vintage Toni Zuccheri-designed Venini lights. Upstairs, marble and concrete flooring sit side by side in the second floor showroom, while a rough finish of the walls – completed in durable Ceppo di Grè stone – is offset against sleek stainless steel displays.
The pièce de résistance of the space is Dell'Acqua's penthouse office, its interior design is an ode to grand scale. It features soaring 7m high ceilings, sun-streaming sky lights and a 6m oxidised brass sideboard, upon which perch inspirational books and framed fashion photographs. The designer's affection for awesome proportion evokes the mindset of one reaching sky high.
INFORMATION
For more information, visit the No 21 website (opens in new tab)