Moynat's travelling boutique begins world tour at Galeries Lafayette, Paris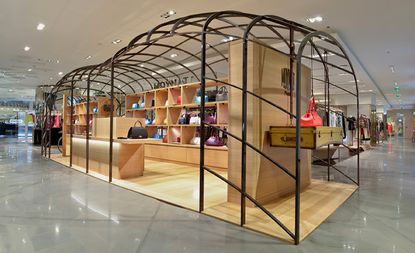 (Image credit: Moynat)
These days, a trunk show usually involves previewing - and ideally, purchasing - pieces from a designer collection before they are available to the public. But a century ago, a trunk show was exactly that: a show of trunks.

Meanings are subject to change, of course. Yet for the historic trunk maker Moynat, revisiting this concept in a way that married past and present seemed particularly axiomatic. As of yesterday, Moynat has set up a mobile concession within the Galeries Lafayette. It will stay there for six months, at which point, it travels to a nearly confirmed location (CEO Guillaume Davin would only reveal a large city in Asia).

The compact space (about the length of two cars) was designed by Gwenaël Nicolas, who conceived Moynat's sole boutique (opens in new tab) - a sophisticated cathedral-like space at 348 rue Saint-Honoré - and just put the finishing touches on Fendi's new Avenue Montaigne store. Within arm's reach of Chanel and Van Cleef & Arpels, the pop-up looks permanent with its three walls in oak paneling, held together by an undulating overhead metal cage. The special edition Moynat bicycle anchors one end and gives way to selection of the brand's best selling, hand-crafted handbags: Pauline, Réjane (Gabrielle Réjane, a French actress during the Belle Époque, was a contemporary of Sarah Bernhardt and a Moynat muse) and the new Limousine style in a rainbow of hues including turquoise, bougainvillea, primrose yellow and terracotta.

Few people realize that Moynat began four years before Louis Vuitton and that it gets its name from Pauline Moynat, an entrepreneurial travel goods specialist who teamed up with trunk makers Octave and François Coulembier. While the house grew and gained visibility via trunk shows all over Europe - most notably at world fairs - Moynat's golden years coincided with the arrival of the automobile (opens in new tab). Lightweight trunks would be constructed with a gentle curve on one side so that they were properly flush with the vehicle's body (this was pre-1930s when trunks became an integrated feature). Henri Rapin, who joined Moynat in 1905 as creative director, built a strong visual identity - including the Art Deco sloped 'M' monogram - that remained a strong component in the relaunch nearly two years ago.

Above the store is a mini atelier where creative director Ramesh Nair (an Hermès veteran) oversees the making of prototypes, which are then produced down in the southern Drome region. Walls are lined floor to ceiling with old Moynat trunks; most boast the signature single concave side. Nair is currently testing a new clutch and editor bag; unlike a fashion brand, however, he does not have the pressure of seasonal launches (Moynat is owned by Bernard Arnault (opens in new tab) but separate from the LVMH group). Each bag is made entirely by one person and at the moment, the artisans number around a dozen. The Réjane style requires two days; the Limousine can be completed in one. Davin says that the Saint-Honoré store might receive two or three new pieces each day to replenish the stock - that's it.

To one side of Nair's desk, Tae-in Song paints initials onto a monogrammed canvas tote. Together, they just conceived a new 'broken', shaded typeface that makes the blocky letters appear as if sliced in two and re-oriented in space. It's the type of design tweak that suggests Nair is pushing the brand design forward - just at its own speed.

Before a visit to the pop-up yesterday (where several pieces had already sold before lunchtime), we sat down with Nair to find out more about his role in rebuilding such a historic, yet little-known luxury brand...

What was your knowledge of the house before coming on board?
Nothing. When Guillaume and I came on board, we didn't have a clue. We saw two or three trunks and that's it. But we had this name. Then we started digging. And then realized there was potential.

Did that make it easier or more of challenge to relaunch?
The thing about heritage is it can either weigh you down or it can help you. It really depends on how you play with it. When we did the boutique and did the pieces, we didn't want them to look like they come from the past. We started off saying we are modern and that we have heritage - but that we're not burdened by it.

You come from ready-to-wear. Are you itching to expand the house into clothing?
No, not anymore. The clothes I used to design were based on the philosophy of lasting a long time, not just for a season.

So that's not in your immediate future?
No, not in the immediate future.

How do special projects - like the breakfast trunk customized for star chef Yannick Alleno, the bicycle or now this trunk show - benefit the brand?
It's a challenge for me and a challenge for the artisans. And it's something we really enjoy doing because it's not like we have customers coming in everyday saying I want a trunk like this. It's like when you have auto shows and you see concept cars; these are fully working ideas. We worked with La Cornue to figure out how to integrate a working burner. The bicycle took six months of work. We have another fantastic project coming up very soon with an English company. These projects test us and push our creativity to the limit.

Do you think about the notion that travel isn't as elegant today?
I wouldn't say that. It's very personal. There's the travel, which we do now, where you're obliged to go somewhere. But my way of thinking about travel is basically through my mind. I try to avoid thinking about the shock of standing in an airport. Because once you're at your destination, you start enjoying yourself.

You yourself have not been high profile.
I don't want it. We have too many stars. And stars fall. At Moynat, I create stuff. But it's more than me. I think it should be that way with all the brands.

You mentioned earlier that you have a huge collection of vintage bags. If the world was coming to an end and you could only take one with you…
Impossible. I would be the guy you see in the movie who runs back and doesn't survive. I would be carrying too many things. But then, if the world is going to end, what does it matter if you're taking a bag or not. I'm from India and we have no attachments. We don't take anything with us. There was always this idea of losing things. I think that's what makes us want to collect.

But then you need to be prepared that you might lose them again.
And I think that's part of what makes me love luxury. You want to take it to a level where you don't want to let go because it's precious.

When did you know wanted to work in luxury fashion?
It just happened. At six years old, I wanted to be a train conductor or a pilot.

What changed?
There was a raffle when I was 10 or 12 years old. I got a ticket and I won a sewing machine but I wanted the other prize, a bicycle. I tried to get the woman to exchange her prize with me. She refused. When I came back home, I remember my sister saying, 'It's your fate.' That machine still exists at home - one of those Singer pedal machines. It's a beautiful vintage piece now. My path was charted.
Pictured is a prototype of a new, shaded typeface conceived by Moynat creative director Ramesh Nair and Moynat artisan Tae-in Song, which will soon find its way on to bags. To create the prototype, they did a cutout of the letter in paper, snipped and torqued it as you see and then shone a light on it to get the right shadow. It comprises 13 layers of water-based paint
ADDRESS
Galeries Lafayette
40 boulevard Haussmann
75009 Paris