French connection: Swiss knitwear brand Molli makes the leap to Paris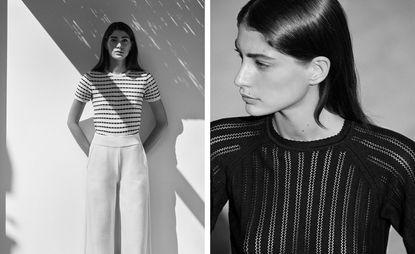 (Image credit: Daniel Riera)
Molli, the Swiss knitwear brand specialising in beautifully simple knits for newborns, celebrated its 130th anniversary this year. One explanation for reaching this milestone is that the customer base is never-ending, even if time-limited. But as Charlotte de Fayet and generations of discerning mothers can confirm, there's more to Molli than a market in constant demand. Since purchasing the brand last year from a Swiss businessman, she has been in relaunch mode applying both nurturing and business instincts to what she describes as 'a sleeping beauty.'

For starters, she has expanded beyond Molli's reputation as 'the Hermès for babies' by introducing a women's collection that adapts the familiar elements — pure new wool, ribbed and picot finishes, well-considered colours — to designs that feel desirably wearable. 'These are qualitative knits,' says De Fayet, who is Paris-based. 'I like the idea that they dress you; they don't just keep you warm.' For spring, the range includes obvious essentials such as cardigan, polo and raglan sweatshirt styles, as well as more distinctive pieces boasting delicate scallop-edge detailing or dramatic bell sleeves in bolder hues of citron yellow or ink blue, ample pants, and a tiered dress that seems tailor-made for Audrey Hepburn-esque ingenues.

It's the type of wardrobe, incidentally, that de Fayet could sport in full as the brand's best spokesperson. With a background in corporate marketing and as a mother of two young children who purchased Molli's classic grenouillère onesies when they were born, she has invested in this project with experience that is both professional and personal. Yet she is certain it speaks to anyone who values timelessness in a present-day context. 'We're starting to define the Molli woman so it's not just about creating things for me; she's sensitive, delicate and feminine, but contemporary,' says de Fayet, adding, 'There is this challenge of not being too retro or old in attitude.'
For de Fayet, the modern day Molli woman is 'sensitive, delicate and feminine, but contemporary'
Hence a pop-up just off the Champs-Élysées at 39 Avenue George V, which teases to its redefined direction as a striking setup; beyond the front door, people access a cosy, 35 sq m cabin panelled in gold foil from stretched safety blankets, by first crossing a boardwalk surrounded by a sea of white hydrangeas (766 faux flower heads, each hand-painted, to be precise). Within this whimsical construct, the walls have been covered in ivory teddy bear while a seating arrangement consists of vintage Verner Panton's 'Bachelor' chairs and the main counter has been cast in concrete.

Conceived by DAS (which stands for design, architecture, scenography), who also designed the polished brass rail systems punctuated with inner lighting, the space adds dimension to Molli's inherent mildness. 'We played with contrast; by bringing something raw, we're enhancing the softness,' explains Félix de Montesquiou who previously worked for John Pawson and Louis Vuitton's architecture department before co-founding the Paris-based studio. 'We wanted to make it more homey than a retail space.'

Indeed, the tiny house construction was every bit deliberate, given that in French, a brand with heritage is known as maison. Even if the space is temporary (it is expected to remain open until at least February), both the women's and baby collections establish what de Fayet calls Molli's third chapter. Back in 1886, Wilhelm Rüegger began his company by manufacturing sous vêtements, or undergarments, for adults before the brand, still family run, shifting to baby knits in the 1950s. All these years later, Molli is finally growing up.
INFORMATION
For more information, visit the Molli website
ADDRESS
39 Avenue George V
Paris 75008