Minimalist bag brands for stripped back sophistication
Accessory labels Tsatsas, Isaac Reina and Building Block are the pared-back labels rebelling against the seasonal notion of the It Bag, for timeless and no frills functionality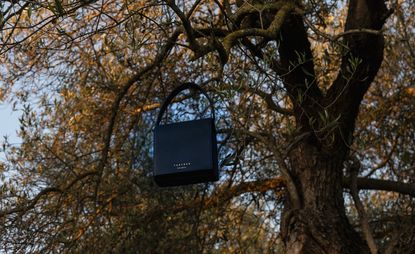 (Image credit: Tsatsas)
Standing against the frenetic pace of fashion, a reserved rebellion is emerging from minimalist bag brands favouring timeless styles instead of ageing It bags. With this return to simplicity, we're rooting for no-frills functional forms and humble hues to carry our essentials seasons after seasons. Here we introduce three low-key labels with a less is more aesthetic…
Tsatsas
Earlier this year, we fell for Tsatsas' '931' handbag by Dieter Rams, which received a Wallpaper* Design Award, for its industrially-inclined shape, based on Rams 'Ten Principles for Good Design'. Continuing the label's exploration of timeless design, co-founders Esther and Dimitrios Tsatsas have created a new handbag that symbolises 'the anatomy of simplicity', an idea at the heart of the label since its debut in 2012. The Malva range, handcrafted in its Offenbach workshop, comes in five different sizes of a pared down orthogonal shape, and is surmounted by a handle and removable shoulder strap, representing the essence of modern minimalism. 'Paring down our work to the essential and eliminating anything even halfway superfluous is our guiding design principle epitomised in our Malva edition,' explains co-founder Esther Tsatsas.
Since starting his eponymous brand in Paris in 2006, Isaac Reina has offered simple leather accessories based on industrial shapes, elevated into high end items through bespoke material and traditional craftsmanship. 'By taking one step back from the traditional iconography of luxury, I'm trying to build a new vocabulary; eliminate the effects and keep only the essence,' says the former Hermès menswear designer. There's geometric genius behind the sixty styles for men and women, inlcuding its foldable Standard duffle bag, reminiscent of functional paper bags, and the vegetable tanned leather Hitchcock handbag, inspired by interior design of the 1950s and 60s.
Building Block
With a background in industrial design, Kimberley and Nancy Wu set up Building Block in 2011 as an LA-based design studio with the aim of readdressing everyday accessories with focus on simple functionality. 'Because of the rate in which products are generated and disposed of today, it is more important than ever to slow down and come back to what is known,' says Nancy Wu. 'What feels right are designs that are self-evident in their construction and beautiful simply because of the honesty of their material.' Leather, rubber tubing, wood and metal form Building Block's collection of minimalist bags playing with humour and scale, from a delicate wallet clipped to a heavy chain or drawstring pouches in mini and maxi versions.
INFORMATION