London calling: Michael Kors weighs in on his supersized Regent Street flagship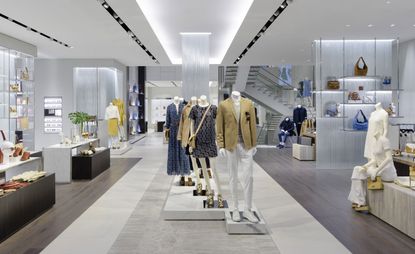 (Image credit: PRESS)
While fashion houses competitively court boldfaced architects to envisage their flagship monoliths, Michael Kors, now with over 605 stores globally, has enlisted his own in-house design team to watch over his vast lifestyle empire, including his latest London locale.

'Over the past 10 years, as we've opened stores all around the world, we've developed a formula that works,' says Kors of his retail strategy. 'We have an exceptional in-house team that is dedicated to the brand and who continually work to evolve and refine the design to fit each space.'

Today brings the opening of his largest European store, appointed across three floors and 16,275 sq ft, united by a glossy, clear acrylic staircase. 'The floating staircase is special,' Kors continues. 'It feels sleek and modern without looking futuristic. And I love that we've kept some of our signature Macassar wood, while evolving to a new grey stained oak.'

Carrying all product lines from Michael Kors runway on the first floor to MICHAEL Michael Kors, watches, shoes and those smash-hit tote bags on the ground floor, this is the first boutique to showcase Kors' menswear offering – formally only sold through wholesale partners and online.

All stainless steel fixtures and smoky grey mirrors, the lower ground men's floor sports its own pool table and bar – complete with leather banquet seating and black and white photography representing the brand's jet-set lifestyle through classic planes, trains and automobiles. It's sure to get plenty of 'partner' traffic.

Across all floors the flagship has the feel of an airy department store thanks to Calacatta marble blocks, which host product clusters, limestone walkways that map-out thoroughfares and LED screens that project campaign footage of the above all glamorous Kors world.

'The store interiors reflect my design sensibility – chic and glamorous but still pragmatic,' confirms Kors. On the women's floor, rippled glass backs steel racks, while a selection of spacious fitting rooms, lined with Venetian wallpaper, own views over Regent Street and plenty of natural light. 'The minimalist features allow our customers to easily understand the mood of the collections each season, while still providing that sense of luxury that Michael Kors is known for. The warm, muted colours and rich textures create a welcoming ambience.'

London is an endless source of inspiration for the designer, and this store is a testament to Kors' commitment to his European clientele that can for the first time experience his entire offering under the one roof.
'Over the past 10 years, as we've opened stores all around the world, we've developed a formula that works,' says Kors of his retail strategy. 'We have an exceptional in-house team that is dedicated to the brand and who continually work to evolve and refine the design to fit each space'
On the first floor, rippled glass backs steel racks, while a selection of spacious fitting rooms, lined with Venetian wallpaper, own views over Regent Street and plenty of natural light. 'The minimalist features allow our customers to easily understand the mood of the collections each season, while still providing that sense of luxury that Michael Kors is known for'
INFORMATION
For more information visit the Michael Kors' website (opens in new tab)
ADDRESS
179 Regent Street
London, W1B 4JQ
VIEW GOOGLE MAPS (opens in new tab)